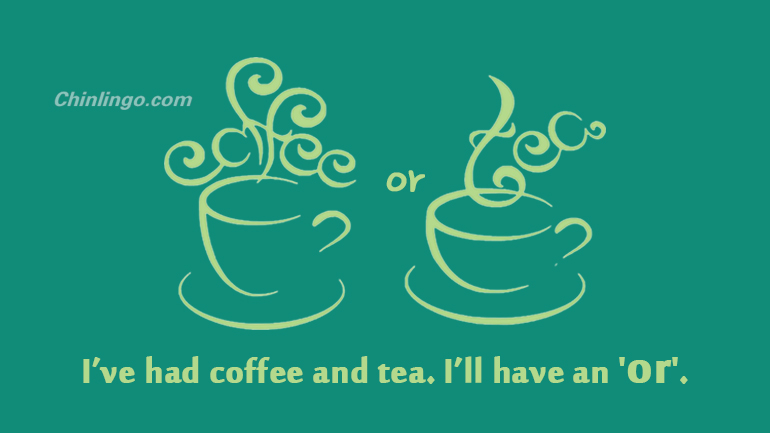 Westerners are often daunted by the thought of learning Chinese, mainly because of the perceived complexity of Chinese characters. In fact, if they knew that they'd be able to get by if they had to learn only pinyin, they might not be as tentative.
一想到学中文,很多老外就打退堂鼓,主要是觉得汉字太复杂。而如果他们知道只要学会拼音就过得去,他们也许会想试一把。
But how do Chinese feel about using English?
但中国人学英语的感觉又如何呢?
Hezi Jiang, a native of Beijing's Chaoyang district and a China Daily USA reporter in New York, said: "There is a popular joke in China: A Chinese man flies to America. On the plane, the flight attendant approaches him and asks, 'Coffee or tea, sir?'
《中国日报》美国版驻纽约记者、北京朝阳区居民姜禾子(音)说:"在中国有个广为流传的笑话:一个中国人坐飞机去美国,在飞机上空乘问他,'需要咖啡还是茶,先生?'
"The man thought, I've had coffee and tea. 'I'll have an 'or'. Thank you', he said."
"这人想了想,自己已经有茶也有咖啡了,'我要还是,谢谢。'"
"To me, a lot of the embarrassing things happen with ordering food," Hezi said. "For more than a year, I never ordered salmon no matter how much I wanted to have a grilled salmon, because the word is hard to pronounce. I used to pronounce the 'l' in salmon, and the waiter or waitress would correct me by asking, "sam-mon"?
姜禾子说:"对我来说,点餐时经常遇到尴尬。我已经有一年多没点过三文鱼吃了,尽管我非常想吃烤三文鱼。因为很难发对音。我以前总把单词中的l字母音发出来,服务生就会纠正我,问道,'三文鱼'?"
"I found that really embarrassing, so I stopped ordering it. I had mahi mahi instead. I love the name, so easy. Also, I didn't like it when restaurants offered special menus. The waiter would say a list of things that I had no idea of, and I would look into his or her eyes, nodding.
"我觉得很尴尬,所以我不再点三文鱼吃了。我点鲯鳅鱼,我喜欢这个名字,很好发音。我也不喜欢餐厅提供专门的菜单,服务生说的一长串我都不懂,我只能看着他或她的眼睛,点点头。"
"But it feels great when I can understand an item or two he or she said. Most times, I would order that thing just to prove that I could understand.
"但如果服务生说的其中一两样我能听懂,我就感觉很棒。大多数时候,我就点我能听懂的来吃,就为了证明我能听懂。"
"I also found that we say 'yes' a lot when we don't understand. I remember once at a brunch, a waiter asked my friend "white or wheat"?
"我还发现,当我们听不懂时,说'是'的时候太多了。我记得有次在早午餐会,有位服务生问我朋友,'白面包还是全麦面包'?"
"He said 'yes'.
"他说'是'。"
"We laughed, and he blushed. Ordering food is hard."
"我们都笑了,他脸刷一下就红了,点餐最难。"
"I remember when I was preparing for the IELTS (International English Language Testing System) three years ago," recalled Long Yifan, an intern at China Daily USA in New York, from Shaoyang, Hunan province. "I tended to use the newly grasped academic words for oral English practice.
"记得三年前我备考雅思时,我总想在英语口语练习中使用最新掌握的学究词,"《中国日报》美国版驻纽约实习生龙一帆(音)说。
"I had some friends from Scotland, and one day when we ate out, I was in a hurry to find a restroom. I wanted to express my situation in an academic and formal way, so I said I wanted to 'discharge' myself. They were all surprised and amused.
"我有几位来自苏格兰的朋友。一天我们约出去吃饭,我着急找厕所。我想以正式的口吻用学究词表达我的处境,所以我说我想去'排放'我自己。他们很惊讶,也觉得很搞笑。"
"I felt something was wrong and wanted to make a clarification, so I said I wanted to urinate. They all burst into laughter."
"我知道说错了,想澄清一下,所以我说我想去小便。他们笑成一片。"
"Just like how learning Chinese is hard for English speakers, the reverse is also true, for many of the same reasons," writes Andy Luan on Quora, a question-and-answer website. "Pronunciation is probably the hardest part of learning English at first.
"就像说英语的人学中文很难一样,中国人学英语也会因为各种同样的原因遇到很多困难," Andy Luan在问答网站Quora上写道,"最初学英语时,最难的可能是发音。"
Grammar is next. English grammar is ridiculous. There are a few so-called rules', but just about everything seems to be an exception to these rules."
其次是语法。英语语法很搞笑,有一些所谓的'规则',但几乎都可以有例外。"
One of my observations is that Chinese speakers tend to have trouble with third-person pronouns (he and she aren't interchangeable in English) and collective plurals.
我注意到,讲中文的人经常把英文中的第三人称代词和集体名词单复数搞错(英文中的他和她不能互换)。
Many English words are the same in the singular as in the plural, so sometimes you will hear someone talk about the "researches" they did for a story, which is nonetheless endearing.
很多英文单词的单复数形式没差别,因此有时你会听到有人说为一篇文章做了"很多调查研究",但这么说也很讨喜。