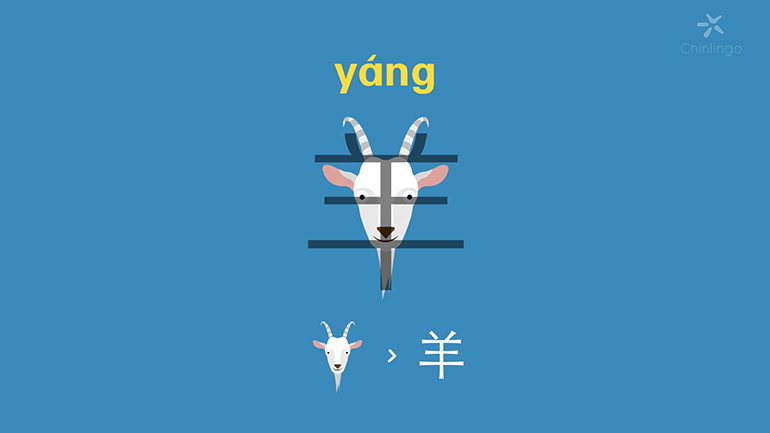 "羊" (yánɡ) is a typical pictographic character. In the Oracle Bone Script, "羊" looks like the head of a sheep with distinct horns, and is easily recognizable. The character "羊" we see now is the simplified form, but the pictographic character-formation principle has been inherited: the two dots and the horizontal stroke "䒑" on the top represent two horns of a sheep, the middle stroke represents its ears, the bottom stroke represents its beard, and the vertical stroke represent its face.
"羊(yánɡ)"是典型的象形字。甲骨文字形的"羊(yánɡ)"就像一只羊头,菱角分明,特征明显,极易识别。后经演化的简体汉字"羊",也吸取了古汉字象形的造字原理:上面的两点一横"䒑"表示羊的两只角,中间的一横表示羊的耳朵,最下面的一横是羊须,中间一竖则是羊脸。
Both sheep and goats are docile and not aggressive. Chinese people have been convinced that "羊" symbolize niceness, goodness and peace since ancient times. In sacrifice activities, mutton and goat blood are often offered as the sacrifice. Ancient Chinese people domesticated goats and reared them at home in early times. "羊" was not only the food source but also the token of fortune. In ancient China, the more one has cattle, sheep or goats, the richer he/she would be considered.
无论是哪种羊,其性格温顺,不具攻击性。中国人自古以来就认为羊象征着美好、善良、和平。在祭祀的时候,羊肉和羊血常作为祭品供奉祖先。中国古人很早就将山羊驯化,圈养在家中。羊即是食物的来源也是财富的象征。中国古代的富人排行榜是按照拥有牛、羊的数量来评比的。牛羊数量越多证明其主人越富有。
Besides acting as the token of fortune, cattle are used for farming and represent the spirit to work hard and endure hardship. By contrast, "羊" (sheep) seem to be nobler. They are favored by the human beings with their mild and obedient temper and stand for auspiciousness. "祥" (xiánɡ: lucky) is the very character that accounts for the noble value of "羊". It is composed of "羊" on the right, not only because they share the same final "ang", but also because "羊" have been the token of auspiciousness since ancient times. When "羊" is combined with "礻", it means "羊" are offered as the sacrifice to pray for good luck, happiness and smoothness in a year.
牛除了被视作财富之外,它通常用于农耕,是勤劳、吃苦的代表。相比之下,羊则更显高贵,它倚仗着自己温和服从的性格赢得了人类的好感,成为了吉祥的象征。汉字"祥(xiánɡ:lucky)"的构造正是"羊"高贵价值的最好例证。"祥"右边取"羊"作为部件,不仅是取羊(yánɡ)的韵母(ang)辅助发音,也是因为羊自古以来就是吉祥之物,将它与示字旁"礻"相结合表示"献上羊为祭品",一年就能吉祥如意,风调雨顺。
The article is translated and editted by Chinlingo. Please indicate the source (info.chinlingo.com) for any use, reproduction or transfer.
本文由Chinlingo编译后发布,如需转载,请标明来源:info.chinlingo.com.