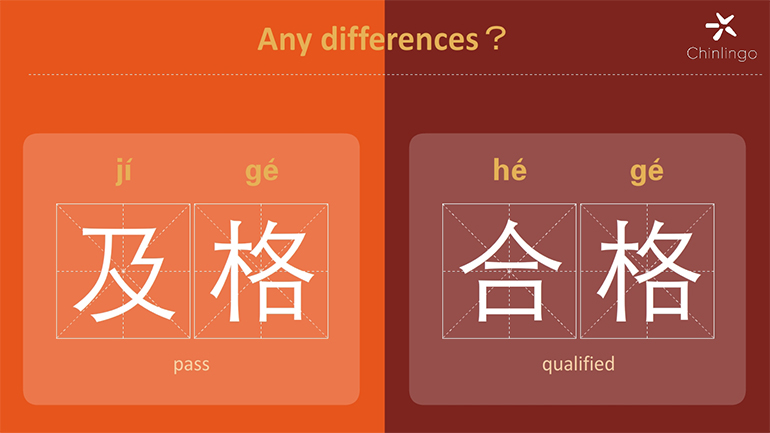 [Do you know?]
Both "及格" and "合格" means "qualified; up to a specified standard in a test or exam". Is there any difference between them?
"及格"和"合格"都可以表示成绩或测试达到标准,它们有什么不同呢?
[Definitions]
及格 (jí ɡé): pass (a test, an examination, etc.); reach the minimum standard
合格 (hé ɡé): qualified; up to standard
及格 (jí ɡé):(考试成绩)达到规定的最低标准
合格 (hé ɡé): 符合标准
[Uses]
"及格" refers to the minimum standard, while "合格" is related to a high standard. They differ in both the meaning and the usage, and cannot be exchanged.
"及格"只是达到了最低的标准,而"合格"则是高标准。"及格"和"合格"的意思和用法都不同,它们不能相互替换。
Examples:

√ 我这次考试刚刚及格。(wǒ zhè cì kǎo shì ɡānɡ ɡānɡ jí ɡé)
I nearly failed the exam.
× 我这次考试刚刚合格。
√ 这些产品的质量经过检验都合格。(zhè xiē chán pǐn de zhì liànɡ jīnɡ ɡuò jiǎn yàn dōu hé ɡé)
These products are qualified in quality after inspection.
× 这些产品的质量经过检验都及格。
The article is translated and editted by Chinlingo. Please indicate the source (info.chinlingo.com) for any use, reproduction or transfer.

本文由Chinlingo编译后发布,如需转载,请标明来源:info.chinlingo.com.