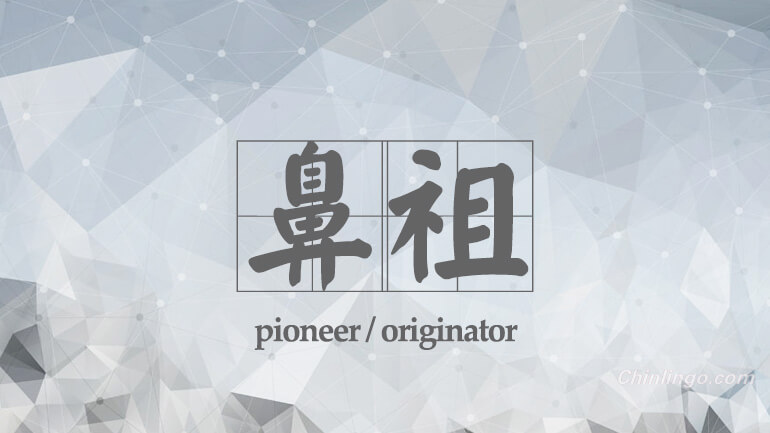 Before explaining the origin of Chinese word "鼻祖 (bí zǔ)", we have to take a look at the character "鼻 (bí)".
要解释"鼻祖"的来历,首先还得从"鼻"字说起。
The original form of Chinese character "鼻 (bí)" is "自 (zì)". In ancient times, "自 (zì)" meant "nose (鼻子, bí zi)" in Chinese. In the oracle bone script and the bronze script, "自 (zì)" looked like the shape of human's nose. At that time, "自" and "鼻" shared the same pronunciation and Xu Shen, a famous linguist in the Eastern Han Dynasty, said in his work Shuo Wen Jie Zi that "自pronounced the same as 鼻".
"鼻"的本字是"自"。在上古时代,"自"就是鼻子的意思。在甲骨文和金文中,"自"的写法都很像人的鼻子的模样,那时候,"自"的读音和"鼻"的读音是一样的,所以许慎在《说文解字》里说:"自,读若鼻。"
People often point to their noses when they speak of themselves, and that's why "自 (zì)" has another meaning of "self" and becomes the first-person pronoun. As this use of "自 (zì)" is widely accepted, its original meaning "nose" is less used. Therefore, another Chinese phonogram was created as people added "畀 (bì)" under "自 (zì)" to form a new character "鼻 (bí)". From then on, "自 (zì)" and "鼻 (bí)" are used separately with different meanings.
人们在说到自己的时候常常指着自己的鼻子,因此"自"又有了"自己"的意思,成了第一人称代词。"自"的这个意思后来被广泛运用,结果反而不方便指它的本义——鼻子了。因此人们另外造了一个形声字:在"自"之下加了一个"畀",形成了一个新字"鼻",从此,"自"和"鼻"就有了分工,各指各的意思。
As "自 (zì)" has its extended meaning "从 (cóng)" which also refers to the "beginning", "鼻 (bí)" inherits the meaning of "origination" or "beginning" as well, the first ancestor or originator is called "鼻祖 (bí zǔ)".
因为"自"的引申义有"从"的意思,再引申为"开始"的意思,所以"鼻"也继承了创始、开始的意思。因此,最早的祖先、创始人就被称为"鼻祖"。
The article is translated and editted by Chinlingo. Please indicate the source (info.chinlingo.com) for any use, reproduction or transfer.
本文由Chinlingo编译后发布,如需转载,请标明来源:info.chinlingo.com.