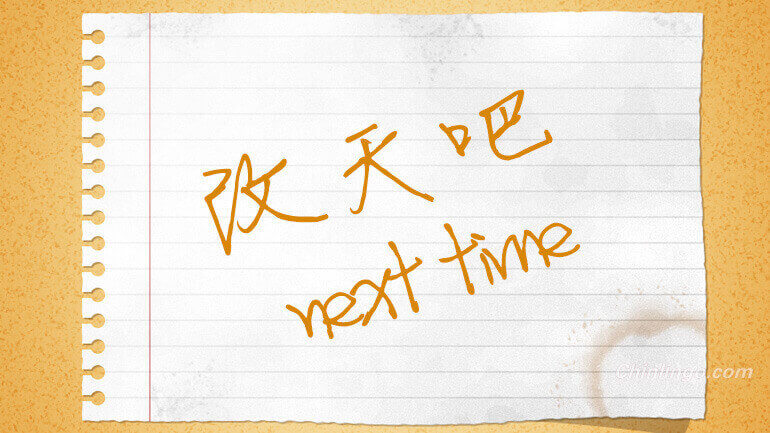 In China, declining an invitation outright can be seen as rude, so it is important to gage your audience. In this article, we will focus on various phrases that will help you decline an invitation politely.
在中国,直白地拒绝邀约会被视为无礼,因此照顾到你的听者很重要。本文,我们会讨论如何婉拒邀约的各种短语。
There are so many ways to decline an invitation, and more often than not, your declination will include some kind of excuse. If you are speaking to your boss or mother-in-law, choose a "softer method" of declining. If you need to get rid of a pushy salesman, there are more firm methods.
很多种方式都可以拒绝邀约,而你的拒绝多半包含某种借口。如果你是在和老板或丈母娘说话,那要选择温和的拒绝方法,若你想摆脱一个强势的、喋喋不休的推销员,那就可以使用更加果断的方式。
We listed the ways to decline an invitation from most polite (softest) to the most firm below.
下面,我们列出了各种拒绝邀约的方式,从最礼貌到最果断的拒绝。
我们下次再去吧
wǒ men xià cì zài qù ba
Let's go next time.
Not only will this phrase get the job done for declining, but it will also allow you to display your interest towards the invite. Saying "next time" sometimes means the activity will happen, or that it will never happen. Hence, this phrase comes in handy for situations you don't want to be in, or for situations of when you want to accept the invitation another day.
这句话不仅能处理好拒绝,而且它还会表现出你对邀请的兴趣。有时说"下次"意味着事情以后会发生,或绝不会发生。因此,这句话对于处理你不想参与的或者你想改天再接受邀请的情况很受用。
真的不用(了)
zhēn de bú yòng (le)
Really, there's no need.
The appropriate usage for this phrase is when you are declining some sort of tangible offer. For example, if someone offers to pay for your dinner, you can use this phrase to try and get the person out of the act. It can also demonstrate your modesty and manners, in that you are not just going to allow the person to pay for you. Sometimes you can say "不用 (bù yòng)" several times and attach the 了(le) at the end of the phrase. Adding the "真的 (zhēn de)" is like adding "really" at the end of what you're saying.
这个短语适合你拒绝某种提议的时候。比如,要是某人想为你的晚餐买单时,你就可以用上这个短语去,让对方不买单。这也可以表示出你的稳重和礼貌——你不会让对方替你付钱。有时,你可以说几次"不用",然后再在短语最后跟上"了"。加上"真的"就类似在你所说的最后跟上"really"。
我今天有点事
wǒ jīn tiān yǒu diǎn shì
I have something to do today.
When using this phrase, you are implying that your day's schedule is much too packed to accept the invitation. This phrase is useful because you suggest that your inability to take on the invitation is due to something outside of your control. Keep in mind that this phrase only gets you out of the activity for one day. It leaves an opening for them to invite you again at another time.
使用这个短语时,你是在暗示你当天的安排已经很满以至于无法接受邀请。这个短语很实用,因为你是在说由于无法掌控的事情而不能接受邀请。牢记,这个短语只能让你当天拒绝活动,而会给他们留下改天再次邀请你的机会。
改天吧
gǎi tiān ba
Next time.
This is a very vague way of saying "Next time." Literally, it means, "Let's switch to another day." However, this does not mean that you are asking the person to invite you again.
这是表达"next time"的模糊的说法。字面上讲,它的意思是"let's switch to another day",不过,这并不意味着你是在让对方再次邀请你。
我今天没空
wǒ jīn tiān méi kòng
I don't have time today.
This phrase explains concisely to the person inviting you that you simply do not have the time today for an additional activity. You can take out 今天 (jīn tiān), and then 我没有空 (wǒ méi yǒu kòng) will just explain you cannot take on the invite because you don't have the time to.
这个短语向邀请你的人简洁地解释了你当天并没有时间去做其它事情。你可以省略"今天",那么"我没空"就只是解释了由于你没有时间而无法接受。
You can also combine a few of them to soften the tone. For example, you can say, "我今天没空, 改天吧 (wǒ jīn tiān méi kòng, gǎi tiān ba./I'm too busy today. Next time.)"
你也可以结合几种方式,使你的语气显得更温和。例如,你可以说"我今天没空,改天吧(I'm too busy today. Next time.)"
The article is translated and editted by Chinlingo. Please indicate the source (info.chinlingo.com) for any use, reproduction or transfer.
本文由Chinlingo编译后发布,如需转载,请标明来源:info.chinlingo.com.