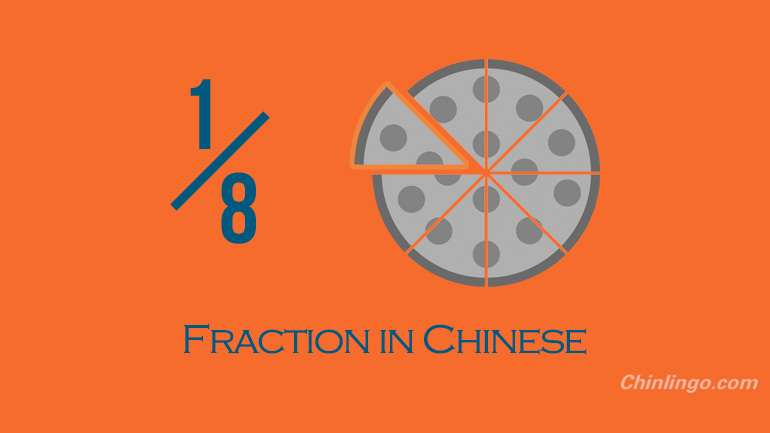 "分之 (fēn zhī)" is used to form a fraction in Chinese. When expressing a fraction, the denominator is always said before the numerator. This pattern is also the way percentages are expressed in Chinese.
中文里,"分之"用于构成分数。表达分数的时候,分母是说在分子之前,这个规律也是中文里表达百分比的方式。
denominator + 分之 + numerator
So a 1/2 is read 二分之一 (èr fēn zhī yī), not 一分之二 (yī fēn zhī èr). To say a percentage, for example, 50 percent, you would say 百分之五十 (bǎi fēn zhī wǔ shí).
因此,1/2是读作"二分之一"而不是"一分之二"。表达百分比的话,例如50 percent,你可以说"百分之五十"。
Examples
我们班有三分之一的同学是外国人。
wǒmen bān yǒu sān fēn zhī yī de tóngxué shì wàiguó rén.
One third of our classmates are foreign students.
我们有二分之一的机会成功。
wǒmen yǒu èr fēn zhī yī de jīhuì chénggōng.
We have 50 % chance to succeed.
这种事情发生的可能性是万分之一。
zhè zhǒng shìqing fāshēng de kěnéng xìng shì wàn fēn zhī yī.
The likelihood of this kind of thing happening is very little.
世界上只有百分之三的人能看懂这张图。
Shìjiè shàng zhǐyǒu bǎi fēn zhī sān de rén néng kàn dǒng zhè zhāng tú.
Only 3 % of the world's population can understand this map.
The article is translated and editted by Chinlingo. Please indicate the source (info.chinlingo.com) for any use, reproduction or transfer.
本文由Chinlingo编译后发布,如需转载,请标明来源:info.chinlingo.com.