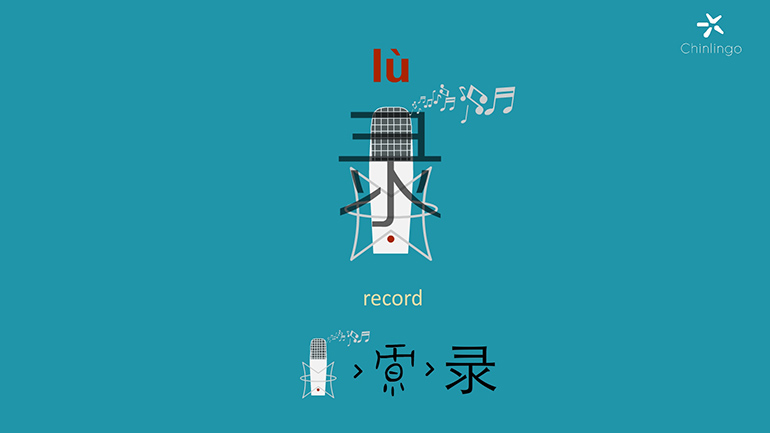 [Origin of the Character] 字源:古字含义
The ancient form of "录" (lù) is a sketch showing the process of filtering dye. The top part indicates a pressure device, the middle part symbolizes a filter bag, and the bottom part is the filtered water, whose color remains the same with that of the raw material. That's how its meaning of "to record" originates from.
古汉字的"录"的字型是过滤染料的示意图。上边字符表示加压装置,中间字符表示过滤包,下边字符表示滤出来的水。过滤出来的水保持着原料的颜色,由此产生录制、记载的含义。
[Modern Meaning] 字义:现代含义
In modern Chinese, the original meaning of "to record" is still used, in the form of a verb. For example, "记录" (jì lù) means "keep a record". "录" (lù) can also be finished by an instrument, as in "录像" (lù xiànɡ) for "picture recording" and "录音" (lù yīn) for "sound recording".
现代汉语中,沿用了"录(lù)"表示记载的含义。作动词用。如,单词"记录", 指的是把事情用文本记下来。"录(lù)"还可以用仪器记载,如单词"录像"是指用录像机或者摄像机把图像、声音记录下来。 "录音"是指用录音设备把声音记录下来。
[Other Applications] 其它运用
"录" always serves as a pictophonetic character and appears in the right part of a left-right structured character, as in "绿" (lǜ, green).
"录(lù)"通常作为声旁,出现在左右结构的汉字的右侧。当它与一些部首组合时,会成为合体字。比如,它与"绞丝旁(纟)"组成 "绿(lǜ )"。
The article is translated and editted by Chinlingo. Please indicate the source (info.chinlingo.com) for any use, reproduction or transfer.
本文由Chinlingo编译后发布,如需转载,请标明来源:info.chinlingo.com.