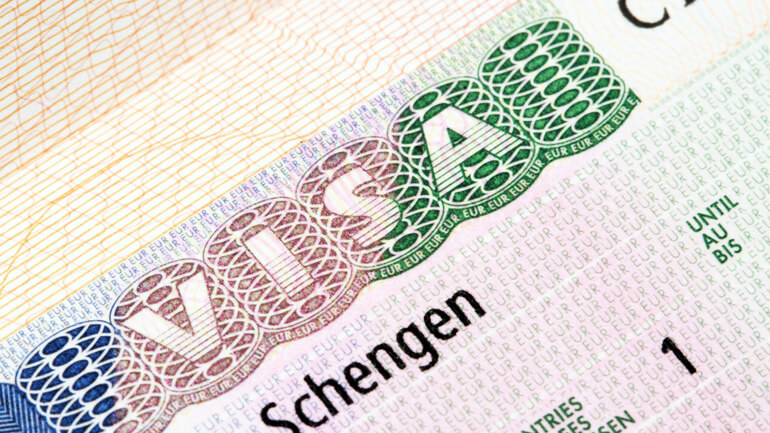 Yin Rui is happy he won't have to travel to Beijing from his home in Henan province's Xinyang city to get his Schengen visa to visit Spain this year.
尹锐很高兴,他现在不用从河南省信阳市的家专程去北京一趟拿他去西班牙的申根签证了。
That's because the Spanish embassy in Beijing recently announced it'll open 12 new visa-application centers in such second-tier cities as Jiangsu province's capital, Nanjing; Liaoning province's capital, Shenyang; and Hubei province's capital, Wuhan, which is a 45-minute, 91.5 yuan ($14) high-speed train ride from Yin's city. Otherwise, he and his wife would have to take a four and a half hour train trip to Beijing that costs nearly five times as much. He'd likely need to spend the night in the capital.
这是因为在北京的西班牙驻华大使馆最近宣布将在沈阳等二线城市新开设12个签证申请中心;湖北省的省会武汉跟尹锐所在的城市只有45分钟的高铁路程,花费只需91.5元。不然的话,他要跟妻子一起坐四个半小时的火车到北京,花费得有5倍那么多。他还可能需要在首都过一夜。
Spain is among the Schengen countries, including the Czech Republic and Greece, opening new visa centers around the country this year. Germany, for instance, will open 10. France will open nine. Previously, there were few European consulates or visa centers outside Beijing, Shanghai and Guangdong's provincial capital, Guangzhou.
西班牙,还有捷克共和国和希腊,这些申根区国家在今年都将在中国新增签证中心。比如德国,将新增10个;法国将增9个。此前,除了北京、上海和广州之外几乎没有欧洲领事馆或者签证中心。
"It will have a positive impact on Chinese tourists, as the centers will offer convenient access for most clients," says Catherine Oden, director of Atout France (the France Tourism Development Agency) in Greater China.
法国旅游发展署大中华区的主管凯瑟琳·奥登说:"由于签证中心将为大多数客户提供便捷的途径,这会对中国游客产生积极的影响。"
"Their travel time to cities with the centers will be considerably reduced. It may also encourage more tourists to travel to France."
"他们要去有签证中心的城市的时间极大地缩短了。这也许还会激励更多的游客去法国旅游。"
Nearly 400,000 Chinese visited Spain last year, a roughly 40 percent increase over 2014, the Spanish Statistics Institute reports. Their spending increased 62 percent.
西班牙统计研究所报告显示,去年约有40万中国人前往西班牙旅游。较2014年约增长了40%。而他们的花费增长了62%。
"Spain is appealing to Chinese tourists because it has rich cultural heritage and a unique culture," says the Spanish embassy's tourism counselor, Dario Polo Rodriguez. Spain's tourism authority in China has expanded cooperation with Chinese partners and staged promotions in second-tier cities.
西班牙大使馆旅游参事达里奥·波罗·罗德里格兹说:"西班牙因其丰富的文化遗产和独特文化吸引着中国游客。"西班牙在中国的旅游机构已经与中国伙伴扩展合作,并且在二线城市推出优惠活动。
Germany has been hosting annual road shows in second-tier cities since 2014, says the director of the German National Tourist Board's Beijing office, Li Zhaohui. The country is opening new centers in such cities as Shandong province's capital, Jinan, and Zhejiang province's capital, Hangzhou. Nearly 1.4 million Chinese visited Germany last year, roughly 35 percent more than in 2014. The most popular destinations were Munich, Frankfurt, Cologne, Dusseldorf and Stuttgart.
德国国家旅游局驻北京办公室首席代表李朝晖说,从2014年开始,德国一直在二线城市举办年度路演活动。德国正在如山东省会济南、浙江省会杭州之类的地方开办新的中心。去年约有140万中国人前往德国,较2014年增长了约35%。最受欢迎的目标地是慕尼黑、法兰克福、科隆、杜塞尔多夫和斯图加特。
China's second-tier cities' outbound-tourism markets are more price-sensitive. And residents often know less about destinations, Li says. Li says young Chinese prefer independent and in-depth travel. They enjoy road trips, cycling and hiking.
中国二线城市海外旅游的市场价格更为敏感。李朝晖说,居民通常对目的地了解更少。李朝晖还说,中国年轻人更偏好独立的、深入的旅游。他们更喜爱自驾游、骑行和徒步旅游。
The tourism board and German airline Lufthansa recently partnered to launch a Chinese-language app about road trips and shopping to help travelers determine routes and communicate with one another. As for France, Chinese visitors enjoy high-end luxury, chic boutiques and retail shopping, Oden says.
德国旅游局和德国汉莎航空公司近日合伙发布了一个关于自驾游和购物的中文app,帮助旅游者确定路线并与同伴交流。至于法国,奥登说,中国游客可以享受高档的奢侈品,时尚精品店和零售店。
Atout France organizes themed promotions to attract a dynamic mix of Chinese, including those from second-tier cities. Last year's themes included gastronomy, shopping and culture. These will continue this year, with the addition of family travel, Oden says.
为了吸引更多的中国游客,法国旅游发展署开始组织举办一些主题活动,吸引包括来自二线城市的中国人。奥登表示,2015年的主题活动涵盖了美食烹饪、购物和文化。2016年,这些主题活动还将继续,另外还增加了家庭旅行。
Atout France offers online training for French enterprises to better understand Chinese guests' preferences. Department stores like Galeries Lafayette offer separate welcome areas for Chinese.
为了让法国公司更好地了解中国游客的喜好,法国旅游发展署还提供在线培训。包括老佛爷百货在内的百货公司专门提供了中国游客的独立欢迎区。
"Chinese tourists are mainly interested in three things in Europe – culture and history, food and shopping," says the European Travel Commission China Operations Group's director, Frantisek Reismuller. The 32-member ETC is responsible for promoting Europe as a destination.
"中国游客对欧洲国家的三大兴趣所在是——文化历史、美食以及购物,"欧洲旅游委员会中国新任市场主席米德仁先生表示。拥有32个成员国的欧洲旅游委员会应该担起提升欧洲旅游整体形象的大任。