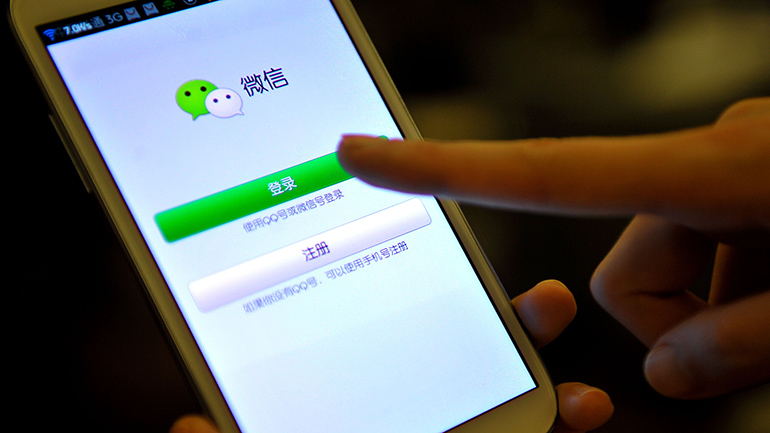 If someone deletes or blocks me on WeChat, does it mean that I offended him/her? The users have their own opinions on it.
如果有人的朋友圈删除或是屏蔽我,是不是因为我惹他/她生气了?
Zijun Yu:
It depends.
这要看情况。
Maybe you have just leave messages too frequently without much substantial information. For example, someone may block you simply because you ask him something like 'how are u?' 'what are u doing' or 'do you love me' too often. You know, people may be bored after answering such kinds of questions time after time.
也许你老是刷屏,并没有发些实质性内容的消息。比如,有些人屏蔽你仅仅是因为你总是问他们这样的问题"你好吗?""你在干什么?""你爱我吗?"当然,人们一次又一次地回答这样的问题总会厌烦。
Another possible reason maybe that you have sent something unpleasant to your friend or in your friend circle. I have just blocked one of my middle school classmate yesterday because she was trying to sell fake goods in the friend circle, and I hate fake sneakers quite much.
还有可能是你在朋友圈或是给你朋友发了些不愉快的消息。我昨天还屏蔽了一个中学同学,因为她试图在朋友圈出售假冒商品,我最讨厌卖假鞋的。
Look, why you are blocked may depend on the guy's mood and his preference, and the reason a person gets blocked varies from person to person. So I suggest you to write an email or make a phone call to that person, if that guy really means a lot to you, to see whether he or she is dissatisfied with you, and to find out how can you make up for the case.
看吧,你被屏蔽的原因取决于那个人的心情和偏好,屏蔽别人的理由因人而异。因此,我建议你给屏蔽你的人发封电子邮件或者给他打个电话(如果他对你很重要的话),你要看看他/她是否对你有所不满,并找到弥补的方式。
Jianing Wu:
Not necessarily you have offended him/her…but it's highly likely that you've bothered his/her (reasons include TOO Frequent and nonsense posts). Or, he/she just does not want to bother you with their posts.
不一定是你惹怒了他/她…但是很有可能打扰到他/她了(原因包括刷屏和发些毫无建设性意义的状态)。或者,他/她并不想因为自己发的状态打扰到你。
Kathryn K:
There are 3 reasons I can think up that a person blocks other people:
朋友圈屏蔽他人我能想到三个可能的原因:
1. They do not want to talk to the one via WeChat any more (in most cases they refuse to be disturbed by the one's boring greetings like "what are you doing [在干嘛呢]");
他们不想通过微信聊天(大多数情况,他们不喜欢别人以"在干嘛呢"作为聊天的开场白)。
2. They do not want the one to view their "Moments" on WeChat (maybe they publish very private pictures or life or thoughts and they do not recognise the one to be that close);
他们不想让你看他们在微信上发的状态(或许他们发些私密的照片、生活感想等等,他们觉得和被屏蔽的人没有熟悉到那个程度)。
3. They delete the one's name from friends list because they no longer want to see it (maybe ex boyfriend/girlfriend).
他们把"那个人"从朋友列表中删除掉,因为他们再也不想见到他(也许是前女友或是前男友)。
Wayne Mansfield:
There are just too many ways to communicate on the web… I have a finite number of people I prefer to chat with. So, in my case, I rarely think about those who I don't want to chat to.
网上交流有多种方式…我喜欢和一些人交流。所以,我的情况是几乎不会去想那些我不愿搭理的人。
The other reason I block or delete people on web enabled communication channels is that they think I must talk with them according to THEIR schedule… phones etc allow you to choose who you talk with OR NOT… but the number of people who think it is OK to skype me, webchat me, messenger me, is just not good… and they all think I have to answer now or I am rude.. heck I think THEY are the rude ones..
屏蔽或删除好友的另一个原因是有时我必须根据他们的安排与他们聊天。但是可以选择聊天对象,但是有些人认为用skype联系我就好,用微信或是给我发信息都不大好。他们认为我必须给予回应,不然就觉得我不礼貌。我认为他们那样做才不礼貌呢。
Simon Guo:
It depends. He/She might just forget who you are and believes that you are some kind of a salesman.
看情况。他/她可能只是忘了你是谁,把你当成推销员了。