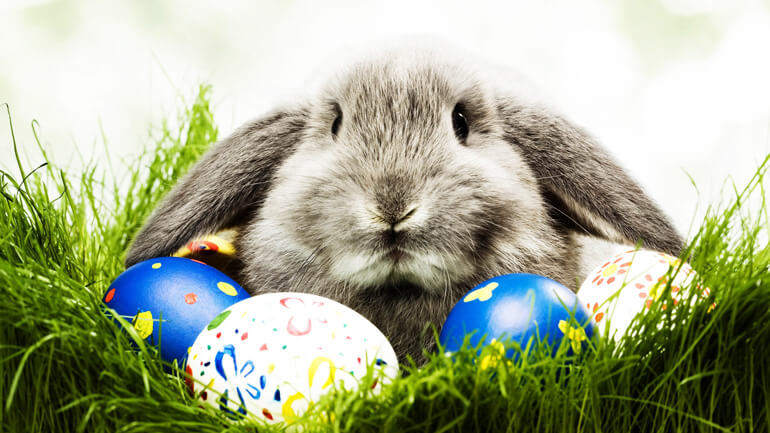 Happy Easter! Let's talk about two symbols of Easter you might often hear in Chinese.
复活节快乐!一起聊聊中文里你会经常听见的2个复活节象征吧。
The Easter Bunny
复活兔 (fù huó tù)
The Easter Bunny is not a modern invention. The symbol originated with the pagan festival of Eastre. The goddess, Eastre, was worshipped by the Anglo-Saxons through her earthly symbol, the rabbit. The Germans brought the symbol of the Easter rabbit to America. It was widely ignored by other Christians until shortly after the Civil War. In fact, Easter itself was not widely celebrated in America until after that time.
复活兔并不是现代世界的产物。复活兔起源于异教的复活节。当时,耶稣的世俗象征是一个兔子,并被盎格鲁撒克逊人供奉着。事实上,在这次内战结束后,复活节也未在美国被人们广泛地庆祝。
The Easter Egg
复活蛋 (fù huó dàn)
As with the Easter Bunny and the holiday itself, the Easter Egg predates the Christian holiday of Easter. The exchange of eggs in the springtime is a custom that was centuries old when Easter was first celebrated by Christians.
与复活兔和复活节一样,复活蛋预示着圣诞节的即将到来。当基督教徒庆祝第一个复活节后,人们开始春天互相交换复活蛋,而这已成为了人们好几百年的习俗。
From the earliest times, the egg was a symbol of rebirth in most cultures. Eggs were often wrapped in gold leaf or, if you were a peasant, colored brightly by boiling them with the leaves or petals of certain flowers.
在早期,复活蛋许多文明中象征着"再生"。人们常常用金色的叶子包裹复活蛋,或是农民的做法:将复活蛋画得色彩斑斓,并把它和叶子或是真花瓣一起煮沸。
Today, children hunt colored eggs and place them in Easter baskets along with the modern version of real Easter eggs — those made of plastic or chocolate candy.
在今天,孩子们到处搜刮复活蛋,并将这些蛋放到复活节篮子中。为什么呢?他们只是为了复活蛋的现代意义:复活蛋是由软糖或巧克力做的。
Please visit Chinlingo for Chinese learning.