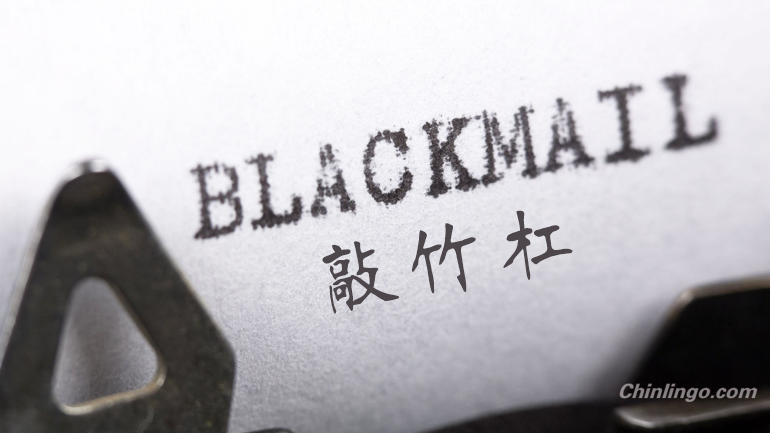 In Chinese, "敲竹杠 (qiāo zhú gàng, solicit an advantage; blackmail)" means to get others' property or raise price by taking advantage of their weaknesses or to blackmail others under the excuse of something.
中文里的"敲竹杠"是指利用他人的弱点来索取财物或抬高价格,或者以某事为借口进行讹诈。
So why is blackmail called "敲竹杠 (qiāo zhú gàng) (literally meaning 'to knock at a bamboo pole')?
那么,为什么讹诈会有"敲竹杠"这一说法呢?
In the old days, transport workers mostly used bamboo poles as their tools, which they stuffed with the hard-earned money. The gangers or bullies would understand how much the workers had earned in a day by just knocking at the bamboo poles. That's how "敲竹杠 (qiāo zhú gàng)" comes along.
过去的运输工人用的工具很多都是竹杠,他们把自己的血汗钱放在片刻也不离手的竹杠中,把头、恶霸来了,只要敲一下竹杠,便知道一天收入多少,这就是"敲竹杠"的由来。
Another saying is that "敲竹杠 (qiāo zhú gàng)" comes from the late years of Qing Dynasty. At that time the smugglers cudgeled their brains to hide opium from the inspection at the customs pass. Some hided the opium in bamboo sprits and delivered it to destinations by ship. One day, a revenue officer commanded his inferiors to inspect every corner on a merchant ship that arrived at the Shaoxing wharf in Zhejiang but no opium was found. Then the officer's private adviser with a smoking pipe in his mouth walked casually toward the stern and tapped his pipe at the bamboo spar. The shipowner was terribly frightened and mistook that the private adviser had seen through the secret. Then the shipowner invited the adviser to the cabin and offered a large bribe of silver money to him, begging for his protection. After accepting bribe, the adviser got off the ship with the others, without saying anything. From then on, "敲竹杠 (qiāo zhú gàng)" has become a synonym of "blackmail", and it is still used today.
还有一种说法说是来源于清朝末年。当时走私贩子为躲避关卡检查,挖空心思藏匿鸦片。有的走私贩子把毒品密藏在竹制的船篙里,随船从水路运往各地。一天,一艘商船驶至浙江绍兴码头,缉私官带人上船检查,查遍了船舱的每个角落也没发现鸦片。这时,一个师爷吸着长烟筒,漫不经心地走到船艄,信手在竹篙上敲烟灰。船主却吓得面色大变,知道师爷已看透了秘密,慌忙把这位师爷请到后舱,掏出大把的银子悄悄塞给他,请他关照。师爷得到银子便没说什么,随其他人员下船去了。此后,"敲竹杠"便成了讹诈财物的代名词,并一直沿用下来。
Please visit Chinlingo for Chinese learning.