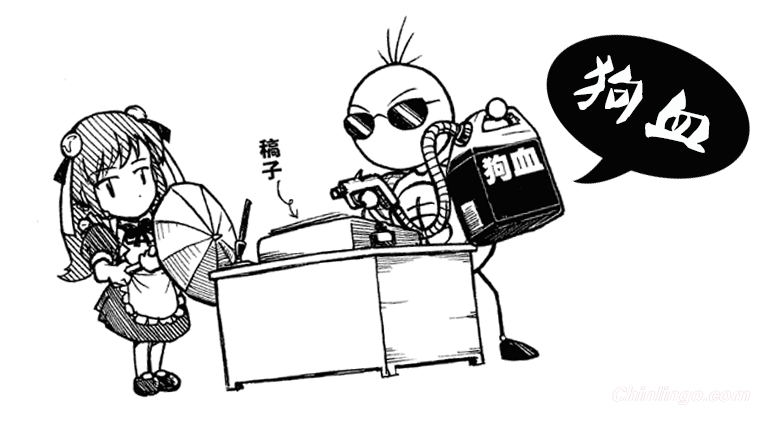 If you hear someone say, "The Korean soap opera I'm watching is so full of dog blood!" (我看的韩剧太狗血了! wǒ kàn de hán jù tài gǒu xiě le), don't worry—it doesn't mean the characters are chowing down on dog meat. Actually, this phrase has nothing to do with dog slaughter; these days, "dog blood" has come to mean cliché, cheesy or melodramatic.
要是你听到有人说"我看的韩剧太狗血了",不要紧张,这不是说人物正在狼吞虎咽地吃狗肉。实际上,这个习语和屠杀狗狗毫无关系,如今,"狗血"一词已经成为"老套、俗气或夸张"的代名词。
This slang originated with the Peking Opera, whose stories often some shysters who claimed they could expel evil spirits by spilling bowls of dog blood. Given that this won't do much more than get the SPCA on your tail, "spilling dog blood" (洒狗血 sǎ gǒu xiě) came to mean being pretentious.
这个俗语源自于中国京剧,故事经常是一些奸诈之徒宣称自己可以通过洒出几碗狗的血液便能驱魔。鉴于此,除了你会被动物保护协会盯上之外便没有什么作用,而"洒狗血"这里就成了"狂妄"的意思。
Now the term has evolved to describe hackneyed plots in popular books and movies (called "dog-blood plots", 狗血情节 gǒu xiě qíng jié). To wit: heartbroken lovers who dash outside into thunderstorms; a heroine who falls in love with her fiancé's best friend. You can even apply this to real life, when you run into some high-octane drama or serendipitous coincidence: "Life is like a dog-blood soap opera!" (生活就像狗血剧! Shēng huó jiù xiàng gǒu xiě jù!)
现在,这个词已经演变为描述流行书籍和电影里的庸俗情节(称之为"狗血情节")。即,心碎的情人一起冲进暴雨中;女主角爱上她未婚夫的好朋友。当你在现实生活中碰到高能抓马或偶然巧合时,你也可以说,"生活就像狗血剧!"
Translated from: theworldofchinese
Please visit Chinlingo for Chinese learning.