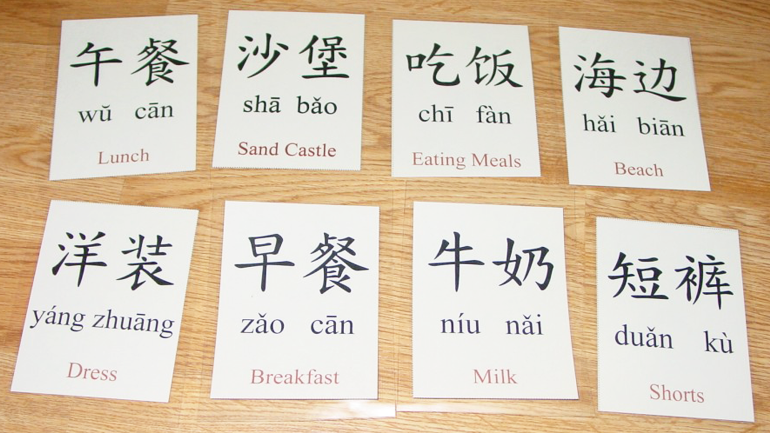 What makes an optimal Chinese flashcard? How can you optimize wording for flashcards in a language you're trying to learn? This article looks at how you can improve the flashcards you use for learning Chinese with a set of quick optimizations.
什么才是最佳的中文闪卡?你该如何优化所学语言的字词闪卡呢?本文介绍如何通过一些快速优化方式提升你的学习闪卡。
Keep it short
保持简练
Above all else, the best optimization you can make to your Chinese flashcards is to keep them short.
最重要的,保持简练是你可以优化中文闪卡的最佳方法。
The maximum time needed to respond to the prompt on a card should be around 15 seconds, and most cards should be much quicker. This helps you to build up momentum, stay in the zone and maintain your motivation to keep on studying. Big, labourious flashcards will do the opposite.
闪卡提示最大时限应该在15秒左右,而大部分的闪卡应该更快。这会有助于你保持动力、提高专注度以及保持你继续学习的积极性。又大又费劲的闪卡只会起相反作用。
One difficult thing
一个难点
It's generally a good idea to have just one difficult element in a flashcard. This is the main point of the card, and the context that comes with it should be material you're relatively confident with already.
通常而言,好办法是闪卡只包含一个困难元素。这是闪卡的要点,而且其所在的语境应该是你已经相对自信的材料。
It's also helpful to tackle new knowledge from a base of material that you're already quite familiar with.
在你已经十分熟悉的材料的基础上去处理新的知识也很有帮助。
Keep a range of difficulty
难度跨度大
It's a good idea to have a wide range of difficulty in your flashcard. In other words, keep the old stuff that seems laughably easy.
保持闪卡难度跨度大也是个好方法。换句话说,总是留着旧材料似乎简单到可笑。
Again, this comes back to motivation. Blitzing through some easy cards reminds you of the progress you've made and encourages you to keep going. Before long, the difficult cards will fall into that category, and it'll be time to add more difficult cards.
这又回到动力这一点了。快速攻克一些简单的闪卡能提醒你所取得的进展并激励你继续下去。很快,那些困难的闪卡会归到同一类,然后就需要开始增加更有难度的闪卡了。
As well as that, keeping a wide range of difficulty also helps you to build associations between the old and the new. What you're learning does not exist in isolation, even if flashcards present it that way. When you're prompted to engage with all sorts of different material, you benefit from the "gaps" between each flashcard.
除了这些,难度跨度大还有助于你建立起新旧之间的关联。你所学的并非单独存在,虽然闪卡就是那样呈现的。当你被提示去攻战各种难度材料时,你便从每个闪卡之间的"差异"获益了。
Use a range of styles and content
形式和内容多样
You can have many more types of flashcard than basic "front & back" cards. Varying the style of your cards lets you cover the different areas of learning Chinese, and keeps your cards more interesting as you study it.
你可以使用除了基本的"前后两面"的闪卡之外的更多类型的闪卡。丰富闪卡的风格能让你涵盖学中文的难点区域,而且使你的闪卡在学习时更加有趣。
Here are some ideas of card styles:
以下是一些闪卡形式:
Sentences
句子
Traditional and simplified Chinese cards
中文简体繁体闪卡
Picture cards
图片闪卡
Audio cards
有声闪卡
Pronunciation practice cards
发音练习闪卡
Zhuyin fuhao cards
注音符号闪卡
Expand on difficult items
详述难项
Material that is new or difficult should be covered by several different cards, ideally with a range of styles.
新的或者有难度的材料应该使用几种不同的闪卡,理想上是要用到多种形式。
By covering material in several different ways and expanding on it, you get a more rounded learning experience. Expanding on existing material is also a good way to build natural, interconnected knowledge of Chinese.
以不同的方式和详述去涵盖材料,你会得到更全面的学习体验。详述现有的材料也是构建自然、互通的中文知识的好方法。
Translated from: chineseboost
Please visit Chinlingo for Chinese learning.