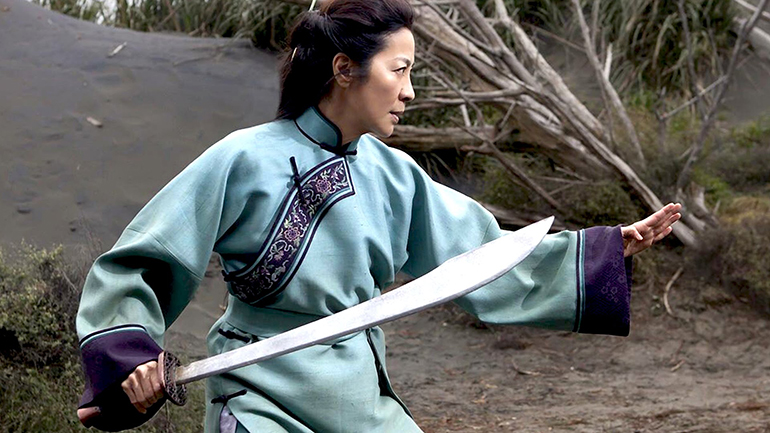 When "Crouching Tiger, Hidden Dragon" opened in 2000, it carried surprises: that Ang Lee, a director known for high-minded literary adaptations, could make such a vibrant and exciting martial-arts movie, and that a Chinese-language film could be a box-office hit in America.
《卧虎藏龙》于2000年上映后,为人们带来了许多惊喜——李安,一个以擅长改编高雅文学作品的导演竟然可以拍出这样一部活力十足、兴奋刺激的武侠片,而且一部华语电影居然可以在美国成为票房大片。
The only surprise about "Crouching Tiger, Hidden Dragon: Sword of Destiny," the thoroughly unexciting sequel that became available on Netflix on Friday, is that anyone thought it needed to be made. Directed by Yuen Wo Ping, the famous action choreographer who worked on the original "Crouching Tiger," it's a series of fights in search of a story.
《卧虎藏龙:青冥宝剑》是《卧虎藏龙》的续集,基本上非常无趣,周五在Netflix上演。此片唯一令人惊讶之处就是竟然有人觉得有拍摄这样一部片子的需要。影片由著名动作设计师、《卧虎藏龙》一片的动作设计袁和平执导,是一连串打斗情景努力在寻找一个故事的电影。
The third Netflix original feature (after "Beasts of No Nation" and "The Ridiculous 6"), "Sword of Destiny" lifts what little plot it has from the earlier film. Once again the invincible sword known as Green Destiny must be protected from thieves. Once again the warrior Shu Lien (Michelle Yeoh) comes to the home of her friend Sir Te, this time for his funeral, and is joined there by an old flame. Once again a young woman trained by a deadly female fighter has a history with a sexy bandit.
《青冥宝剑》是Netflix投拍的第三部原创片——前两部是《无境之兽》(Beasts of No Nation)与《滑稽六人组》(The Ridiculous 6)——它并没有从前作中继承太多情节。这把坚不可摧,名为"青冥"的宝剑又一次面临被盗的危险。侠女俞秀莲(杨紫琼饰)来到朋友贝勒爷家中,这一次是参加他的葬礼,一个旧情人也来到她的身边。又一次,一个年轻女孩出现了,她的师父是一个女死士,她也和一个帅气的盗匪有了一段感情。
The graceful and sly Ms. Yeoh is the only star to return from the original. The other central roles have been filled with performers less charismatic than their predecessors: Natasha Liu Bordizzo replaces Zhang Ziyi as the young woman, Harry Shum Jr. subs for Chang Chen as the bandit, and the stolid action star Donnie Yen steps in for the magnetic Chow Yun-Fat as Shu Lien's platonic paramour.
优雅狡黠的杨紫琼是唯一一个来自原版的明星。其他核心角色的演员与前任相比都差了几分。刘承羽取代章子怡,饰演那个年轻女人,岑康勇代替张震,饰演盗匪,感情内敛的动作明星甄子丹取代了迷人的周润发,饰演俞秀莲的精神恋人。
Filmed in New Zealand by a mostly Western crew, with a number of Asian-American and Australian actors, "Sword of Destiny" has a hybrid feel. It's an English-language production, and the variety of accents coupled with John Fusco's stilted dialogue call to mind an old Hollywood melodrama set in exotic lands.
影片在新西兰拍摄,大部分剧组成员都是西方人,也有少数几个亚裔和澳大利亚演员,《青冥宝剑》有种杂交的感觉。它使用英语对白,有各种口音,夹杂着约翰·福斯克(John Fusco)生硬的台词,让人觉得好像是一出发生在异国他乡的老式好莱坞情节剧。
Mr. Yuen's directorial style and the mediocre computer graphics give the film the picturesque, storybook feel of a Chinese studio production, however. Even his fight sequences, while fast and intricate, feel perfunctory. As the film ticks off the fights on its way to the big showdown, there isn't a moment that possesses the enchantment or emotion with which Mr. Lee infused "Crouching Tiger." "It is not kept hidden," Shu Lien says, spying the Green Destiny in Sir Te's quarters. Turns out it should have been.
袁和平的执导风格与平庸的电脑特效技术令影片显得好像一部中国摄影棚拍出来的图画故事书。袁和平的打斗尽管迅速而精巧,仍然令人感觉敷衍。影片勾勒出一场场打斗,直到最后的生死较量,却根本没能传递出李安贯穿在《卧虎藏龙》里的魅力和情感。"它没有被藏起来,"俞秀莲在贝勒府中发现青冥剑时说。但本片表明,还是把它藏起来的好。