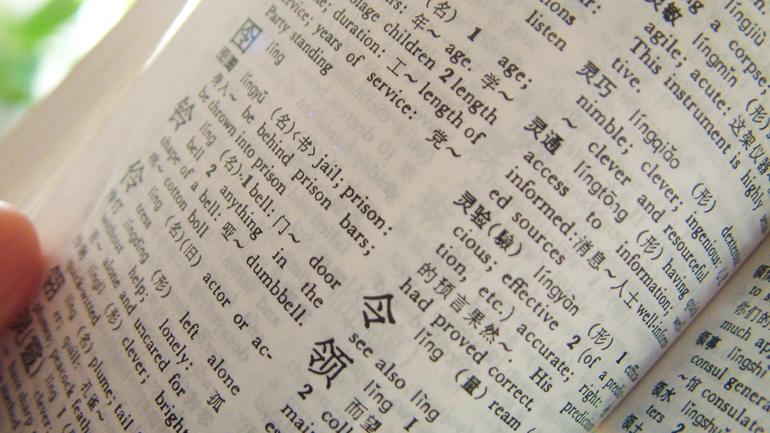 One of the most important tools for learning a new language is a good dictionary. This is because words are the basic building blocks of the language and without them, you can't communicate. Not knowing grammar can make your sentences hard to understand, but not knowing the correct word might make communication not just difficult, but impossible.
学习一门语言的一个重要工具就是一本好词典,因为字词是语言的基本模块,没有它们,你就无法进行交流。不懂语法会使你的句子难以理解,但不知道正确的字词也许会让交流变得困难而且不可能。
One of the main advantages with learning Chinese now compared to a decade or more ago is that there are now electronic dictionaries that are much, much easier to use. Finding a good dictionary is essential, but there are many types of dictionaries out there; which type should you use?
与十多年前相比,现在学习中文的一个主要优势在于如今有了更为方便使用的电子词典。找到一本好词典很有必要,但有这么多类型的词典,该选择哪种呢?
Many word lists are bilingual, meaning that they use another language to explain Chinese words or that you can look up something in your own language and see how it can be expressed in Chinese.
许多词汇表都是双语的,意味着使用另一种语言去解释中文字词或者你可以用自己的母语查阅某事在中文里如何表达。
However, many students and teachers don't like this approach because it entails a lot of translation.
不过,许多学生和老师不喜欢这种方法,因为它涉及到很多翻译。
Relying too much on translation can cause problems
过度依赖翻译引起问题
For example, some words may mean different things depending on context. One single word in English might need several different words in Chinese.
比如,有些字词随着语境会有不同的意思,一个英文单词可能需要若干个中文字词解释。
For instance, if you translate 可以,会 and 能, you have a problem.
例如,你想翻译"可以"、"会"和"能"的话,你就会遇到问题。
These arguments are not limited only to dictionaries and word lists, they can be applied to practical classroom situations as well.
这些争议不限于词典和词表,还适用于实际的课堂。
For example, if a student fails to understand a word, should the teacher explain that word in English or in Chinese? Most teachers would say "Chinese" here, and indeed, Chinese should be used as much as possible.
比如,要是一个学生不明白某个词,老师是应该用英文解释还是用中文?大部分老师会说"用中文",确实,应该尽可能多使用中文。
However, it's a serious mistake to be categorical and argue that Chinese is always good and using English is always bad. In the next article, we're going to at a few arguments for why it might be a better idea to stick to bilingual dictionaries and allow some English in the classroom.
但是,绝对地争辩用中文好、用英文不好是个严重的错误。下一篇文章里,我们将会谈到:为什么坚持使用双语词典且允许课堂出现少量英语才比较好。
Translated from: about.com
Please visit Chinlingo for Chinese learning.