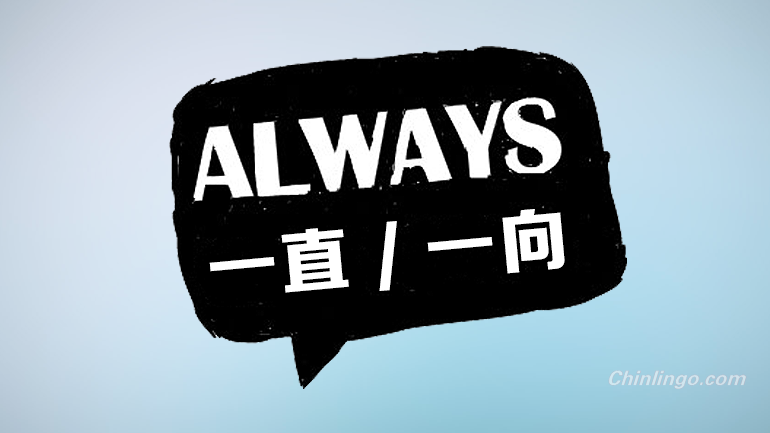 Both "一直" (yīzhí) and "一向" (yīxiàng) mean something close to "all along," and deal with continuous actions. However, their uses are different, and they are a pair of words that are often confusing. This article will clarify when you are supposed to use them.
"一直"和"一向"都表示像"all along"的意思,都是指持续的动作。不过,它们的用法不同,是一对常让人困惑的词。本文将阐述何时才能使用它们。
"一直" means "straight" or "constantly" and it has the sense of doing something continuously "since a certain time". This means that something may have occurred, and then "一直" can be used with the action or habit since that point. It's important to note that this point in time doesn't necessarily have to be in the past, so "一直" can be used to say something "will happen repeatedly" in the future.
"一直"的意思是"straight"或"constantly",且有"从某个时候开始不断做某事"的意思。这表示某事已经发生,然后用"一直"表达从那时起的动作或习惯。需要特别注意的是,该时刻不一定是过去的,因此"一直"可用于表示某事在将来会不断发生。
Examples
我会一直陪着你。
wǒ huì yī zhí péi zhe nǐ.
I will always be with you.
雨一直在下,我没办法出去。
yǔ yī zhí zài xià, wǒ méi bàn fǎ chū qù.
It's constantly raining, I have no way to go out.
一直往前走,你会看到地铁站就在你右边。
yī zhí wǎng qián zǒu, nǐ huì kàn dào dì tiě zhàn jiùzài nǐ yòu biān.
Keep walking ahead, you will see the subway station on your right.
他毕业以后一直没有找到真正喜欢的工作。
tā bì yè yǐ hòu yī zhí méi yǒu zhǎo dào zhēn zhèng xǐ huān de gōng zuò.
He hasn't found a job that he really enjoys since his graduation from his college.
"一向" does not have the time constraint that "一直" has. Instead, it means that things have always been like they are. In this way, it is more like a habit. Furthermore, it is often used to express a habit or event that you don't like, and can also be used in conjunction with "不".
"一向"没有像 "一直"那样的时间约束,相反,它表示的是事情总是保持原样。这种用法里,它更像是指一种习性。此外,它经常用于表达你讨厌的习惯或事件,而且也可以和"不"连用。
Examples
他一向不迟到,怎么今天还没到?
tā yī xiàng bú chí dào, zěn me jīn tiān hái méi dào?
He never comes late, how is it that he hasn't come yet today?
我一向都不喜欢吃很油腻的东西。
wǒ yī xiàng dōu bú xǐ huān chī hěn yóu nì de dōng xī.
I've never liked really greasy things.
我们一向说话算数。
wǒ men yī xiàng shuō huà suàn shù.
We always keep to our words.
她这个人一向喜欢炫耀。
tā zhè gè rén yī xiàng xǐ huān xuàn yào.
She has always liked showing off.
我这个朋友一向都很大方。
wǒ zhè gè péng yǒu yī xiàng dōu hěn dà fang.
This friend of mine is always very generous.
"一向" also can't be used to talk about constant future actions. For this kind of case, "一直" should be used instead.
"一向"也不能用于谈论将来的持续动作。对于这种情况,可以使用"一直"。
Translated from: allsetlearning
Please visit Chinlingo for Chinese learning.