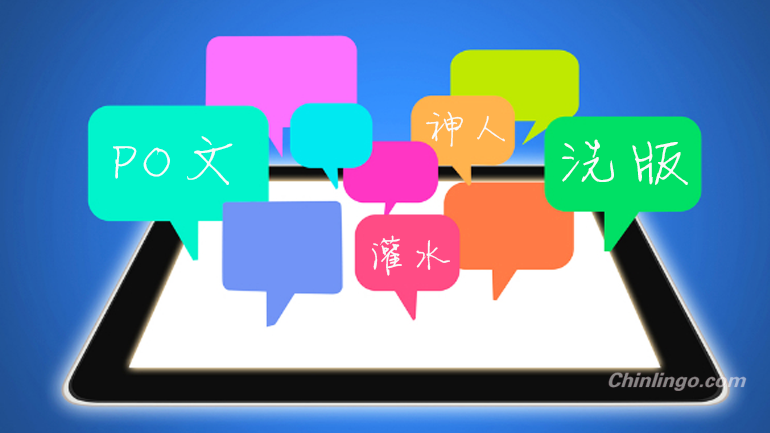 Chinese netizens, like their English speaking counterparts, have come up with a whole new set of internet slang. For us foreigners trying to learn Chinese, these can be tough to translate – these aren't the kinds of words that show up in your standard Chinese-English dictionary. To help you get a head start, we've put together some frequently used net slang to kickstart your Chinese forum experience.
PO文 (PO wén) – an article post or a post on a forum. 'PO' is a shortening of English's "post" and is usually written in caps.
Usage:
这篇PO文很好笑。
zhè piān PO wén hěn hǎoxiào.
This post is hilarious.
推文 (tuī wén) – to bump or promote a post (push a post to the top of the forum)
Usage:
如果你喜欢这篇PO文请回复或帮我们推文。
rúguǒ nǐ xǐhuan zhè piān PO wén qǐng huífù huò bāng wǒmen tuī wén.
If you like this post, please help us by replying or bumping the post.
嘘文 (xū wén) – to downvote a post
Usage:
看了这一篇烂文章,让我认不住按了嘘文按钮。
kànle zhè yī piān làn wénzhāng, ràng wǒ rèn bù zhù ànle xū wén ànniǔ.
After seeing this horrible article, I can't help myself and just have to press the "boo post" (dislike) button.
洗版 (xǐ bǎn) – to continuously spam a forum thread, to the point where other (more productive) posts are no longer visible
Usage:
如果你一直PO文洗版,你的论坛账号就会被停权。
rúguǒ nǐ yīzhí PO wén xǐ bǎn, nǐ dì lùntán zhànghào jiù huì bèi tíng quán.
If you keep spamming the forum your account will be suspended.
灌水 (guàn shuǐ) – reply to a post without saying anything productive, simliar to bump.
Usage:
如果你喜欢这篇PO文,请帮我们推文或灌水。
rúguǒ nǐ xǐhuan zhè piān PO wén, qǐng bāng wǒmen tuī wén huò guànshuǐ.
If you like this post, please help us by replying with comments or support.
惹 (rě) – The same meaning and usage as the Chinese character "了(Le)"
Usage:
我再也不要这样惹!
wǒ zài yě bùyào zhèyàng rě!
I never want to do this again!
跳tone (tiào tone) – Literally to "jump tone," to drastically change in style or mood.
Usage:
你讲话很跳tone,让我很难跟得上。
nǐ jiǎnghuà hěn tiào tone, ràng wǒ hěn nán gēn de shàng.
The way you speak kept changing tone so drastically that it's hard for me to follow.
揪团 (jiū tuán) – to get a group together
Usage:
我这礼拜要揪团采草莓。
wǒ zhè lǐbài yào jiū tuán cǎi cǎoméi.
I'm getting a group together to go strawberry picking this week.
宅男 (Zhái nán) – Geeks or nerds
Usage:
男生如果一直待在家里打电动,就会被社会大众贴上宅男标签。
nánshēng rúguǒ yīzhí dài zài jiāli dǎ diàndòng, jiù huì bèi shèhuì dàzhòng tiē shàng zháinán biāoqiān.
If guys keep staying at home and playing computer games all day, society will label them as geeks.
Note: 宅 zhái can also be used as an adjective. For example: 你很宅 nǐ hěn zhái.
正妹 (zhèng mèi) – Hot girls
Usage:
男人都爱看正妹。
nánrén dōu ài kàn zhèng mèi.
Guys love looking at hot girls.
神人 (shén rén) – To search with for a person using human power / "human flesh search engine"
Usage:
只要把一张照片放在网络上,就会有很多人帮你神人。
zhǐyào bǎ yī zhāng zhàopiàn fàng zài wǎng lùshàng, jiù huì yǒu hěnduō rén bāng nǐ shén rén.
Simply post a picture online and lots of people will help you find for the person.
CP值 (CP zhí) – quality for price or bang for your buck. The CP seems to stand for Capability/Price Level, referring to how "worth it" the subject is.
Usage:
这家餐厅CP值很高,是学生们的最爱。
zhè jiā cāntīng CP zhí hěn gāo, shì xuéshēngmen de zuì'ài.
This restaurant is well worth checking out, a lot of students love it.
Feel free to let us know of other useful Internet slang in the comments.
Please visit Chinlingo for Chinese learning.