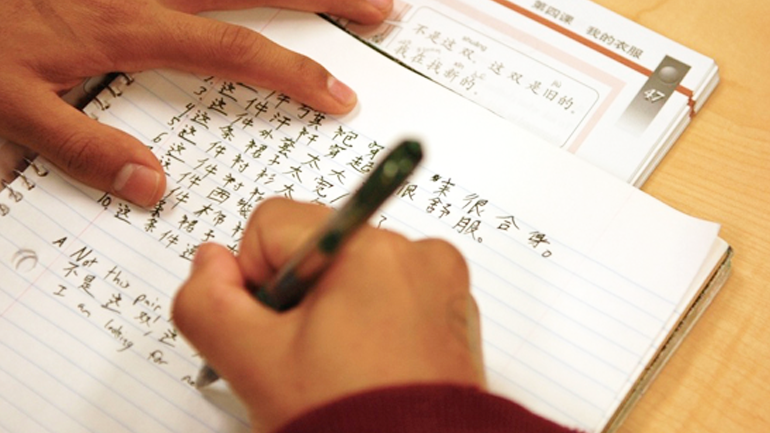 Thanks to the internet, it's become easier and easier to learn a new language – and you don't even have to pay a penny.
有了互联网,学外语变得越来越简单,甚至还不需要花钱。
We asked one learner, Matthias Salzger, about his experience and what tips he has for beginners.
马蒂亚斯•萨尔泽格是其中一位学习者。在我们的采访中,他谈到了自己的学习经历,并为初学者提供了些小窍门。
Here are Matthias' 7 tips for learning Chinese:
以下是马蒂亚斯的7个学习中文的诀窍:
Set yourself a goal
给自己设定目标
This goal could be finishing the Chinlingo courses, or being able to speak with your friend in Chinese. Work every day at it!
目标可以是完成Chinlingo的课程,也可以是达到能与朋友中文对话交流的水平。每天向着自己的目标迈进吧!
Team up with other learners
和其他学习者相互促进
Ask questions, look for people to learn alongside with.
记得多多提问,还可以和别的学习者结伴学习。
Start reading
学会阅读
Check out your local library or the internet (a lot of books can be found as pdf downloads). Now here comes what might seem like a bizarre tip: don't use a dictionary!
去你所在地的图书馆看看,或者直接在网上阅读(很多书可以以pdf的格式下载下来)。我还有个建议,可能听起来会有点奇怪:阅读时别查字典!
Instead, try to understand the word from its context. This might be incredibly hard in the beginning, but I promise it gets easier. You won't forget the words, as you might if you just look them up. And don't worry about getting it wrong as you'll encounter the word again and correct your mistake.
别用字典查词,而是根据上下文理解字词的意思。可能刚开始会读得很艰难,但是我保证到后面会变得越来越容易。如果你只是查字典的话,很容易就把这个词的意思忘了,但是用这种方法就不会。你也不必担心判断错了词义,因为你还会在下文里遇到同样的词,到时可以纠正自己的错误理解。
Watch films
看电影
Try watching a movie or TV series. You can stream it online. If you can't do that legally, see if the movies you own have an audio track in your language of choice.
试着看看中文电影和电视剧吧。你可以直接在网上观看。如果没有正版片源,就找找这部片有没有那门语言的音轨。
Follow your interests
根据自己的兴趣去学
As a rule of thumb, if you wouldn't read or watch it in your native language, you also shouldn't in Chinese.
一般来说,对一本书或一部电影如果你连母语版都提不起兴趣,那么就别尝试中文版了。
聊天
If you know somebody who speaks Chinese you're learning you should definitely try to get them to talk with you.
如果你正在学中文,又刚好认识说这门语言的人,那么你当然得想办法和他们说说话。
Be patient
保持耐心
The cost of learning a language isn't money but your time. It can take years. Don't expect a learning course to just shove the knowledge into your mouth. You have to earn it.
学一门外语不一定要花钱,但一定要花时间。有时甚至会花上几年。别以为报学习班就一定能学到知识,一定得有自己的努力才行。
Please visit Chinlingo for Chinese learning.