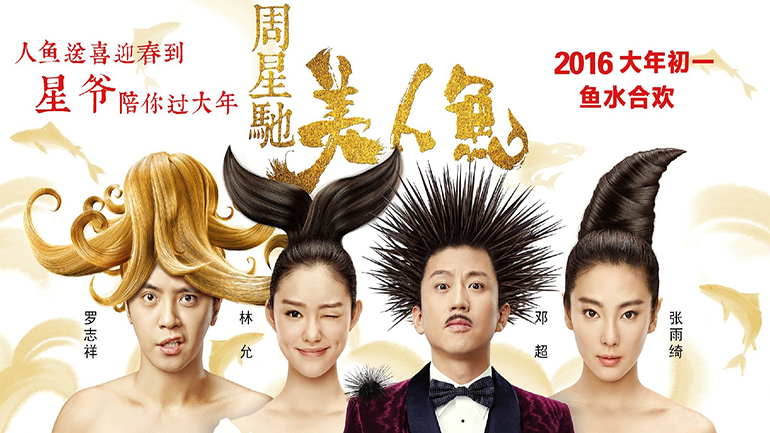 Although Hong Kong actor-turned-director Stephen Chow's latest sci-fi romance film The Mermaid holds a score of 7.9/10 on domestic movie site mtime.com, it really doesn't live up to the score.
《美人鱼》是由演员转变为导演的香港明星周星驰执导的最新科幻浪漫电影,尽管它在国内网站时光网上的得分为7.9分(满分10分),但它真的对不起这个分数。
A long anticipated film that was kept tightly under wraps until its premiere on Monday, the first day of the Chinese New Year, the film comes across as disappointing, especially considering the anticipation that had been built up.
这部期待已久的电影,它的详细内幕被捂的严严实实——直到星期一的首映,这天恰逢中国春节的第一天,然而这个片子却非常令人失望,特别是当人们已经对它抱了很高的期望时。
A class on environmental protection masquerading as a romance story pretty much sums up the 90-minute film. Billionaire developer Liu Xuan (Deng Chao) buys up some coastal land for a project. To get his money's worth, however, he decides to fill in the sea. His project ends up damaging the ecosystem of the area, including the homes of a group of mermaids who live in the area. To stop Liu, mermaid Shanshan (Lin Yun) is sent by the group to seduce him. Finally falling in love with Shanshan, Xu not only abandons his original projects, but now dedicates his entire life to environmental protection.
这部时长90分钟的电影,简单说就是一部以环境保护为主题的浪漫爱情电影。亿万富豪开发商刘轩(邓超饰)的某个项目购买了一些沿海的土地,为了得到回报,他决定填海,但该项目会破坏这个区域的生态系统,包括毁掉生活在这一地区的美人鱼的家园。为了阻止刘轩,美人鱼珊珊(林允饰)被派出去勾引他。刘轩最后爱上了珊珊,他不仅放弃了这个项目,还终其一生致力于环境保护。
While Chow is often admired as a film genius who often produces works that no other director would have ever thought of, The Mermaid is a common film.
周星驰被看作是一个电影天才,他经常能创作出一些其它导演想不到的作品,然而美人鱼却是一个很普通的电影。
One of the reasons The Mermaid may come across as lackluster may be because of the comparison to Chow's Journey to the West: Conquering the Demons, a fantastic film which came out during the Chinese New Year period back in 2013.
一个重要原因是,与周星驰在2013年春节期间的精彩电影《西游降魔篇》相比之下,《美人鱼》这部片子暗淡无光。
Generally speaking, The Mermaid contains a lot of the director's typical touch: A self-opinionated young man, a pure girl that will lead the main character to the truth, some slapstick comedic characters (often an old ugly looking lady), and some classic lines in the Guangdong dialect.
总的来说,《美人鱼》包含了很多周星驰的典型元素:一个自以为是的年轻人,一个带领主角找到真理的单纯少女,一些滑稽的喜剧人物(通常是一位又老又难看的女士),和一些粤语经典台词。