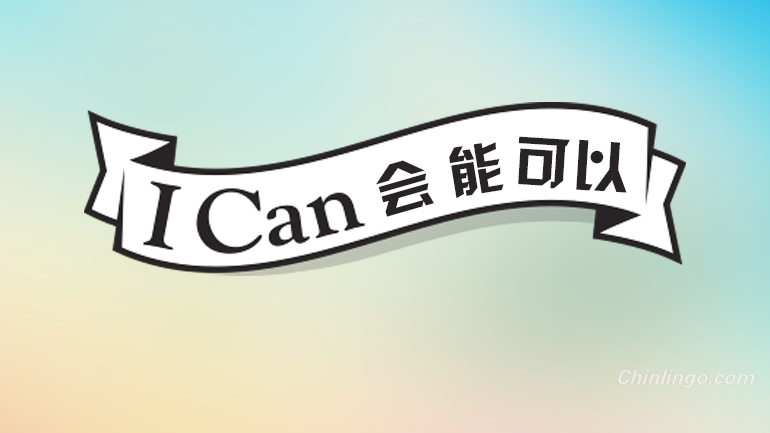 This might be one of the trickiest comparisons, as 会 (huì), 能 (néng), and 可以 (kěyǐ) are often translated as "can".
这或许是最棘手的一组对比之一,因为"会"、"能"和"可以"常常译为"can"。
The words 会 (huì), 能 (néng), and 可以 (kěyǐ) actually overlap a little in meaning. The first step is to understand their basic meanings:
实际上,"会"、"能"和"可以"在意思上有些相同之处。首先要理解它们的基本意思:
会 (huì) can mean "know how to" and can express an action that you had to learn or be trained in to do.
"会"表示"懂得如何",可表达你已经学了或被训练而成的动作。
能 (néng) means "to be able to" and expresses having a certain ability or having obtained a certain minimum requirement.
"能"的意思是"有能力做",表达有某个能力或拥有某项最低要求。
可以 (kěyǐ) means "to be allowed to" and expresses having another person's permission.
"可以"的意思是"被允许做",表达获得别人允许的意思。
Expressing Ability
Both 会 and 能 can be used to express ability in something.
"会"和"能"都可用于表达某事上的能力。
会/能 + Verb
Examples
他会修电脑。
tā huì xiū diàn nǎo.
He knows how to fix computers.
我会跳舞。
wǒ huì tiào wǔ.
I know how to dance.
我学了两年才会说一点汉语。
wǒ xué le liǎng nián cái huì shuō yī diǎn hàn yǔ.
I studied for two years before I knew how to speak a little Chinese.
你能记住所有国家的名字吗?
nǐ néng jì zhù suǒ yǒu guó jiā de míng zì ma?
Are you able to remember the names of all countries?
两个月的小孩子不会走路。
liǎng gè yuè de xiǎo hái zǐ bú huì zǒu lù.
Two month old children are unable to walk.
Expressing Permission
可以 is used to ask for or give permission. However, 能 can also be used to replace 可以.
"可以"是用于请求或给予许可的情况。不过,"能"也可用于替换"可以"。
Note when a question is asked using 能/可以 it can be answered with 不能/不可以, meaning no, and only 可以 meaning yes. Chinese don't really answer with just 能。
注意,当一个用"能"或"可以"的问题提出,可用"不能"或"不可以"回答,表示no的意思,而且只有"可以"表示yes的意思。中国人一般不会用"能"去回答。
可以/能 + Verb
Examples
我可以/能进来吗?
wǒ kě yǐ/néng jìn lái ma?
Am I allowed to enter?
你可以/能帮我一下吗?
nǐ kě yǐ/néng bāng wǒ yī xià ma?
Could you help me a bit?
不可以/能带危险物品上车。
bú kě yǐ/néng dài wēi xiǎn wù pǐn shàng chē.
You're not allowed to bring dangerous things in the car.
A: 我能在这里抽烟吗?
wǒ néng zài zhè lǐ chōu yān ma?
Can I smoke here?
B: 不可以。
bú kě yǐ.
No, you can't.
Expressing Possibility
能 and 可以 can also be used to express possibility.
"能"和"可以"也可用于表达可能性。
下个月我们就要结婚了,你的父母能/可以来中国吗?
xià gè yuè wǒ men jiù yào jié hūn le, nǐ de fù mǔ néng/kě yǐ lái zhōng guó ma?
Next month we're getting married, can your parents come to China?
Talking about the Future
Only 会 can be used to mean something is going to happen.
只有"会"才可以用于表示某事将要发生的意思。
会 + Verb
Examples
明天你会来吗?
míng tiān nǐ huì lái ma?
Will you come tomorrow?
你太过分了,没有人会这么做。
nǐ tài guò fèn le, méi yǒu rén huì zhè me zuò.
You're too excessive, no one will do it like this.
一会儿会下雨吗?
yī huì ér huì xià yǔ ma?
Will it rain in a minute?
Adding 很 to create emphasis
By placing the character 很 (hěn) before 会, it adds emphasis to the level of ability. 很会 is commonly used to mean 'to be good at" and expresses being very skillful at something, or doing something very well.
在"会"的前面加上"很",便增加对于能力程度的强调。"很会"通常用于表示"擅于做",表达在某事上很有能力或很好地完成某事。
When 很 is placed in front of 能, the meaning takes on a surprised tone on the action. 很能 is most commonly used with 吃(chī) to eat, and 睡 (shuì) to sleep. It's like the English equivalent of saying you "can really" do something. For example saying that someone "can really sleep" means that they can sleep a lot.
在"能"的前面加上"很",意思上便有了对于行为的惊讶的语气。"很能"通常跟"吃"和"睡"连用,和英语里说的"you can really do something"类似。
很会/很能 + Verb
Examples
这个女孩子很会唱歌。
zhè gè nǚ hái zǐ hěn huì chàng gē.
This girl can sing really well.
我的妈妈很会做饭。
wǒ de mā mā hěn huì zuò fàn.
My mother really knows how to cook.
你很能吃嘛!
nǐ hěn néng chī ma!
Wow, you're really a big eater!
你很能睡啊。
nǐ hěn néng shuì a.
You're really a sleepy head.
Similarities
会, 能, 可以 share a few essential rules. The first common rule shared by these three is that none of them can be followed by an aspectual particle.
"会"、"能"和"可以"有一些共同的基本规则,首先,它们都不能跟随动态助词。
他会做饭。(√)
He knows how to eat.
他会过做饭。(×)
Secondly, 会, 能, and 可以 have to come before any prepositional phrases or descriptive adverbial modifiers in the sentence.
第二,"会"、"能"和"可以"只能出现于句子里的介词短语或描述性的副词修饰语之前。
你可以把课本再看一次,看完以后再来考试。(√)
You can read over the textbook again, when you're done come back to take the test.
你把课本可以再看一次, 看完以后再来考试。(×)
Translated from: allsetlearning
Please visit Chinlingo for Chinese learning.