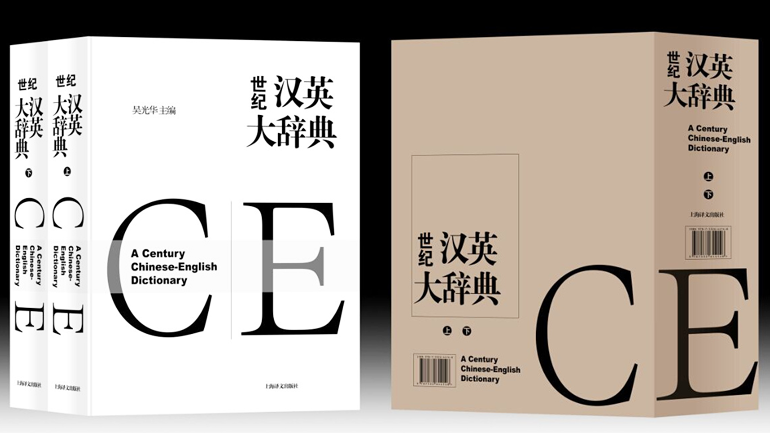 People behind dictionaries attracted rare media attention in 2013 after The Great Passage, a Japanese film, competed for the Academy Awards that year as a contestant in the best foreign-language film category.
随着日本影片《大渡海》在2013年获得奥斯卡最佳外语电影奖提名,编写字典的人也罕见地吸引了媒体关注。
In China, Wu Guanghua's world is somewhat similar to that of the movie's main characters. The 75-year-old compiler has spent the past 14 years working on a dictionary. As a result the largest Chinese-English dictionary by scale has been created.
在中国,吴光华就好像是这部电影里的主角。一个75岁的"编译器"为一本字典奋斗了14年。正是他的努力,一本最大汉英辞典诞生了。
The two-volume A Century Chinese-English Dictionary is expected to be released by the Shanghai Translation Publishing House later this year.
这两卷的《世纪汉英大辞典》预计由上海译文出版社在今年下半年入市上架。
To the publishers, it was an "opportunity of a lifetime" to work with compilers such as Wu. Zhu Yajun, an editor at the publishing house, says it was difficult to find one's way in Wu's house through the piles of reference material when he was working on the dictionary.
对于出版商来说,能与向吴老先生这样的敬业编译者合作是一个"千载难逢的机会"。出版社的编辑朱亚军称,当吴老先生在编写字典时,他家中摆满了各种参考资料,你甚至可能都无处下脚。
Born in the eastern province of Jiangsu, Wu has been working as a lexicography professor at Dalian Jiaotong University since 1965. He has published 20 dictionaries, including the award-winning The Chinese-English Dictionary, since the 1980s.
吴光华出生江苏省,自1965年以来,他一直就是大连交通大学的词典编纂学教授。从20世纪80年代以来,他出版了20本字典,其中包括曾获奖的《汉英大词典》。
The dictionary is comprehensive and updated, says Zhang Yihua, a professor with Guangdong University of Foreign Studies in South China's Guangzhou city. It contains more than 860,000 entries, covering about 200 areas. About 360,000 entries are related to science and technology.
广东外国语大学张艺华教授评价这部字典非常详尽,紧跟时代步伐。这部字典囊括了86万多个词条,覆盖了约200个领域,约有36万个词条与科技相关。
The entries are listed under 40,000 individual Chinese characters, according to Wu. The authoritative Kangxi Dictionary, one of the major Chinese-language reference books compiled in the early 18th century under Emperor Kangxi's decree, has about 47,000 characters, he says.
据吴老介绍,这些词条与4万个汉字对应。他提到,在十八世纪早期,由康熙皇帝钦定的中文权威字典《康熙字典》也才约有4.7万个汉字。
"We've turned all the 40,000 characters into English," Wu says.
"我们把这四万个汉字都翻译成了英文,"吴老先生说道。
The new dictionary contains about 20,000 phrases that have surfaced in more recent times but are widely used. They include zhongguo meng (Chinese Dream), fangchan xiangou (restrictions on the purchase of multiple homes) and jiong yidai (an online term for young people). In addition, phrases such as shanhun find standardized mention as "rush wedding", instead of the more popular "flash marriage".
这部新字典包含了2万多个最新才出现但广泛使用的词汇,如"中国梦"、"房产限购"、"囧一代"等。另外,像"闪婚"等短语有了规范英文翻译,即用rush wedding,而不是flash marriage。
"New words keep appearing with the country's rapid development, especially in the past 15 years. Our study should follow the progress and offer readers as much as possible," Wu says.
"随着国家的快速发展,特别是在过去的15年里,不断涌现出大量新词语,我们的研究也应随着时代的发展,给读者提供一个尽可能全面的体验。"吴老先生说。
The dictionary sticks to older Chinese wisdom, too. It contains 30,000 Chinese set phrases, slang expressions and proverbs, as well as nine appendices with more information.
这部字典同样也基于中国文化的博大精深,包含了3万个中国成语、俚语和谚语,以及九个附录,提供更为丰富的内容。
"The dictionary will serve as a record of the Chinese language and society, and as a cultural carrier for future generations," says Zhang Boran, a professor of Nanjing University in East China's Jiangsu province. Zhang describes the dictionary as a "positive attempt to gain stronger power of discourse as Chinese culture deepens its interactions with the world".
"这部字典将记录汉语和中国社会,成为后世的文化载体。"南京大学张柏然教授给予了很高的评价。张柏然教授将这本字典比作"一种积极的尝试,让中国文化与世界的深入互动增加了话语权。"
The dictionary also has 160,000 quotes, some of which are from classical literary masters.
这部字典还有16万个引用语,其中一些是来自古典文学大师的作品。
Please visit Chinlingo for Chinese learning.