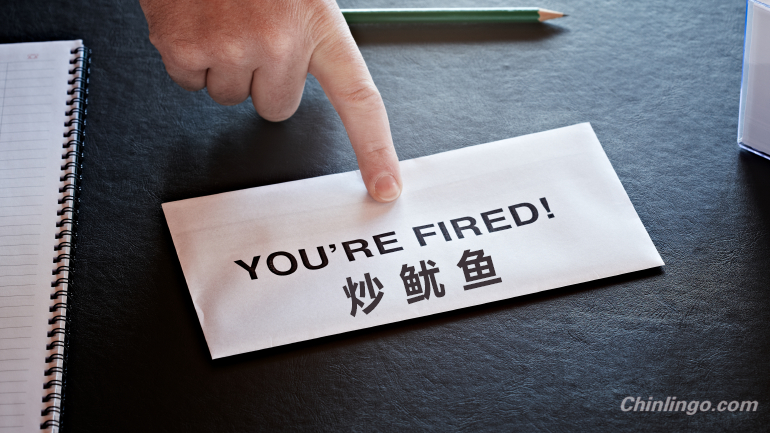 "炒鱿鱼 (chǎo yóu yú)" originally referred to the fried squid, a delicious dish in Chinese cuisine. However, it has been a common slang meaning "being fired" (解雇, jiě gù) in Chinese today.
"炒鱿鱼"原本指的是中国菜肴里美味的一盘菜,名为"炒鱿鱼"。不过,它在现代流行中文里的意思指的是"被解雇"。
In the old days, people took along their bedrolls when leaving home for a job. Thus, when they were fired, they had to roll up and take away their bedrolls with them. So "卷铺盖走人 (juǎn pù gài zǒu rén, pack up one's bedrolls and leave the workplace)" was provided with the meaning of "be fired". These sacked people were sensitive to such harsh words as "解雇 (jiě gù)" or "开除 (kāi chú)", so they said "卷铺盖 (juàn pù gài)" instead.
以前,人们外出工作都要带着"铺盖卷",如果被老板辞退了,就要卷起铺盖卷离开。所以,那时候"卷铺盖走人"就是被解雇的意思。这些人对"解雇"或者"开除"这类词十分敏感,觉得它太刺耳,于是有人便用"卷铺盖"来代替。
Over time, people found that a squid would curl up when fried, and that the action for a squid to roll up was similar to that of rolling up beddings, so, they replaced "卷铺盖 (juǎn pù gài)"with "炒鱿鱼 (chǎo yóu yú)" to express "be fired". Now, people often use "炒鱿鱼 (chǎo yóu yú)" in a funny way to say that they are laid-off.
后来人们发现,炒鱿鱼时,鱿鱼会卷起来,而且卷的过程也很像卷起铺盖,因此就用炒鱿鱼来代替"卷铺盖"这个说法了。如今,人们经常用"炒鱿鱼"来风趣表达自己下岗了。
Example:
他犯了大错,所以被公司炒鱿鱼了。
tā fàn le dà cuò, suǒyǐ bèi gōngsī chǎo yóuyú le.
He was fired by the company because he made a big mistake.
Besides meaning "be fried", "炒鱿鱼 (chǎo yóu yú)" can also be used in the case when one tenders the resignation on his or her own initiative. This situation can be described by "炒老板鱿鱼 (chǎo lǎo bǎn yóu yú)" which means something like "to fire the boss".
另外,"炒鱿鱼"除了被辞退意思外,也可用于个人因为不想在继续干了而提出辞职的,于是便有了"炒老板鱿鱼"的说法。
Example:
这个工作我不干了,我炒了老板鱿鱼。
zhège gōngzuò wǒ bú gàn le, wǒ chǎo le lǎobǎn yóuyú.
I quit the job and fired my boss.
Please visit Chinlingo for Chinese learning.