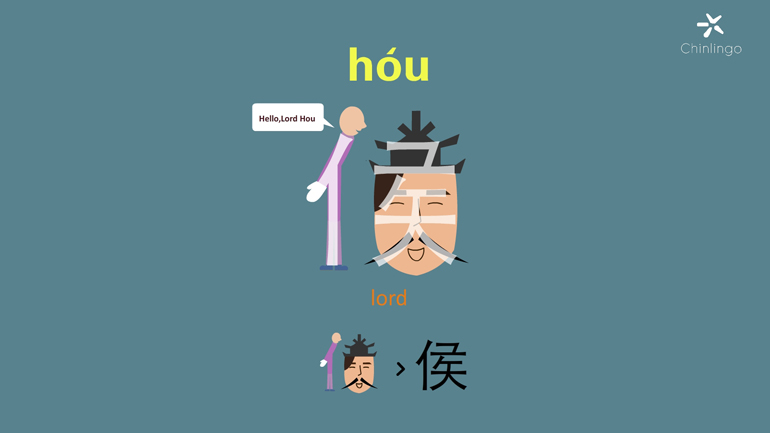 "侯" is an honorific title for the nobility in ancient China.

"侯"是中国古代的贵族尊称。
In ancient feudal China, besides huge fortune, the emperors conferred the nobility titles to their close kin, trusted subordinates and meritorious officials and officers. The titles distinguished the nobility from the common people. Moreover, high titles could be inherited. If one was conferred such a title, his descendants would maintain it for generations.
在遥远的封建帝国时代,帝王对其至亲心腹、立有功勋的文臣武将,除了供以锦衣玉食之外,还亲赐爵位。爵位是贵族区别于普通民众的重要身份符号。等级高的爵位实行世袭制。也就是说,如果祖上一人当封,他的家族则世世代代都是贵族。
As far back as in Zhou Dynasty, Chinese Emperors developed the five-rank nobility system, consisting of "公" (ɡōnɡ, duke), "侯" (hóu, marquess), "伯" (bó, comte), "子" (zǐ, vicomte) and"男" (nán, baron) from the highest to the lowest in respect of seniority.
早在周王朝,中国皇帝就定立了五等爵。遵照由高至低的顺序,分别为:公(ɡōnɡ)、侯(hóu)、伯(bó)、子(zǐ)、男(nán)。
"侯" is ranked second. However, it is the highest title for a non-royal official or officer. It is subdivided into "列侯" (liè hóu) and "关内侯" (ɡuān nèi hóu), who enjoyed different privileges. "列侯" are entitled to grain and manor of a county (with a population of about 10,000 people) as well as appointment of county officials, while "关内侯" were only authorized to levy land rents and taxes."
侯"在爵位中居二。但是,它已是非皇室宗亲中可封的最高爵位。侯爵中又进一步分为"列侯"和"关内侯"。这两类侯爵得到的待遇不尽相同。"列侯"可以享受一个县(大概近1万人口)的粮食收成和封地,并有用任命县级官员的权利。而"关内侯"则只享有收地租税的权利。
In modern Chinese, the five-rank nobility system is still used to address the Western nobility. "公爵" (ɡōnɡ jué), "侯爵" (hóu jué), "伯爵" (bó jué), "子爵" (zǐ jué) and "男爵" (nán jué) are often seen in the Chinese translations of foreign books as well as in the news of Western royal officials visiting China. Although they are not often used in the daily life of Chinese people, the 爵-rooted words indicating the nobility status are a miniature of ancient Chinese culture and often read in the Chinese historical literature.
在现代汉语中,依然使用五等侯爵的尊贵顺序来对应翻译西方国家的贵族身份。公爵(ɡōnɡ jué)、侯爵(hóu jué)、伯爵(bó jué)、子爵(zǐ jué)、男爵(nán jué)这五个词语大量出现在中文引进版的书籍中。也常出现在,报道西方皇室拜访中国官员的相关新闻中。以"爵(jué)"为词根的一系列表示贵族身份的词汇虽在生活中不常用,但它们确是中国古代文化的缩印,也是历史类中文文献阅读中常出现的词汇。
Please visit Chinlingo for Chinese learning.