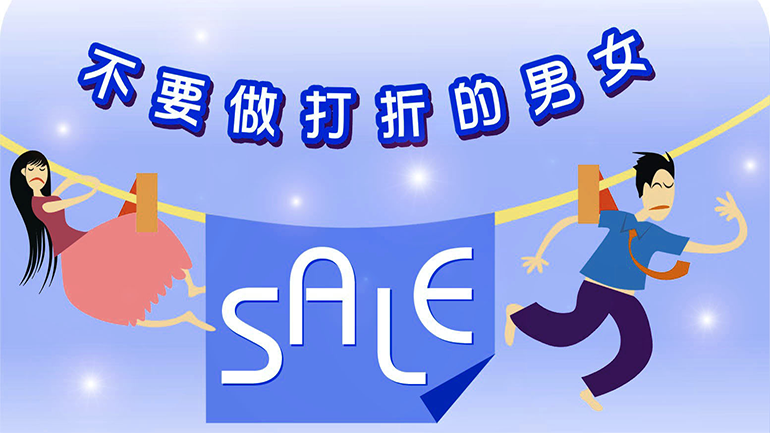 Those of marriageable age who return home for the Chinese New Year reunion tend to hear the giant sucking sound of the institution of marriage, reminding them that to be single is shameful.
适婚年龄的人们回家过春节时往往会听到催婚的各种唠叨,提醒他们单身可耻。
The Lunar New Year is the most festive of all Chinese holidays, with family reunion as the centerpiece, somewhat akin to Thanksgiving and Christmas rolled into one.
农历新年是中国庆祝家人团聚最喜庆的节日,有点类似于将感恩节和圣诞节合而为一。
Isn't it time to consider settling down with someone? I know someone who knows someone in your city who can fix you up with someone of your choice. Why are you so picky? Once you are over a certain age, your value will plummet in the eyes of those looking for a spouse. Be realistic! Find someone, even if he does not meet all your requirements.
是时候考虑与对方定下了吧?在你生活的城市,我认识一些熟人,他们可以给你介绍符合你条件的对象。你为什么这么挑剔?一旦年龄大了,你在对方眼里就不值钱了。现实点吧!赶紧找个对象,即使他不能符合你的所有要求。
While the advice may sound well meaning, some exasperated parents may issue an ultimatum: Bring back a regular date or a fiance(e), or I'll disown you!
虽然他们的教诲听起来很有道理,但是一些恼火的父母还会给孩子下最后通牒:把对象带回来,不然我和你断绝关系!
Grandparents are usually less straightforward. But there is equal or more weight in their veiled threats: You know I'm getting old. Can you satisfy my wish of seeing a great-grandchild before I breathe my last?
祖父母通常不那么直截了当。但在他们含蓄的催婚更让你倍感压力:你知道我老了。在我死之前,我希望看到我的曾孙,你可以满足我这个心愿吗?
The Chinese parents' urge to dictate their children's lives is legendary. I don't know if this is a match for the fabled Jewish mom, but it definitely does not pale in comparison.
中国父母渴望掌控孩子的生活可是出了名的。不知是不是能跟犹太妈妈有的一比,但也差不了多少。
While most parents will discourage their children from dating while in college, they expect the youngsters to find an ideal partner a year or two after graduation. And many find it unsettling for them if you show up for the all-important Lunar New Year without even a date when you are approaching 30.
虽然大多数父母会阻止他们的孩子在大学谈恋爱,他们也期望孩子们在毕业一两年内找到一个理想的对象。在年近30岁时,如果春节回家没有带回一个对象,许多人会觉得很不安。
And it is not just the parents; it is the whole village, so to speak, that can come out and join the chorus. Your high-school buddy may visit you with a toddler in tow; your neighbors may greet you with a friendly "Are you home by yourself?" And someone with the virtue of frankness could simply blurt out: "You're not getting younger. You should consider the institution."
不仅是父母,甚至是全村的人,也就是说,他们可以出来组织一个合唱团了。你的高中好友会带着孩子来看你;你的邻居可能会友好的问候:"你自己回来的?"那些坦率的人简单地脱口而出:"你也老大不小了。是时候考虑结婚了。"
As a matter of fact, Chinese netizens have distilled their collective wisdom into a comic strip. It uses the strategy of preemption.
事实上,中国网民融合集体智慧画成了一连串漫画。它采用了"先发制人"策略。
Before your relative opens her mouth, you fire off a volley of questions: "Auntie, how are you? Has your daughter started dating? Have you bought a wedding apartment for your son? Do they own a car now? Did you make money from the stock market last year? How much is your pension? How does your kid perform in school? Hey, have you stopped going to the square dance? You seem to be gaining weight. Bye now, auntie."
在你的亲戚开口问你之前,你就抛出一连串的问题:"阿姨,你好吗?你女儿谈恋爱了吗?你儿子买下婚房了吗?他们现在有车了吗?你去年从股票市场赚了多少钱?你的退休金是多少?你的孩子在学校表现如何?嘿,你已经不去跳广场舞了吗?你似乎变得更富态了。回头见,阿姨。"
Call it "Do to others what they will do to you". Let them have a taste of prying into others' personal affairs. I'm sure the stock market question will kill whatever interest they have in you. Their answers could drag on for hours, or they may weep and flee in humiliation.
这叫做"以其人之道还治其人之身"。让他们尝一下被别人打听私事的感觉。我敢肯定,股市问题会秒杀任何对你感兴趣的问题。他们可能会喋喋不休地说上几个小时,也可能他们会伤心哭诉,或是觉得羞愧而选择逃离。
Honestly, this strategy can work only with people who don't have close blood ties with you. But I have yet to see a ruse that can shut up a parent or grandparent. And the reason could be: You care about them and you know they care about you. And it is the way they show their care that makes you uncomfortable. This is part of the generation gap.
说实话,这一策略可能只对你那些与你没有血缘关系的人有用。但我还没有看到一个可以使父母或祖父母闭口不言的策略。原因可能是:你关心他们,你也知道他们关心你。他们关心你的方式可能会使你感觉不舒服。这便是代沟的一部分。
So, many on their trip home resort to procrastination as a kind of placebo. "Oh, I'm dating someone, but (s)he cannot be here because (s)he has to visit his or her parents." Then will come the coercion to produce a photo as evidence.
因此,很多人选择搪塞的方式来安慰父母。"哦,我有对象了,她(他)得回家看望父母,所以过不来这边。然后他们就会要求看对方的照片。
Eventually you'll have to show them the real person. You cannot put it off year after year. Hence the cottage industry of temps who act as your date. The temp can use the experience as a springboard to an acting career, but they could turn out to be scam artists.
最终,你必须带回对象。你不能年复一年地推迟。因此,你会选择租女友回家。临时女友可以将这次经历作为进入演艺事业的跳板,但往往漏洞百出,被人识破。
In my hometown, a take-home date automatically gets cash gifts from older relatives. So, it's not a ruse to be taken lightly.
在我的家乡,把对象带回家会收到来自长辈们的红包。所以,这不是一个可以掉以轻心的计策。
It is truly a virtue to be thoughtful and consider your parents' situation. The smaller the town they reside in, the more peer pressure they face, which they pass on to you. So, one solution is to move them in with you-to the bigger city where you work, where they can witness first hand that you are happy with your status, and your friends and neighbors do not stick their noses into your business.
你能深思熟虑并考虑父母的处境是一种真正的美德。他们居住的城镇越小,他们面临的同辈压力就越大,便把它施加于你。所以,一个解决方案是把他们接到你工作的大城市过年,在那里他们可以亲眼看到你对现状感到很满足,你的朋友和邻居也不会对你的私事指指点点。
And don't avoid the sit-down talk where you can explain to them how you feel. It may help them a little in understanding the young generation. Late marriage or singlehood can be perfectly valid options for some, and there are many examples in the big city. In a word, expose them to your circle and lifestyle.
你也可以和他们坐下来谈谈,向他们说明你的感受。也许这可以使他们对年轻一代有更多一点的了解。对一些人而言,晚婚或不婚也许是个不错的选择,这样的例子在大城市比比皆是。总之,让他们走入你的生活圈子并了解你的生活方式。
The most pathetic parental act of nudging grown-up children down the aisle is surrogate dating. Some Chinese parks have corners devoted to the elderly who hold up plaques of personal ads for their children. They are under the illusion that their kids are too busy to date even though the youngsters could be capable of finding a dozen dates just by pressing a button on their smartphones.
最值得同情的父母行为是代孩子约会。中国的一些公园有专门为老年人设置的一角,在那里他们举着孩子们的个人信息为其相亲。他们错误的认为自己的孩子太忙碌以至于没有时间相亲,殊不知年轻人仅仅需要动动手指刷下手机就可以约会。
If there is a social segment which needs such help, it's not the busy white-collar worker, but stay-at-home singles who insist on living in a virtual reality cocoon. But then one should reach out only when one is asked to.
如果真有这样一个社会阶层需要帮助,那一定不是忙碌的白领工人,而是将自己包裹在虚拟现实中的宅在家的单身人士。但只有当有人请求时,你才应该伸手帮助他。