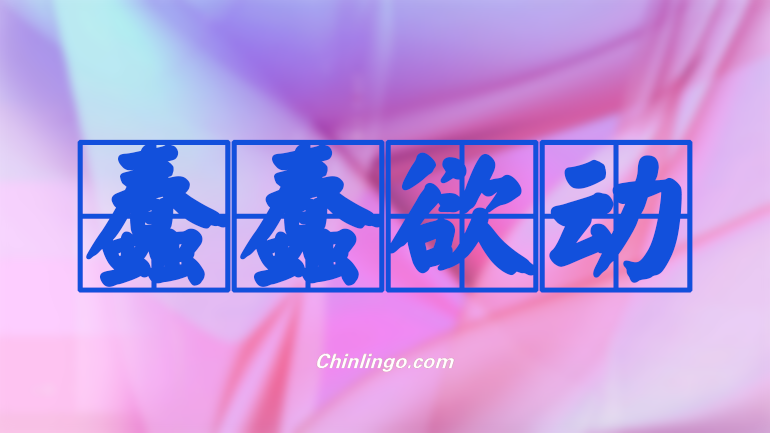 The idiom "蠢蠢欲动" (chǔn chǔn yù dònɡ) means "enemies or evildoers are busy preparing for destructive activities".
成语"蠢蠢欲动"(chǔn chǔn yù dònɡ)是指敌人或坏人准备进行活动。
The reduplication "蠢蠢" is used as an adjective. It originally referred to wriggling worms, now it implies all kinds of enemies or evildoers.
"蠢蠢"单字相叠,作形容词。形容爬虫蠕动的样子。泛指敌人或坏人。
"欲动" means "be about to move" literally, and "in preparation for an attack or sabotage" generally.
"欲动"指即将开始蠕动。泛指准备进行攻击或策划破坏活动。
In modern Chinese, "蠢蠢欲动" means "be ready to make troubles", so it is derogatory. However, it is often used wrongly even by Chinese people. For example, there is a sentence in Information Times (a Chinese newspaper) on Sep. 9, 2010, "教师节马上就要到了,学生和家长都蠢蠢欲动,准备礼物", which meant that "students and parents are busy preparing gifts for teachers as the Teachers' Day is approaching". Correctly, we can say "人多的街头,窃贼蠢蠢欲动", which means "thieves are ready to take actions in the crowded street".
现代汉语中,"蠢蠢欲动"的意思是心怀不轨,将要采取破坏的行动。可见其感情色彩为贬义。但是,这个词常常被中国人自己用错。例如:2010年9月9日《信息时报》上刊出这样一个句子:"教师节马上就要到了,学生和家长都蠢蠢欲动,准备礼物。"句子说的是学生和家长为教师节筹备礼物,本意为善。不能用"蠢蠢欲动"来形容给教师赠礼的行为。我们可以说,"人多的街头,窃贼蠢蠢欲动。"
An idiom has been inherited together with its conventionalized emotional color, which cannot be changed to cause misunderstanding. So, just keep this in mind!
可见,成语的感情色彩是长期流传下来、早已约定俗成的,使用者不能擅自改变,否则就会造成误用,引起误解。汉语学习者们记住哦!
Please visit Chinlingo for Chinese learning.