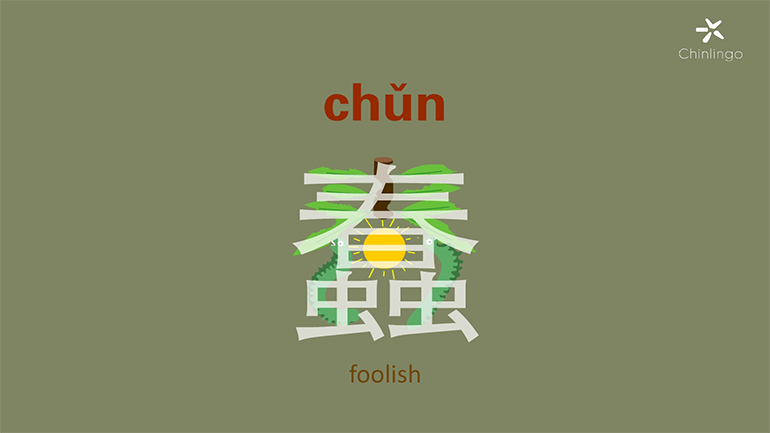 Nourished by the spring sunshine, a healthy tree is expected to grow mature into the superior timber. However, while refreshing trees and grass, the spring breeze wakes up worms or "虫" (chónɡ) as well.
好端端的木头,本可趁着春天好好沐浴阳光,努力生长。待枝繁叶茂时,可成为极好的木制"材料"。无奈的是,春风吹绿了草木枝干,却也催醒了害"虫"(chónɡ)。
Worms drain the tree's abundant nutrition, so the tree grows into "蠢材" (chǔn cái, damaged wood) rather than "木材" (mù cái, timber).
害虫啃掉了木头饱满的营养,木头成不了木材(mù cái),只能沦为"蠢材"(chǔn cái)了。咳,可惜!
Here, Chinlingo would like to talk about the character "蠢" (chǔn). Its upper part is the phonogram "春" (chūn), which shares the same initial and final with "蠢". Its lower part consists of two "虫"s, meaning worms are woken up and wriggle in the spring.
于是,Chinlingo打算说说汉字"蠢"(chǔn)。它有三个部分,上部是汉字"春"(chūn),作用是协助发音。春的声母、韵母与"蠢"完全相同。下部是两只"虫",其作用是表义,意思是大量虫在春天苏醒、蠕动。
Worms eat up a tree inside, and leave nothing but an empty trunk, like a person living with a braincase without wisdom. Hence, Chinese people call a stupid person "蠢人" (chǔn rén) or even "蠢货" (chǔn huò) or "蠢材" (chǔn cái).
既然,虫子把木头啃光了。树干就空空,没有料啦。这就像长着脑壳却没有智慧的人,脑子空空。于是,中国人把愚笨的人人称为"蠢人",骂得更狠一点,就喊"蠢货"、"蠢材"!
So "蠢" is completely derogatory. Use it with caution.
So, "蠢"是个彻头彻尾的贬义字。朋友们可要慎用哦。
Please visit Chinlingo for Chinese learning.