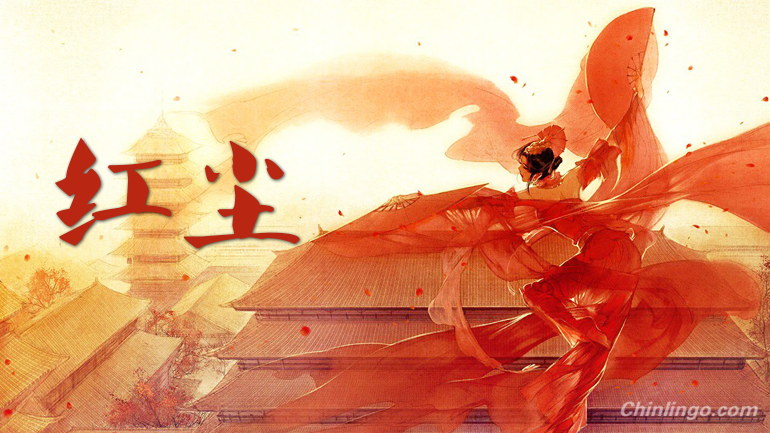 What exactly is the meaning of "红尘 (hóng chén)" that Chinese people often talk about? In general, Chinese word "红尘 (hóng chén)" has two meanings.
中国人常说的"红尘"究竟指什么?一般说来,"红尘"有两个含义。
In ancient China, people used "红尘 (hóng chén)" to indicate a flourishing and bustling place. There is a line in Luoyang Dao (洛阳道) written by Xu Ling in the Southern Dynasty talking about a fascinated place:
"绿柳三春暗,红尘百戏多"
(lǜ liǔ sān chūn àn, hóng chén bǎi xì duō)
古时,人们把繁华热闹的地方也比喻为"红尘"。南朝诗人徐陵的《洛阳道》中有"绿柳三春暗,红尘百戏多",说的就是一个令人神往繁华地。
The other meaning of "红尘 (hóng chén)" is human society which is often used as a term in Buddhism. In the Chapter 1 of The Story of the Stone (红楼梦) there is a saying:
"原来是无才补天……被那茫茫大士渺渺真人携入红尘"
(yuán lái shì wú cái bǔ tiān … bèi nà máng máng dà shì miǎo miǎo zhēn rén xié rù hóng chén)
This sentence means "this was a once lifeless stone block which had been found unworthy to repair the sky, and it had been taken down by the Buddhist mahasattva Impervioso and the Taoist illuminate Mysterioso into the world of mortals". Here the word "红尘 (hóng chén)" means "the world of mortals". Nowadays, people usually use "红尘 (hóng chén)" to refer to the worldly affairs.
"红尘"的另外一个意思是指人世间,通常用于佛家语。名著《红楼梦》第一回,有这么一句话:"原来是无才补天、幻形人世,被那茫茫大士渺渺真人携入红尘。"意思是说,那块石头,无才补天,便被"大士"、"真人"带到世间来了。这里的"红尘"便是"人世间"之意。而后如今的人们常用"红尘"指世间之事。
You might have heard someone say "看破红尘 (kàn pò hóng chén)", which implies he or she has seen through and understood thoroughly the worldly affairs. In the old days, those people who felt themselves living in a hideous human society or with a hopeless future would get their hair shaved and become a monk or nun to shun away from reality. Currently, there are still some people who give up on themselves, just because they get hurt emotionally or encounter adversity in careers. Simply, you can regard "看破红尘 (kàn pò hóng chén)" as the implication that "one wants nothing".
你可能听别人说过"看破红尘"这样的话,它的意思是把人世的事看透了、看明白了。在旧社会,有许多"看破红尘"的人,感到世间狰狞、前途无望,于是,削发为僧,以此来逃避现实。现如今,仍有一些"看破红尘"的人,或者因心灵上受到过创伤,或者因事业上遇到了逆境,于是自暴自弃。极端情况下,也可以把"看破红尘"的意思视为"什么都不想要了"。
Please visit Chinlingo for Chinese learning.