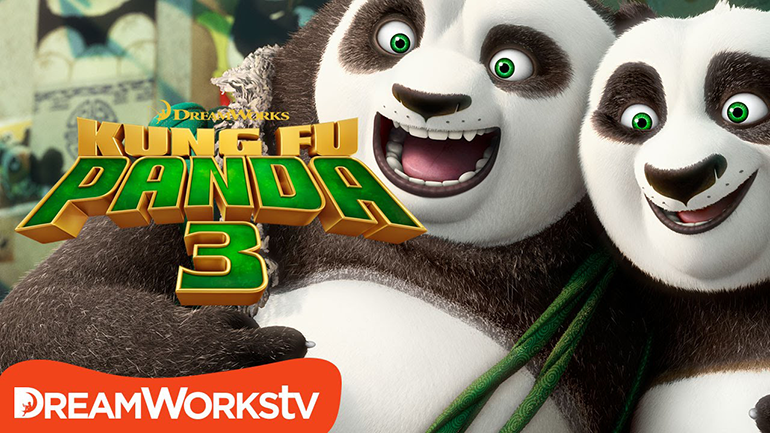 Kung Fu Panda 3 set a new high in box office records in China, pocketing 41.26 million yuan ($6.27 million) from more than 1.17 million moviegoers in just three hours during a sneak preview session held nationwide on Saturday afternoon.
1月23日下午,短短的三小时,《功夫熊猫3》在全国范围内超前点映中,创造了新的票房纪录,观影人次超过117万,点映票房收入达4126万元(627万美金)。
The roughly 90-minute animated sequel, by DreamWorks Animation and Oriental DreamWorks, hints at a potential blockbuster debut, especially in China, when it opens on the coming weekend on Jan 29, one weekend before the Chinese New Year weekend.
这部由梦工厂动画和东方梦工厂合作的,时长大约90分钟的动画片续集,暗示着它在即将到来的周末(1月29日),特别是在中国的重磅登场。这也是中国春节前最后一个周末。
The third installment of the Kung Fu Panda franchise, a follow-up to Kung Fu Panda 2 in 2011, set a new record for previews in China as it topped the box office on Jan 23 during a preview nationwide from 14:00-17:00 pm. Note that China has been struck with pretty harsh weather over the weekend, so it is highly possible that the figure may have been higher, had the temperature been better for viewers to visit the theaters.
作为功夫熊猫系列的第三个续集,紧随2011年的《功夫熊猫2》,在中国创造了新的点映记录。01月23日14:00-17:00,全国范围内的三小时点映中,它拿下了当日票房冠军。值得一提的是,当日全国遭遇最强寒潮,如果天气状况好一些,《功夫熊猫3》票房极有可能会更高。
The Kung Fu Panda franchise has performed very well in China and the US. According to Forbes, Kung Fu Panda, which opened in 2008, earned $217 million in America, $603 million worldwide and $12 million in China. The sequel, Kung Fu Panda 2 in 2011, dipped a little bit with $165 million in US, but made up for it from its worldwide sales of $665 million and a whopping $92 million from China. As the protagonist panda Po goes on a quest to find his roots and his biological father, along with the record-setting ticket sales during the preview, and the timing of the coming Chinese New Year break, it is reasonable to expect another big cash-in from Kung Fu Panda 3 from the Chinese market.
功夫熊猫系列在中美的表现都很不错。据福布斯数据,2008年上映的《功夫熊猫》,在美国的票房是2.17亿美金,中国的票房是1200万美金,全球总票房为6.03亿美金。它的续集,《功夫熊猫2》于2011年上映,在美国的票房略低于上一部,为1.65亿美金,但在中国的票房却飙涨为9200万美金,全球总票房为6.65亿,比上部略高。第三部里主角阿宝延续寻根之旅,找寻他的亲生父亲。破记录的点映票房,又正值中国春节黄金档,《功夫熊猫3》必将如众人所期待的那样,在中国市场疯狂吸金。
In a special move to tailor the film for the Chinese market, DreamWorks crafted two versions of the films, one "normal" version, dubbed by local movie stars and artists, and another "tailored" version, where it is animated differently to more accurately adhere to the mouth movements and body language of Chinese. According to DreamWorks, the customized Mandarin version is not simply a dubbed version, but a redesign and rewrite of the script. Elements such as dialects and more localized puns were added specifically for Chinese audiences.
在为中国市场量身打造的特别行动中,梦工厂精心制作了两个版本:由当地电影明星和艺术家配音的"国际"版,以及依据中国普通话口型和表情而打造更准确更原汁原味的"中国定制"版。据梦工厂介绍,中国定制版不是简单的配音版,而是不少剧本和台词都重新设计了。它特别为中国的观众加入了一些方言元素和更接地气的中文台词。
More than 200 Oriental DreamWorks employees have worked on the film in Shanghai, providing feedback on the authenticity of Chinese elements in the film and fine-tuning the details of the second version of the Mandarin-language script.
《功夫熊猫3》幕后加入了200多名上海东方梦工厂的工作者,他们为这部电影里中国元素运用的真实性提供反馈,并对中国定制版的普通话脚本作了细微调整。
Jennifer Yuh Nelson, director of the film, said Chinese artists helped improve the authenticity of the film, as some of the cultural difference between the two nations only came to light after thorough discussions between the Chinese and American staff.
这部电影的导演Jennifer Yuh Nelson表示,中国艺术家的参与有助于提高电影的真实性,因为只有通过两国工作人员充分讨论,中美之间存在着的一些文化差异才会浮出水面。
"We were trying to come up with fun things the characters do – what they eat, how they play. As Western story artists, one of the things we put in was cookies. And the Chinese story artists basically said, 'Ummmm. You can't put in cookies, you have to put in traditional food,'" said Nelson. This eventually led to a change in script.
Nelson 说,"我们试图想出角色可以做的所有有趣的事情——比如熊猫们吃什么、怎么玩之类的问题。西方的故事设计师想到的是饼干,但中国的设计师们认为,嗯,不应该用饼干,应该用中国传统的食物。"这就导致最终修改了剧本。
Kung fu superstar Jackie Chan, who voices Master Monkey and Po's biological father in English and Mandarin and Cantonese, said it was an interesting and challenging experience to dub for two different roles in three editions of the film.
功夫巨星成龙同时用英语、普通话和粤语为猴子大师和阿宝的生父配音。他表示,为两个角色作三种不同语言的配音,是一个非常有趣以及极富挑战的体验。
"My character would have a steamed bun in his mouth sometimes. So I put three fingers in my mouth while dubbing. Those details can help enliven the cartoon character. It's very cool," said the 61-year-old action star.
61岁的动作明星成龙说,"我的角色他有时嘴里塞着一个馒头时还在说话,所以配音时我得把三根手指放在嘴里。这些细节可以让动画人物更生动形象,这太酷了。"
The final number, Try, written and performed by household name singer-songwriter Jay Chou and his protégé Patrick Brasca, is also a rare example where Chinese lyrics are featured in a Hollywood film. Furthermore, the media has praised the film for its comprehensive use of Chinese elements, which pervades the entire film, along with a family film script that can be appreciated regardless of age. Some have compared it with last year's dark horse at the box office, Monster Hunt, which set numerous highs in China's film history. It is definitely a film to look forward to.
最后要说的是这部电影的主题曲《Try》,是由家喻户晓的歌手周杰伦和爱徒派伟俊二人创作并演唱。这首主题曲也是出现在好莱坞电影上的罕见的华语歌曲。此外,媒体还盛赞其中国元素的全面运用,几乎遍布整个影片,以及它合家欢的剧本,适合全年龄段欣赏。一些人把它与去年的票房黑马,创造中国电影史多项记录的《捉妖记》相提并论。《功夫熊猫3》绝对是一部值得期待的电影。