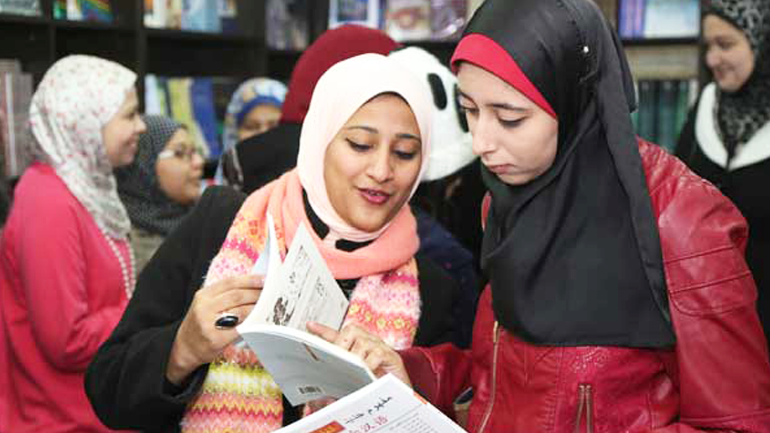 Egyptians' interest in the Chinese language has grown as trade between China and Egypt reaches record highs. But as more students choose to learn Chinese and more universities start Chinese departments, there is great shortage of Chinese teachers in Egypt.
随着中国和埃及之间的贸易额创造新高,埃及人民学习中文的兴趣不断增长。但是,由于更多的学生选择学习中文,更多的大学开始设立中文系,埃及开始紧缺中文教师。
Omayma Ghanem, a professor of the Chinese language at Ain Shams University, which opened its Chinese department in the 1950s, said there were only 11 Chinese majors in her class when she graduated from Ain Shams in 1983. Now there are more than 2,000.
Omayma Ghanem是艾因·夏姆斯大学的一位中文教授,艾因·夏姆斯大学在上世纪50年代开设了中文系。Omayma Ghanem说当她1983年刚从艾因·夏姆斯大学毕业时,班上才只有11个中文系的学生。而现在,人数已经超过了2000个。
When Cairo University started its Chinese department in 2004, it had 20 students — now there are 60 in each year of study. And the number of students in Cairo University's Confucius Institute, launched in 2007, grew from 30 to 1,200 a year, said Rehab Mahmoud, director of the university's Department of Chinese Language and Literature and dean of the Confucius Institute. Egypt now has two Confucius Institutes — the other is in Suez Canal University.
开罗大学在2004年设立了中文系,当时只有20名学生——现在每年都有60名。该校汉语言文学系系主任和孔子学院院长Rehab Mahmoud说到,在2007年创办的开罗大学孔子学院里,学生人数从30名上涨到了每年1200名。埃及目前有两所孔子学院——另一所在苏伊士运河大学。
Ghanem said that more Egyptian universities are opening Chinese departments.
Ghanem说,越来越多的埃及大学即将开设中文系。
The list includes Al-Azhar University, Suez Canal University, Fayoum University, Pharos University, Helwan University and Misr University for Science and Technology. Moreover, Confucius Institutes are helping to set up Chinese classes at some junior and senior high schools.
开设孔子学院的名单包括爱资哈尔大学、苏伊士运河大学、法尤姆大学、法鲁斯大学、阿勒旺大学和埃及科技大学。此外,孔子学院正在帮助在一些初高中开办中文班。
Ghanem said that Port Said University, Suez University and Bani Suef University are also considering opening Chinese departments.
Ghanem说,塞得港大学、苏伊士大学和贝尼苏韦夫大学也正在考虑开设中文系。
"There are far from enough Chinese teachers. Though the Chinese government has sent some Chinese volunteers to assist in teaching, many more are needed. Many of the Egyptian Chinese teachers are very recent graduates and lack experience," she said.
她说:"中文教师的人数远远不够。虽然中国政府已经送来一些中国志愿者来帮助教学,但是我们还需要更多。许多埃及的中文教师都是刚刚毕业的,缺乏经验。"
Because of the shortage, Ghanem is also the director of Chinese departments at other universities. From 2005 to 2011, she held that post at Suez Canal University, and she is now also director of two Chinese departments in Fayoum University, one in Faculty of Tourism and Hotels and the other in the Faculty of Literature.
由于教师数量短缺,Ghanem同时还兼任着其他大学中文系的系主任。从2005年到2011年,她在苏伊士运河大学担任此职务。同时她也是法尤姆大学的旅游与酒店、文学两个中文专业的主任。
"Ain Shams University has rich experience in teaching Chinese, so universities usually turn to it for help when they start a Chinese department," she said.
她说:"艾因·夏姆斯大学在教授中文上有着丰富的经验,所以其他大学在准备开设中文系的时候就会来寻求帮助。"
Liu Xing is a Chinese professor at the North China Institute of Science and Technology who currently works at Cairo University's Chinese department.
刘星是中国华北科技学院一名中文教授,他目前在开罗大学的中文系工作。
According to Liu, "China is an increasingly common topic in Egyptian and other Middle Eastern countries' media as trade between China and Egypt continues to increase. This has strongly aroused Egyptians' interest in and desire to learn Chinese."
据刘星说:"随着中国和埃及之间的贸易不断增加,在埃及人和其他中东国家的媒体间,中国成为一个越来越常见的话题。这极大地增强了埃及人对中文的兴趣和学习中文的愿望。"
In 2014, trade between China and Egypt reached a record high of $11.6 billion, and China's non-financial direct investment in Egypt rose to $100 million, increasing 86 percent year-on-year. China is Egypt's biggest trade partner.
2014年,中国和埃及之间的贸易突破新高,达到116亿美元,且中国在埃及的非金融类直接投资增长到了1亿美元,同比增长86%。中国目前是埃及最大的贸易伙伴。
Students majoring in Chinese have better job prospects than other language majors do, Liu said.
刘星说,中文专业的学生较于其他语言专业有更好的工作前景。
Please visit Chinlingo for Chinese learning.