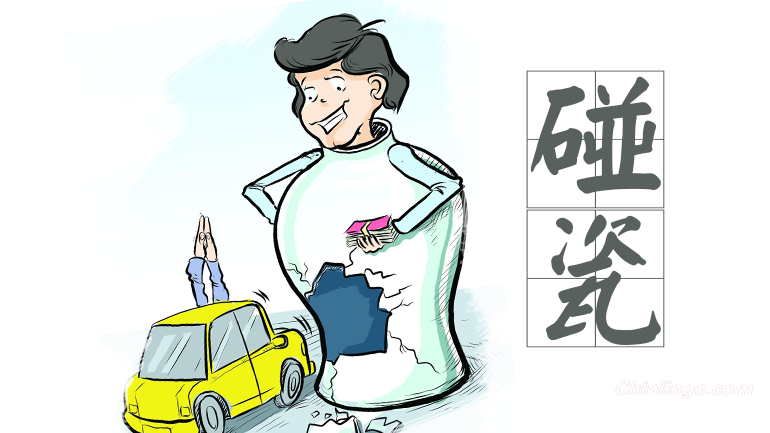 碰瓷 (pèng cí), a term in Beijing dialect, refers to some malicious and illegal behaviors intended for the blackmail purpose.
碰瓷,原属北京方言,泛指一些恶意以及违法地进行敲诈勒索的行为。
It is said that the declined bannermen (八旗子弟, bā qí zǐ dì) in late Qing Dynasty first invented "碰瓷 (pèng cí)". They walked across the busy streets every day, carrying a counterfeit but "expensive" porcelain ware. When a carriage was passing by, they got themselves hit by the passing carriage deliberately, followed by crush of the porcelain ware. Then, they stopped the carriage owner, claiming for the compensation.
据说,"碰瓷"是清朝末年的一些没落的八旗子弟"发明"的。这些人平日里手捧一件"名贵"的瓷器(当然是赝品),行走于闹市街巷。然后瞅准机会,故意让行驶的马车不小心"碰"他一下,他手中的瓷器随即落地摔碎,于是瓷器的主人就缠住车主,要其给予赔偿。
The Chinese slang term "碰瓷 (pèng cí)", which means "touching porcelain" literally, is also a jargon in the antique industry. Some ill-intended merchants will deliberately place some fragile porcelain wares in the middle of passage ways, waiting for some customer to break them accidentally, so they can blackmail the customer accordingly.
听上去像是"碰触瓷器"的流行语"碰瓷"也是古玩业的一句行话,意指个别不良商家在摊位上摆卖古董时,常常别有用心地把易碎裂的瓷器往路中央摆放,专等路人不小心碰坏,他们便可以借机讹诈。
The latest meaning of "碰瓷 (pèng cí)" refers to the elderly who deliberately lie down in front of vehicles, pretending to have been injured and then asking the driver for compensation. In other cases, some car drivers may deliberately collide his car with another motor vehicle to claim for compensation. Such a behavior is also called "碰瓷 (pèng cí)".
"碰瓷"的最近意思是指有的老人故意在交通车辆前躺下假装受伤,然后骗取车主的赔偿。另外,有的车主会故意和其他机动车辆相撞以骗取赔偿,这样的行为也叫"碰瓷"。
As time goes on, "碰瓷 (pèng cí)", an illegal behavior usually seen in the densely populated cities and rural areas, has caused social insecurity. Therefore, one should be more careful when dealing with such a behavior.
随着时代发展,"碰瓷"这种非法行为,在人口密度高的城市和农村里普遍存在,导致社会的不安全问题。因此,处理这类行为时还需多加小心。
Please visit Chinlingo for Chinese learning.