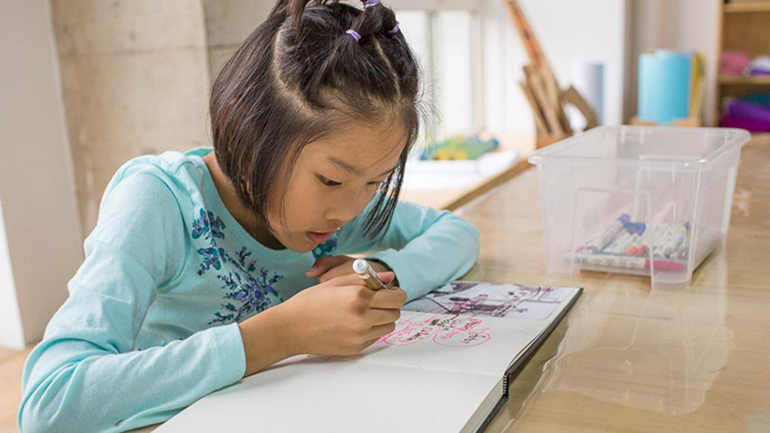 Beijing schoolgirl, Angelina, aged 11, speaks perfect English and Chinese. She plays lacrosse and football and spends her summers at camps in America.
11岁的北京女孩Angelina会说流利的英语和汉语,会打棍网球和足球,并且在美国参加夏令营。
Angelina's parents opted for an all-private education over the Chinese state education system because they were worried about "the pressure-cooker effect."
Angelina的父母选择让她去私立学校就读,而不是中国的公立学校,因为他们担心公立学校的"高压环境"。
"I chose to put my two daughters in a [Chinese] private school because in public schools there is not enough communication between the teachers and the students. And it's too stressful," said Amy Lin, a Taiwanese mother who moved to China six years ago with her husband. "I would like to send her to America later to study. There are better universities and job opportunities there," Lin added.
"我选择把两个女儿送去中国的私立学校,因为在公立学校,师生间的交流不够。而且压力太大,"来自台湾的林女士说,"我想将来把她送去美国念书,那里的大学更好,工作机会也多。"
Going private
The Lin family is one of many affluent Chinese families turning their backs on traditional Chinese education. A growing number want more from their child's school, an alternative, more Western approach which they believe will help their kids develop their creativity. And they're willing to pay.
有很多像林女士家一样富裕的中国家庭正在拒绝传统的中国教育。越来越多的人对孩子的学校有了更高的要求,他们希望有其他选择,认为更加西式的教育能培养孩子的创造力,而且他们愿意为此花钱。
Asia-focused brokerage and investment firm, CLSA, estimates the private education market in China is now worth more than rq yuan ($315m). The broker also expects enrolment in international schools, which are all private, to grow 14% annually through 2018.
专注亚洲的证券经纪和投资银行里昂证券(CLSA)估计,中国目前的私立学校教育市场规模超过3.15亿美元。里昂证券预计全私立的国际学校的学生就学人数在2018年之前将保持每年14%的增长。
The private sector is flourishing: A wide variety of classroom options are available for parents able to pay, from private classes once a week to full-time boarding-school education. Some schools cater for three-year-old kindergarteners all the way through to 18-year-olds, many offering after-school activities and tutoring in English, art or music.
私立学校行业目前欣欣向荣:对愿意出钱的家长来说,有各种各样的课程可供选择,有一周一次的私人课程,也有全日制寄宿学校。一些学校涵盖了从三岁幼儿园开始直到18岁的全程教育服务,很多学校还提供课外活动和英语、艺术或音乐培训。
Research published by McKinsey in January 2015 reveals there are now more private kindergartens in China than public ones and at the secondary level, the percentage of private schools in China has risen to 10% from 3% less than a decade ago.
麦肯锡2015年1月发表的一份研究报告表明,中国的私立幼儿园数量已经超过了公立幼儿园,而在中学阶段而言,10年前中国私立学校占比3%,现在已经达到10%。
Where pressure starts in kindergarten
Every year, more than nine million students in China sit the same terrifying exam that will determine which university they can attend and ultimately their job and future social status. The state system remains geared almost entirely towards this high pressure end of high-school exam, called the "gaokao".
中国每年有900多万的学生要经历一场可怕的考试,它将决定学生能上什么样的大学,并最终影响他们未来的工作和社会地位。公立教育体系基本上全部围绕这场压力巨大的"高考"而展开。
Hot-housing starts at a very young age, with many parents scrambling to enrol their children at the best kindergartens. This in turn leads to access to the better elementary and middle schools and then to one of the top-performing high schools, which are allocated the best teachers and resources.
应试教育在很小的年龄就开始了,很多家长努力把孩子送去最好的幼儿园。这将把他们带去更好的小学和初中,然后是拥有最优质的师资和其他资源的一流高中。
"The education system today ignores personality development, values, and social responsibilities. This is [the] cause of great problems for our country," said Yang Dongping, an education expert at the Beijing Institute of Technology and the dean of the 21st Century Education Research Institute. "It's very difficult to move mindsets from an exam-orientated education, to one where personality is also accounted for," Yang said.
"如今的教育体系忽略个性培养、价值观和社会责任。这是我们国家很多重要问题背后的原因," 北京理工大学的教育专家、21世纪教育研究院院长杨东平表示,"想要摆脱应试教育的思维模式,转向重视个性的教育模式,这十分困难。"
In response, private classes are springing up across China, not just in the urban hubs, to fill a widening gap between the new middle class' expectations of a good education and what Chinese public schools can offer.
为此中国的私立学校已不只出现在中心城市,而是遍布全国。它弥补了新兴中产阶层对优质教育的期望和中国的公立教育之间的差距。