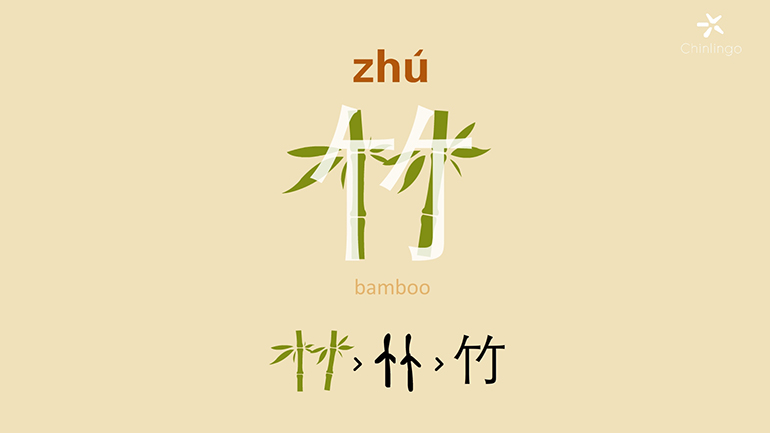 Before paper and pens were invented, ancient Chinese people carved characters with a knife on "竹" (zhú, bamboo) to create a book.
在尚未发明纸、笔的中国古代,古人用刀在"竹"(zhú)上刻字,以此成书。
In Oracle Bone Script, "竹" is shaped like two bamboo trees side by side, with two leaves on their trunks respectively. Over time, these leaves went up gradually. As a result, the original leaves on the left have evolved into the stroke "丿", while the leaves on the right have become a short horizontal stroke "一" at the top. That's how the modern character "竹" evolves.
在甲骨文中,"竹"的字形就像两棵竹并排而立。枝干上缀有两片竹叶。后经演化,竹竿上的枝叶逐渐上移。原本左边的叶子上移后,演变成了笔画撇"丿",右边的叶子上移至竹竿顶端后,演变成了短横"一"。由此,形成了现代汉字"竹"。
"竹" is also used as a radical called "竹字头" (zhú zì tòu). As showed by itself, "头" here indicates that the radical is usually put at the top of an up-down structured character. Moreover, to get the radical "", the character "竹" should be changed slightly, by shortening its vertical strokes "丨" into "丶". For example, in the up-down structured character "竿", the upper part is an abbreviated form of "竹", while the lower part "干" indicates its pronunciation.
"竹"也作汉字部首。称为"竹字头"。其中,"头"的意思就是说,当竹作为部首时常常放在上下结构的汉字的上部。并且它的笔画也要稍作变化。书写竹字头的时候,要把原本汉字"竹"中的竖"丨"缩写成点"丶"。写作:""。如汉字"竿"(ɡān),上下结构,竹在上部,须进行缩写。"干"在下部做声旁。
A bamboo tree is green throughout the year, which shows its vitality. Its branches and leaves droop but do not bend, flexible but rigid; the bamboo joints grow upwards one after another, leaving people with a positive image. Moreover, as the carrier of words and history, "竹" has inherited the culture. Thus, it is esteemed by scholars in China, who always plant bamboo trees in their courtyards to show their aspirations. Landscape painters love drawing bamboos to express their mind.
竹,四季长青,生命力顽强。它的枝叶垂而不折,柔中有刚;竹竿有节,竹节层层向上,其形象积极。加之,"竹"曾担负着记录文书,传承文化的使命。因此,它颇受中国有识之士的爱戴。常常把它们种植在自家的庭院内,以此植物明志。中国山水画家们更是喜欢画竹,以抒胸臆。
Please visit Chinlingo for Chinese learning.