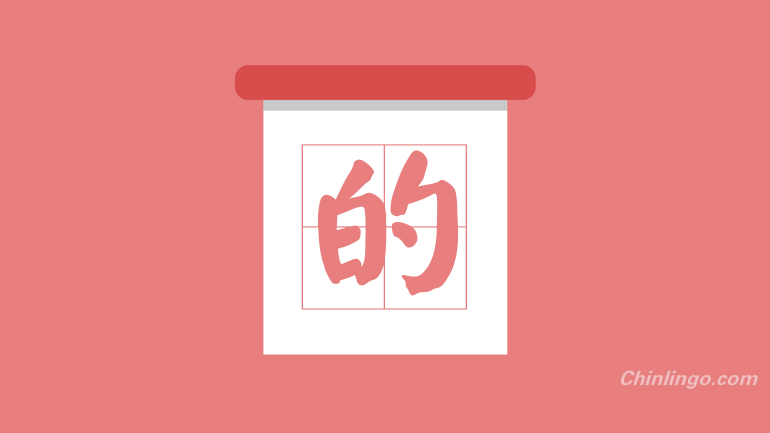 This grammar structure is one of the most basic and important part of Chinese grammar:
这个语法结构是中文语法里最基础和重要组成部分之一:
modifier + 的 + noun
This comes up all the time in all sorts of sentences in Chinese. It follows the general rule that what precedes modifies what follows – first the modifier, then 的 (de) to link them, and then the noun.
在各类中文语句中这个结构总会出现。它的一般规则就是,前者修饰后者。先是修饰语,再用"的"连接它们,然后跟上名词。
Noun + 的 + noun
This may be the most basic grammar structure with 的. By placing 的 between two nouns, you can indicate possession. That is, the second noun belongs to the first. Some examples:
或许这是"的"字最基本的语法结构了。将"的"放于两个名词之间,你可以表达归属的意思。也就是说,第二个名词归属于第一个。一些例子:
你的衣服
nǐ de yīfú
your clothes
他们的钱
tāmen de qián
their money
You can think of 的 as being similar to "s" in English. It marks possession in the same way and appears between the two nouns. More examples:
你可以把"的"字想成类似英语里的"s",它在两个名词之间也是同样地指出归属物。看看更多的例子:
小王的房子
xiǎo wáng de fángzi
Xiao Wang's house
赵先生的自行车
zhào xiānshēng de zìxíngchē
Mr Zhao's bike
老张的猫
lǎo zhāng de māo
Old Zhang's cat
Adjective + 的 + noun
的 is also used to modify things more generally. What it actually does is attach attributes to things.
"的"也可以用于更普遍地修饰事物,经常出现的就是赋予事物属性。
One way 的 can attach attributes to things is by appearing between an adjective and a noun. Some examples:
一种"的"字赋予事物属性的方式是出现在形容词和名词之间。一些例子:
红色的衣服
hóngsè de yīfu
red clothes
好吃的菜
hǎochī de cài
tasty food
漂亮的花
piàoliang de huā
beautiful flowers
Some full example sentences for this adjective + 的 + noun structure:
一些"形容词+的+名词"结构的完整例句:
我喜欢很辣的菜。
wǒ xǐhuan hěn là de cài.
I like spicy food.
她是个很无聊的人。
tā shì ge hěn wúliáo de rén.
She is a very boring person.
这是一种很浓的咖啡。
zhè shì yìzhǒng hěn nóng de kāfēi.
This is a very strong kind of coffee.
By now you can see that 的 is a very versatile linking word in Chinese.
到现在为止,你可以看到"的"字在中文里是个通用的连接词。
clause + 的 + noun
Finally, Let's have a look at a slightly more complicated 的 grammar structure. Because 的 can be used to attach pretty much anything to anything else, you can use it to link entire phrases to others. The phrase then becomes a description or quality.
最后,一起看看"的"较为复杂的语法结构。由于"的"能用于赋予其他任何事物任何属性,所以你可以用它连接完整短语和其他,这个短语就变成了一种描述或特征。
This sounds complicated but it will probably become clearer with some examples:
这听上去很复杂,但看看一些例子或许会比较清楚:
我买的茶
wǒ mǎi de chá
the tea I bought
他喜欢的那个女孩
tā xǐhuan de nàge nǚhái
that girl he likes
In each example, rather than a noun or an adjective, it has a phrase. The phrase is linked to a noun using 的, and becomes a description or attribute of the noun.
每个例子里都是短语而不是名词或形容词,而短语与带"的"字的名词连接,转变成一种描述或名词的属性。
Some more examples:
更多的一些例子:
我们第一次见到彼此的地方
wǒmen dì yī cì jiàn dào bǐcǐ dì dìfāng
the place where we first met
昨天跟我一块儿吃饭的那个人
zuótiān gēn wǒ yīkuàir chīfàn dì nàge rén
the person with whom I ate yesterday
Have a look at some full example sentences for this structure:
看看一些这个结构的完整例句:
他们买的自行车很便宜。
tāmen mǎi de zìxíngchē hěn piányi.
The bike they bought is very cheap.
这是我看过最好看的书。
zhè shì wǒ kànguò zuì hǎo kàn de shū.
This is the best book I've ever read.
Translated from: chineseboost
Please visit Chinlingo for Chinese learning.