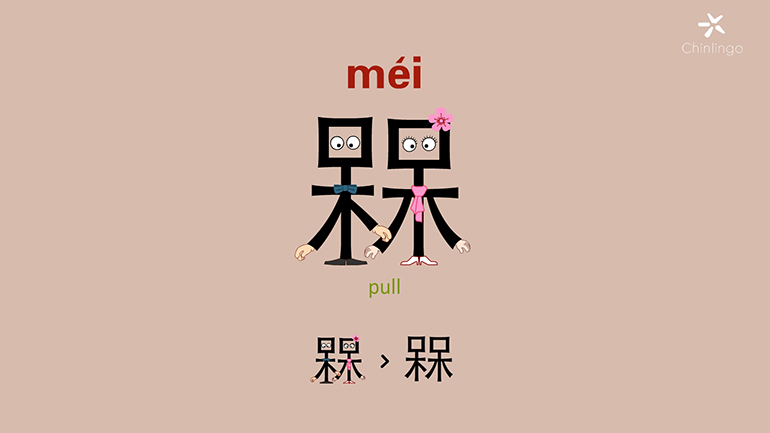 The character "呆" (dāi) means "dull or silly". When two "呆" are combined, the degree of dullness is doubled as well.
汉字"呆"(dāi)用来形容人的愚钝。将两个"呆"(dāi)拉到一起,呆的程度就是双倍!
The character "槑" has been used creatively by millions of Chinese netizens to describe those who are silly and naïve. Moreover, they spare no effort to imagine "呆" on the left as a husband and that on the right as a wife, so as to create a dull couple. Such a couple is a new-generation one who get married at earlier ages and are not good at leading a life.
汉字"槑"被亿万中国网民赋予了新的用法,它指的是"很傻、很天真"的一类人。网民们更利用这个汉字的左右结构,充分发挥想象:左半边"呆"的是老公,右半边"呆"的是老婆。于是,"槑男槑女"在一起就成了呆萌小夫妻。这样的夫妻多指年小成婚、却不善经营生活的新生代低龄夫妻。
This character is pronounced as "méi" rather than "dāi". It meant "plum blossom" in ancient Chinese.
这个汉字并不念"(dāi)",它念"méi"。因为,它在古汉语中本意是"梅、梅花"。
As it is so attractive, it was reborn after secondary creation by Chinese netizens.
但因它的字形太吸引人了,经过中国网民们的二次创作,"槑"就有了新生命。
A language always evolves continuously when it is used. Although it is one of the oldest languages, Chinese sill keeps renewing itself.
语言总是在被使用中不断的发展。中文虽然最古老的语言,但它却依然不断地自我更新。
My friends, speed up your learning. May your journey of Chinese learning be pleasant and funny!
朋友们,加快学习的脚步吧。愿你的中文之旅,愉快有趣。
Please visit Chinlingo for Chinese learning.