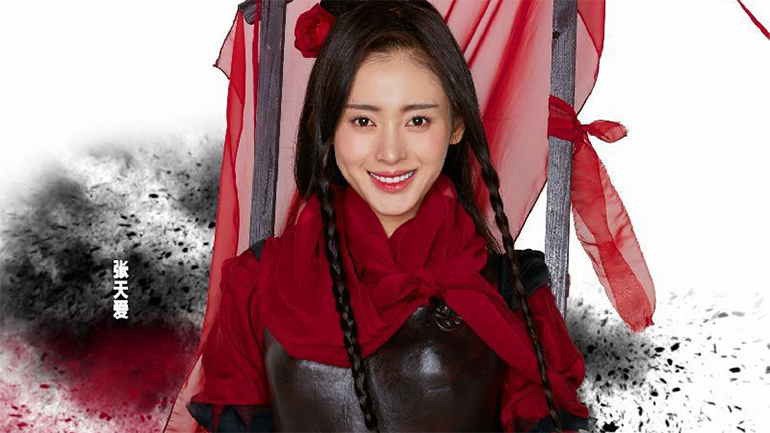 If there is one word that best describes LeTV's newest online drama Go Princess Go, that word is "addictive." Unlike the disappointment that came after the highly anticipated The Legend of Mi Yue hit the airwaves, Go Princess Go started off as a relatively unknown before becoming a major hit. It is currently one of the top trending topics on social media in China.
如果有一个词可以最贴切的形容最新的乐视网络剧《太子妃升职记》,那就是上瘾的。令人充满期待的《芈月传》开播后,随之而来的是失望,不同于《芈月传》,《太子妃升职记》最开始时很少有人知道,之后却收视爆棚。在中国社交媒体中,该剧已成为排名最靠近的谈论话题之一。
Each episode of this online drama is only about 20 minutes long. The biggest draw for audiences seems to be the transgender nature of the main character Zhang Peng. A modern playboy who jumps into a swimming pool to save a girl's life, Zhang is accidently kicked in the head and falls unconscious. Upon waking, he discovers that he now inhabits the body of a beautiful woman living in ancient China named Zhang Pengpeng (actress Zhang Tian'ai), who Zhang later realizes is the wife of a prince. Zhang tries to survive as a woman with a straight man's mind.
该剧每集时长仅为20分钟, 最吸引观众的是主角张鹏的跨性别特征。一个现代的花花公子为了救一个女孩而跳进泳池,他无意中撞到了头、昏迷。醒来后,他发现自己占据了一个古代中国美女张芃芃的身体(张天爱饰演),之后他意识到张芃芃是太子妃。他试着以女人的身份、直男的心灵活着。
It pokes fun at a man having to deal with a woman's menstrual cycle, but for the most part it focuses on how this princess begins developing romantic relationships with both men and women. When the show first starts, Zhang often flirts with his maids and his husband's other concubines. However, Zhang gradually finds himself accepting the more feminine side of his nature.
男性对待女性生理期的剧情很搞笑,但是大部分剧情讲述了太子妃如何和男人、女人产生爱情。前几集,张芃芃经常和她的侍女、太子的其他妃子调情。但是张芃芃逐渐接受了自己性格中更女性的一面。
It's rare to see a bisexual role such as this appear so prominently in a Chinese drama. Even though the tone is kept light and funny instead of being a psychological examination of gender roles, the show does prove that audiences in China are becoming more accepting of the idea of bisexual relationships.
在中国电视剧中,突出这种两性角色非常少见。尽管剧情保持轻快搞笑,而不是对性别角色进行心理研究,这部剧也确实证明了中国观众对双性恋关系更为接受。
Compared to other TV shows that have high budgets for every episode, Go Princess Go is a very low-budget show. Some media outlets have even published articles talking about how poor the show's film crew actually is. Costumes look like they were made with curtain fabric and lack any complicated patterns. Accessories the characters wear look like something a person would buy from a street vendor.
与其他高成本的电视剧相比,《太子妃升职记》成本很低,一些媒体文章描述了制作团队到底有多穷。服装看起来是用窗帘料做的,没有复杂的图案,演员们的配饰看起来像是从地摊上买的。
During scenes where there should be crowds of people, such as an ancient football match, only several figures are ever seen in the background. Even the emperor never makes an appearance and is only talked about by other characters. Some audience members have joked that the only means the director has to add some style to a scene is by using a blower to create a dreamlike scene with wind and fog. However, this isn't really true. With his experience as a photographer, director Lü Haojiji has excellent control over the composition and colors of each and every frame.
在应该有很多人的场景中,比如古代的足球比赛,只能看到几个人。皇上甚至从来没露过脸,只出现在其他角色的谈论中。一些观众打趣道,导演给场景加效果的唯一方法是用鼓风机创造出有风有雾的梦幻场景。但是这不是事实,侣皓吉吉有过摄影的经验,对构图和色彩有着完美的掌控。
It seems that a lack of budget has not hurt the show's ratings. Audiences don't really care where a show bought its costumes or how much money it spent. All they care about is whether a show can amuse and impress them.
低成本没有影响电视剧的评分。观众们在乎的不是电视剧从哪里购置服装或是花了多少钱,他们关心的是这部剧能否给他们带来快乐、能否打动他们。