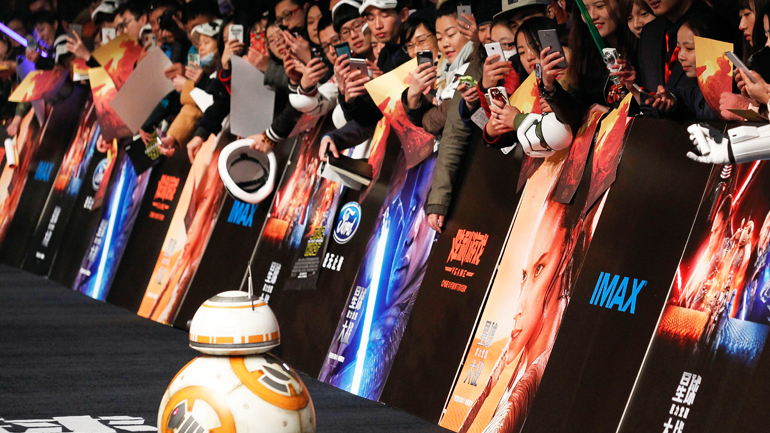 China came late to Star Wars but arrived in a big way when the latest film in the series broke Chinese box office records on Saturday, according to Walt Disney.
《星球大战》虽较晚登陆中国,但来势汹汹。据迪士尼公司的数据,该系列电影的新作打破了中国电影市场的周六票房纪录。
Star Wars: the Force Awakens is the seventh movie in a franchise that has spanned decades.
《星球大战:原力觉醒》是星战系列的第七部,该系列的上映时间跨越了几十年。
Disney said it did not have official box office results yet but estimated $33m in tickets were sold on Saturday, making it the highest opening for the company in China — and the highest Saturday opening in mainland cinema history.
迪斯尼表示尚未得到官方票房数据,但估计《原力觉醒》上周六票房达3300万美元,创下了迪斯尼在中国的首日票房纪录,也打破了中国内地电影史的周六首映纪录。
China is expected to become the world's largest film market in the next two years. A strong performance by Star Wars there will put it in a position to surpass Avatar as the top-grossing movie ever released. Film market analysts have pointed out that the biggest films have performed similarly in China and the US in recent years.
中国有望在未来两年内成为全球最大电影市场。凭借在中国的强劲表现,《星球大战》将超越《阿凡达》成为影史上最卖座的电影。电影市场分析人士指出,近年来大制作电影在中国和美国的票房表现类似。
The mainland opening attracted large crowds, many of them aficionados of the series who had first watched pirated copies of earlier films.
星战7的内地首映吸引了大批观众,其中不乏许多星战迷,他们观看前几部星战时看的都是盗版。
Hu Bin, a 30-year-old office worker in Shanghai, recalled relying on pirated discs and online websites to watch the Star Wars franchise. He was among the first viewers to watch the new film at a cinema in Shanghai. But he rated it "not as good as I thought".
30岁的上海白领胡斌回忆,他是通过盗版光盘和在线网站观看星战系列的。胡斌在上海一家电影院观看了这部星战新作,是首批观众之一,但他的评价是"不如我想的那么好"。
Zhang Xiaobei, film critic for state broadcaster CCTV and a Star Wars fan, watched his first movie in the series in 1982. "The name itself brings back a lot emotion from our generation," he said. "The early eighties was a time in China when people craved contact with the outside world, we were insatiably curious about western culture, and we were stunned after seeing the special effects, and the scope of the human imagination."
官方的央视影评人张小北也是一名星战粉,他于1982年看到了第一部星战电影。他说:"电影名字本身就给我们这代人带回许多感慨。八十年代初期那会儿,中国人渴望与外界接触,我们对西方文化无比好奇,当我们看到星战里的特效,以及人类想象力的范围后,我们被震撼了。"
Zi Feiyu, independent film critic, said: "The Star Wars series has a group of diehard fans in China, even though the old Star Wars series was never released in China."
独立影评人子非鱼说:"星战系列在中国有大批死忠影迷,即使老星战系列从未在中国上映过。"
The country's total box office take increased 49 per cent in 2015, according to state figures, generating $6.8bn in revenues. China is adding an average of 22 screens a day.
据官方数据显示,2015年中国总票房同比增长49%,收入达68亿美元。中国的屏幕数量正以平均每天22块的速度增加着。
With global sales of about $1.6bn The Force Awakens remains behind Avatar, which made $2.8bn in 2009.
《原力觉醒》目前全球票房约16亿美元,仍落后于2009年取得28亿美元票房的《阿凡达》。