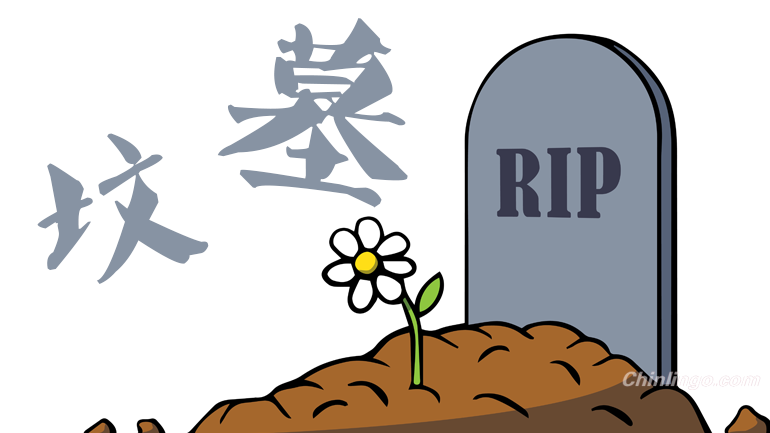 In Chinese, both "坟 (fén)" and "墓 (mù)" refer to the caves where the dead are buried, but these two characters are not completely the same in some way.
中文里,"坟"和"墓"都是埋葬死人的洞穴,但二者又不是完全等同的。
"坟 (fén)" originally referred to the hillock mounded above ground level, which had nothing to do with "墓 (mù)". For example, in The Songs of Chu (楚辞), there is a sentence "登大坟以远望兮 (dēng dà fén yǐ yuǎn wàng xī)", meaning "to look far away on the top of a large mound".
最初的时候"坟"指的是那种高出地面的用土堆成的小山包,和"墓"没有联系。如《楚辞》中就有"登大坟以远望兮",指的就是登上大的土堆向远处张望。
However, "墓 (mù)" refers to the grave for burying the dead. Apart from the dead body, many other sacrificial objects can be found in the grave. Moreover, there was no mould above the ground level built on the grave, but many underground tunnels to the grave.
"墓"则是埋人的墓穴,除尸体外,还放入很多殉葬品,并且最初墓地上不封高出地面的土堆,常有坑道通到墓穴。
In the late slave society and feudal society, when the hierarchy became much stricter, many rulers built their own graves before they died and regarded the mould over the ground as a symbol of status. Later, it became a common thing for the civilians to build moulds over the graves and then "坟 (fén)" and "墓 (mù)" started to be closely associated with each other. Until today, we often directly say "坟墓 (fén mù)" when speaking of the graves, and we even just say "坟 (fén)", leaving out the character "墓 (mù)".
到了奴隶社会后期和封建社会,等级制度的划分越来越严格,一些统治者在死后大修墓穴,并且把地面封土的大小也作为了一种身份的象征,到后来发展到连平民百姓死后也要在墓上封土了,于是"坟"和"墓"就紧密地联系在一起。一直到现在,我们说到葬处都是直接说"坟墓",甚至把"墓"字省略,只说"坟"了。
Please visit Chinlingo for Chinese learning.