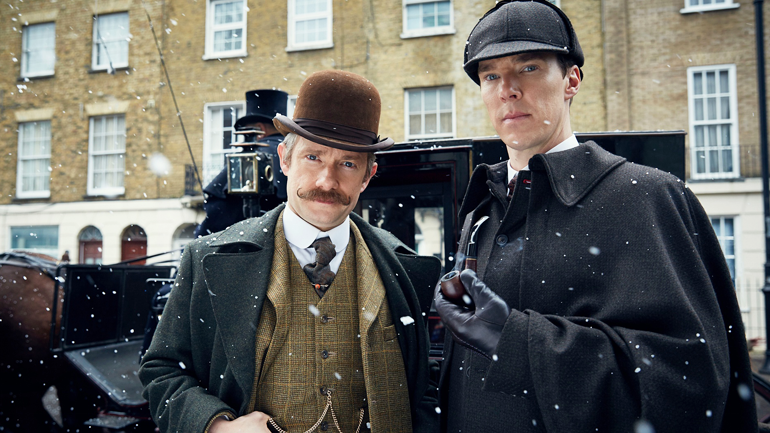 Sherlock special The Abominable Bride has become an international cinema hit as well as a UK television success, topping the box office in China over the weekend and taking the number two spot in Korea.
《神探夏洛克特别篇:可恶的新娘》除了在英国电视台播出广受欢迎之外,也获得了国际性的成功。电影版《神探夏洛克》首映日荣登中国电影票房榜首,同时在韩国斩获票房亚军。
1.7 million people in China turned out to see the movie on 4th, with Deadline reporting it took $5.39m at the box office. The run in China is part of a deal struck between BBC Worldwide and Shanghai Media Group to show the episode, plus an extra 25 minutes of footage not shown on TV. In Korea, box office receipts reportedly hit $5m on 735 screens, with the BBC saying it outsold Star Wars: The Force Awakens four to one.
4日中国有170万人观看了这部电影,好莱坞最新报道网站则说这部电影获得了539万美元的票房成绩。这部影片在中国上映是英国广播公司环球公司与上海东方传媒集团签署的协议的一部分,除了英国电视台播出的部分,大银幕彩蛋还包括电视上未播出的25分钟内容。在韩国这部影片的票房收入达到500万美元,英国广播公司称,《星球大战:原力觉醒》的成绩仅有其四分之一。
The special – which took Benedict Cumberbatch and Martin Freeman back to the 19th century – also played in UK cinemas on 1th night, with 18,500 fans turning up. It has received a cinema release in more than 20 countries, including the US, Mexico, Taiwan, Australia and New Zealand.
这部特别篇将本尼迪克特·康伯巴奇和马丁·弗瑞曼带回了19世纪,1日晚上也在英国的电影院上映了,吸引了1.85万粉丝前往影院观看。这部电影在超过20多个国家和地区的影院公映,包括美国、墨西哥、台湾、澳大利亚和新西兰。