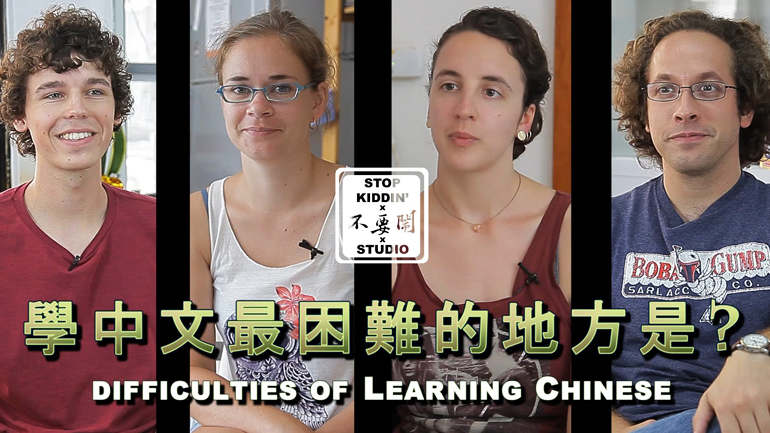 The various related but often unintelligible Chinese language varieties collectively have 1.2 billion first-language speakers. Of those varieties, Mandarin, also known as Standard Chinese or Putonghua, has 848 million native speakers, which is higher than any other language on Earth. It's no wonder that more and more people around the world are seeing the practicality of learning Chinese as a second language.
汉语方言种类繁多,它们虽互有联系但也常常难以理解。以汉语作为第一语言的人共有12亿人。在汉语方言中,普通话(即我们所说的标准汉语)的母语使用者有八亿四千八百万人,比世界上任何其它语言的母语使用者都要多。毫无疑问,全世界越来越多的人都意识到学习汉语作为第二语言是很实用的。
However, learning a second language takes time and effort, especially if the intrinsic features of your target language differ significantly from those of your native language. A recent YouTube video titled "Foreigners' Difficulties of Learning Chinese" explores this exact scenario by asking four Westerners about their own experiences studying the language.
但是,学习第二门语言需要耗费时间和精力,特别是当你目标语言的内在特征与你的母语有明显不同的时候。最近,在一个名叫"老外学中文最痛苦的地方"的YouTube视频中,四名西方人讲述了学中文的亲身经历,探讨的正是这种费时费力的情况。
Whether you've already dabbled in Chinese yourself or are thinking about it, the short clip makes for an interesting watch for anyone looking to expand their linguistic horizons.
不管你是汉语的初学者还是正打算学汉语,只要你想开阔眼界,了解语言学,这段有趣的小视频一定不会让你失望。
At only two minutes and 13 seconds, this video is too short to do any more than touch on some of the basic linguistic features of Chinese or to take into account the different varieties of Chinese in detail. It serves as a great introduction, however, to explain some of the typical difficulties that foreigners run into while studying Chinese as a second language.
这个视频只有2分13秒,这么短的时间只够我们略窥汉语的基本语言学特征或者汉语各种变体的具体差异。但是,作为一个介绍,这个视频是非常不错的。在学习汉语作为第二语言的过程中,外国人会遇到很多典型的困难,这个视频就对其中的一些作了解释。
Please visit Chinlingo for Chinese learning.