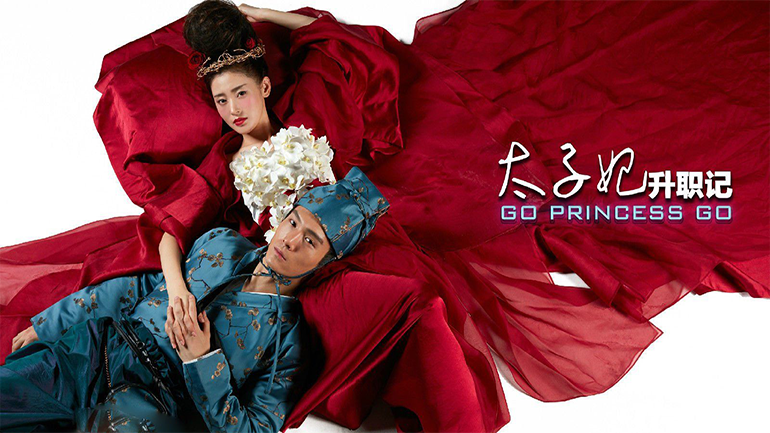 Plot summary
In order to make up for errors in his work, Deity Siming secretly brought the soul of a modern man called Chen Ran from Hades to possess the body of the crown princess of Nan Xia called Zhang Pengpeng, who has just "fallen into water and died from drowning."
为了弥补工作失误,司命星君将现代男人陈然的灵魂偷偷从地府带出,附身到"落水身亡"的南夏太子妃张芃芃身上。
Disliked by her husband and detested by her mother-in-law, how Zhang Pengpeng with a male's mind in a female's body gets promoted smoothly from 'Crown Princess' all the way to be the 'Empress Dowager'?
丈夫不喜,婆婆不爱,男人心女人身的张芃芃如何才能从"太子妃"一路顺利地升职为"太后"?
This is the history of the struggle of a 'woman' in the harem ……At the same time, this is also the history of the suffering of a 'man' in the harem ……
这是一个"女人"在后宫的奋斗史……同时,也是一个"男人"在后宫的苦难史……
【外国网友评价】
@milquety
I haven't read the novel, but recently I watched the drama, with the initial intention of merely to find out what is the fuss over it among the Chinese netizens. It turns out to be way more enjoyable than expected because it's just light-hearted and entertaining. That is despite all the cheap ass looking props/settings/costumes. The general sentiment is that, the quality of the cast and an interesting story really compensated for that (which I totally agree). The characters are also extremely lovable. Honestly I'm still not very sure how to treat the romance in this, like is it BG or BL? I'm not a BL fan but I'm still watching it anyway.
之前没看过小说,但最近在看这部剧,刚开始只是想弄明白这部剧为什么在中国网民中如此轰动。但事实证明,这部剧比我预想中的更加精彩,因为剧情十分欢乐。尽管场景、演员服装和道具都是浓浓的五毛钱风~但总体感觉是——这部剧的质量和趣味横生的故事情节弥补了这些缺陷(我完全同意)。剧中角色也是相当的惹人喜欢。说实话,我还是不知道该如何正视这段罗曼史,这特么到底是BG还是BL啊!!!我不是耽美粉,但无论如何还是在追着剧。
@hungryhippo
I admit there were times I've forgotten that the crown princess is really a man and I've discovered he seems to be rather accepting of his new body and perhaps even the love interests of two men. The romantic scenes are wonderfully played out and unexpectedly unique and not too cliche. I am definitely looking forward to the upcoming episodes…
我承认,有时候我都忘了太子妃实际上是个男的。而且我还发现:他TM对于接受自己的新身体这件事完全无违和了啊!而且还很享受两个男人对他的爱慕啊!浪漫场景不仅独特精彩,而且出乎意料的很有新意一点儿都不老土!我都等不及看剩下几集了……
@lara4liwa
My fav moments so far:
几个目前我最爱的场面:
1. When c.prince sit with c.princess in ep 5
1. 第5集中太子妃和太子坐在一起的场面
2. When c.princess find out about the deed in ep 6
2. 第6集中太子妃发现真相时的场面
3. When c.prince apologize to c.princess in ep 7
3. 第7集中太子向太子妃道歉
4. when c prince finally realize about his love in ep 8
4. 第9集中太子终于意识到自己爱上了对方
@Quynie
Really like the drama so I begin to read the novel. The leading actress is very pretty. It is also easier in the drama to believe that she is a woman and we see in the last episodes that they are putting less of her man voice like they want us to forget her gender.
真的很喜欢这部剧,所以开始读这部小说。女主角很漂亮。看剧时很容易就会相信她是个女人,上一集中,她的男性声音已经被弱化,因为编剧想让我们忘记太子妃的性别。