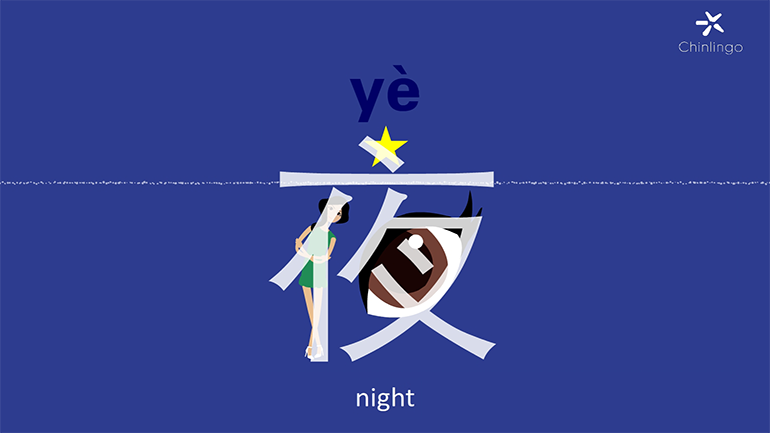 "夜" (yè) is someway a complicated character. So try to memorize its complicated strokes with the dynamic manner.
"夜"(yè)是一个结构比较复杂的汉字,让我们试试用动态的方式来记忆这些复杂的笔画吧。
The starting stroke "丶" can be imagined as a star and the long horizontal stroke "一" below it as the sky. Below the horizontal stroke, on the left is the common radical "单人旁" or "single person radical", indicating a person, while the part next to it on the right is just like a big eye with winding lashes.
"夜"(yè)的第一个笔画"丶"看作一颗星。其下方的长横"一"代表天空。横的下方左边是常见的汉字偏旁"单人旁",其含义表示"一个人"。单人旁的右边则状如一只睫毛弯弯的大眼。
So "夜" comes down to the night sky + star + person + eye. You can memorize it with this sentence "open eyes to look at stars at night".
夜空+繁星+一个人+一只眼,"夜"的记忆口诀是:夜晚睁大眼看着天上的星。
"夜"-rooted words that come in common use include "夜晚"(yè wǎn, night), "半夜"(bàn yè, midnight), "黑夜" (hēi yè, dark night) and so on.
以"夜"为词根组成的常用词语有"夜晚"(yè wǎn:night)、"半夜"(bàn yè:midnight)、"黑夜"(hēi yè:dark nights)等。
Please visit Chinlingo for Chinese learning.