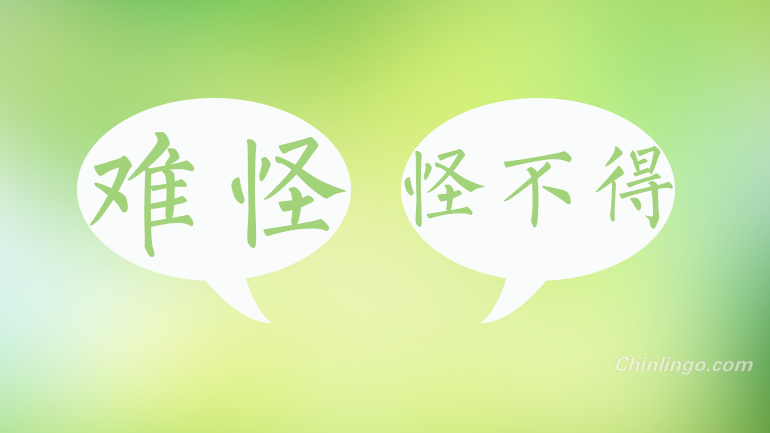 Below we look at how to say "no wonder" in Mandarin – essential language if you're going to travel or live in China, a country with abundant with cultural quirks and surprises for its visitors.
Learn how to use the two following phrases and you'll be prepared to express yourself whenever you come to understand something that was previously unclear or baffling…
As you'll see, both words feature the character 怪 / guài, which has a few meanings, including "strange", "to wonder at" and "to blame". For the purposes of this post, we're going to focus on the definition "to wonder at".
难怪/nán guài
Literally "difficult + to wonder at", 难怪 is a fairly straightforward word and fits into a sentence just as "no wonder" does in English:
这是一家有名的北京烤鸭店?难怪满员了!
zhè shì yījiā yǒumíng de běijīng kǎoyā diàn? nánguài mǎnyuán le!
Aaah, so this is a famous Beijing Roast Duck restaurant? No wonder it was totally full!
你有新女朋友了?难怪你最近那么开心!
nǐyǒu xīn nǚpéngyǒu le? nánguài nǐ zuìjìn nàme kāixīn!
You have a new girlfriend? No wonder you've been so happy recently!
难怪大家加班。截止日期改到明天了!
nánguài dàjiā jiābān. jiézhǐ rìqī gǎi dào míngtiān le!
No wonder everyone is doing overtime. The deadline was changed to tomorrow!
难怪你觉得有点儿伤感。还没习惯在中国生活吧。
nánguài nǐ juéde yǒudiǎnr shānggǎn. hái méi xíguàn zài zhōngguó shēnghuó ba.
It's not surprising you feel a bit emotional. You're still not used to life in China.
怪不得/guài bù dé
As we know, 怪 means "to wonder at". When joined by 不得, meaning "cannot" or "may not", we have the phrase "no wonder". Examples:
怪不得我吐了。我对海鲜过敏。
guàibùdé wǒ tù le. wǒ duì hǎixiān guòmǐn.
No wonder I was sick. I'm allergic to seafood.
怪不得你这么累 – 刚刚跑完了马拉松!
guàibùdé nǐ zhème lèi – gānggāng pǎo wán le mǎlāsōng!
It's not surprising you feel tired. You just ran a marathon!
怪不得很多人过年呆在家里。太多人出去旅游了!
guàibùdé hěnduō rén guònián dāi zài jiālǐ. tài duō rén chūqù lǚyóule!
It's not surprising many people stay at home for Chinese New Year. Too many people are traveling!
Thankfully for learners, 怪不得 and 难怪 are totally interchangeable.
So there you have it; two handy options for when the strange, unfamiliar or new suddenly makes sense. Hopefully you'll be able to use them often in reference to your Mandarin studies!
Please visit Chinlingo for Chinese learning.