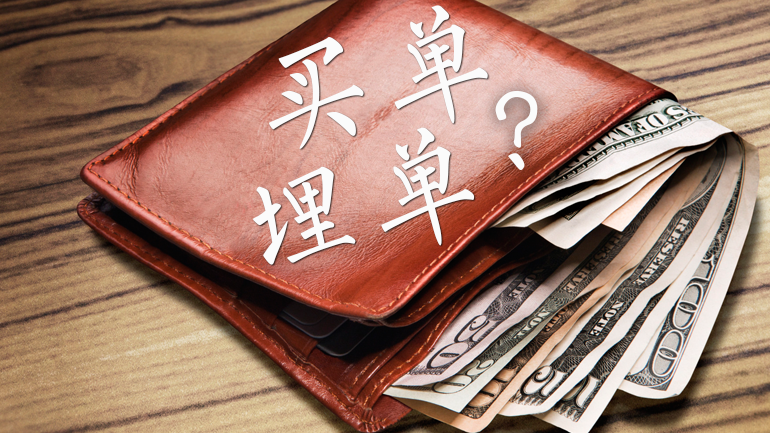 When you finish a meal and want to pay the bill, what should you say? "买单 (mǎi dān)" or "埋单 (mái dān)"? And what's the meaning of "埋 (mái)" here?

在餐馆吃完饭,要结账,应该叫"买单"还是"埋单"?这个"埋"又是什么意思呢?
In Cantonese, "埋 (mái)" doesn't mean the same as it does in Mandarin.
"埋"在粤语中的含义不同于普通话。
In fact, the character "埋 (mái)" in Cantonese has many different meanings, one of which is "closing accounts". For example, the action of closing accounts in stores is called "埋数 (mái shù)" or "埋柜 (mái guì)"; completion of a project or thing is called "埋尾 (mái wěi)"; paying your bill after a meal is called "埋单 (mái dān)" or "写单 (xiě dān)".
其实,广州话的"埋",有着许多不同的含义,其中之一是表示结算的意思。例如,商店晚上结账叫"埋数",又叫"埋柜";工程的收尾、事情的结束叫"埋尾"。顾客吃饭后结账叫"埋单",又叫"写单"。
So, does "买单 (mǎi dān)" exist in Cantonese? The answer is yes. It appeared about in the late 1970s when China just started the reform and opening-up policy, and was short of materials. Many emerging white goods like TVs and fridges were much cheaper in HK than in Mainland. Lots of people in Guangdong asked their relatives or friends in HK to shop for them. However, it was quite troublesome to take those goods back. Then the smart sellers came up with a solution allowing their customers to pay the bill in HK but pick up the goods with the payment receipts in Guangzhou, which is called "香港买单, 广州提货 (xiāng gǎng mǎi dān, guǎng zhōu tí huò)" in Mandarin. Therefore it is clear that "买单 (mǎi dān)" has nothing to do with "埋单 (mái dān)". "埋单 (mái dān)" means "making a list after totaling all expenses".
那么,广州话里有没有"买单"一词呢?有。"买单"一词大概出现在20世纪70年代末。当时刚改革开放,物质还很匮乏。兴起不久的大型家用电器,如电视机、电冰箱等,香港的价钱要比内地便宜好多,广东很多人都托在香港的亲友购买,然而携带却极费事,精明的商人便想出在香港付款,到广州凭付款收据提货的办法,这叫"香港买单,广州提货"。可见"买单"与"埋单"是互不相干的两回事。"埋单"就是"总合各项费用开出一张清单"的意思。
Some people think the pronunciation of "埋 (mái)" is the variant of "买 (mǎi)". After paying the bill, you are given the receipt from the waiter, and that is called "买单 (mǎi dān)". In fact, it is wrong.
有人说,"埋"就是"买"的转音。结账付款,服务员把收据给你,这不正是"买单"吗?其实,这也是不正确的说法。
Modern Chinese Dictionary introduces the original meaning of "埋单 (mái dān)" in Cantonese. However, we all know that when one language borrows words from other languages or dialects, pronunciation and meaning of those loanwords will often change, to be a little different from what they are in the source language, as they belong to two completely different language systems. There are many other similar cases. Nowadays "买单 (mǎi dān)" has become a widely-accepted expression in Chinese.
《现代汉语词典》"埋单"词条,就介绍了来自粤语的意义。不过,我们知道,当一种语言从其他语言或方言引进借词的时候,外来词的语音和语义往往会产生某些变化,并非与源语完全相同,因为他们属于两个不同的语言系统。这样的情况也是有不少案例的,而如今"买单"便成了中文里普遍接受的表达了。
Please visit Chinlingo for Chinese learning.