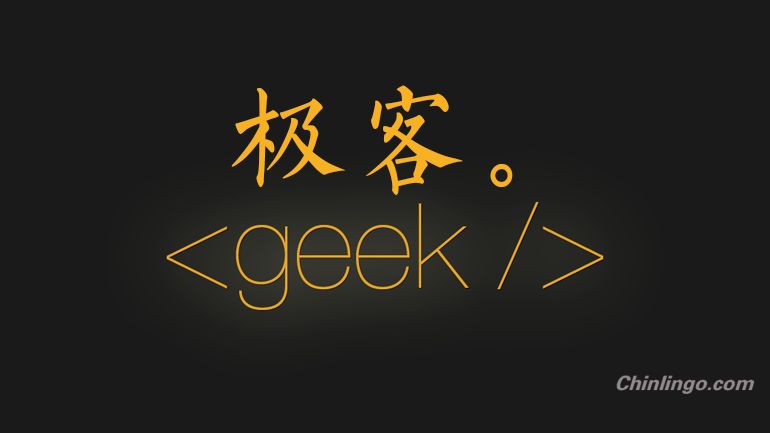 The word "极客 (jí kè)" (geek) originally meant someone weird or outside of the mainstream. It gradually evolved to refer to someone who is crazy about computers and network technology, and spending a lot of time on it. It also refers to someone who is keen on intellectual pursuit. A "极客 (jí kè)" is enthusiastic about his/her hobby regardless of others' opinions.
"极客"一词原指那些或为人古怪或非主流之人。后逐渐被被用于形容对计算机和网络技术有狂热兴趣并投入大量时间钻研的人,也指热衷追求知识的人们。他们沉溺于自己的爱好,丝毫不在乎别人的想法。
The hobbies of real "极客 (jí kè)" include technology, science, gaming and fantasy fiction.
极客们的爱好包括:科技、科学、游戏、奇幻小说等。
There are countless examples that show "极客文化 (jí kè wén huà)" (geek culture) is becoming more and more mainstream. The once-marginalized culture is increasingly popular among people.
不计其数的例证可见"极客文化"正在成为主流文化。这些曾经的边缘文化都成了备受欢迎的流行文化。
One reason that "极客文化 (jí kè wén huà)" has become more mainstream is because technology now is an ubiquitous part of nearly everyone's daily life – you can say the mainstream culture is catching up to the lifestyle of "极客 (jí kè)".
极客文化进入主流文化的一大原因在于,技术已经成为几乎每个人日常生活中不可或缺的一部分。从某种意义上,你也可以说是主流文化在努力追赶极客们的生活。
Now the word "极客 (jí kè)" doesn't have a negative meaning any more. Many young millennials are fond of thinking critically and learning about technology related fields in their daily life. They are glad and proud to accept the title of a "极客 (jí kè)". From gadgets to social networks, including video games, the decision to embrace new technology is now considered to be a more mainstream behavior.
现在,"极客"一词已不再含有贬义。很多千禧一代的年轻人都酷爱思考,喜欢学习。他们不仅乐于接受自己极客的一面,而且以此为傲。从小玩意到社交网站再到电子游戏,不肯接受新科技才是非主流的表现。
Many "极客 (jí kè)" never get bored of creating new things. For example, for many programmers, their work's real attraction is the fact that they can create a "world" through coding. Like other creative people, such as artists, cooks or musicians, they obsess over the intellectual challenges and pleasures of making something new and interesting.
很多"极客"都对创造事物乐此不疲。比如,对很多程序员而言,真正的工作魅力在于用代码创造"世界"。和画家、厨师以及音乐家等其他从事创造性工作的人一样,他们都被各自领域的知识挑战和乐趣所吸引。
Are you wondering if you are a "极客 (jí kè)" too now? If so, congratulations! You are now considered to be a cool person!
现在,你是不是觉得自己也是一名极客?如果是,那么恭喜你,你也是潮人一枚啦!
Please visit Chinlingo for Chinese learning.