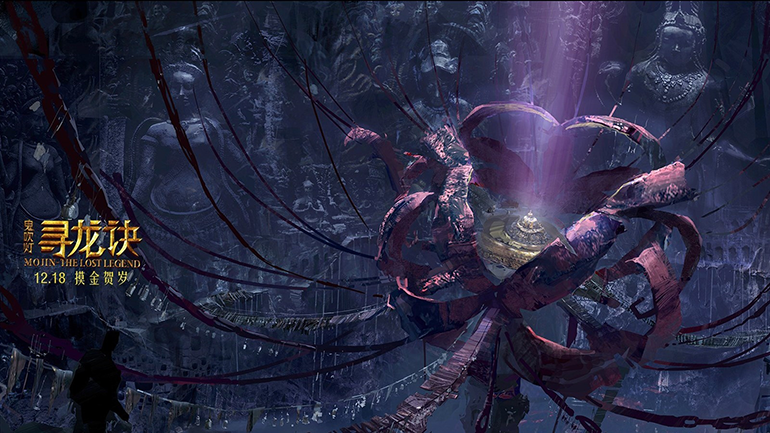 After only two full days in cinemas, Chinese fantasy-action film Mojin – The Lost Legend earned 700 million yuan ($108 million) at the Chinese mainland box office by 6:00 pm Sunday, according to Chinese box office website cbooo.cn.
据中国票房网站cbooo.cn报道,华语奇幻冒险动作大片《鬼吹灯之寻龙诀》,截至12月20日下午6点,仅上映两天,在中国内地电影票房已达7亿元(1.08亿美元)。
Hitting cinemas on Friday, the film earned 168 million yuan on opening day, accounting for 73.46 percent of all domestic box office earnings.
星期五在电影院刚刚上映,当天的电影票房收入就达1.68亿元,占国内票房总收入73.46%。
Ticket sales continued to rise on Saturday as the film earned another 224 million. The film has broken several records for the Chinese mainland including highest midnight screening box office for a domestic 3D film.
星期六,票房继续上升,又赚得2.24亿元。这部电影已经刷新中国内地电影的几个记录,包括国产3D电影零点场最高票房。
Industry insiders estimate that it's highly likely Mojin – The Lost Legend will break the 2.44 billion yuan total box-office record Monster Hunt set in July.
业内人士估计,《鬼吹灯之寻龙诀》将有望打破今年7月上映的内地票房榜首《捉妖记》24.4亿元的纪录。
Mojin – The Lost Legend was adapted from the last four volumes of the hit Chinese tomb-robbing book series Ghost Blows Out the Light by author Tianxia Bachang. It stars a cast of Chinese A-listers, including Huang Bo, Chen Kun, Shu Qi and Yang Ying.
《鬼吹灯之寻龙诀》根据天下霸唱所著有名的盗墓小说《鬼吹灯》的后四部改编而成。明星阵容包括中国一线明星黄渤、陈坤、舒琪、杨颖等。
The series has been immensely popular since the first novel was published online in 2006. The first book in the series was also adapted into a feature film, Chronicles of the Ghostly Tribe. Hitting cinemas back in September, Chronicles saw only mediocre box office results, earning a total of 682 million yuan to date.
自从盗墓系列第一部小说于2006年在网络发表以来,这一系列一直大受欢迎。这个系列的第一本书也被改编成了电影《九层妖塔》于今年九月上映。《九层妖塔》的票房成绩平平,至今共吸金6.82亿元。