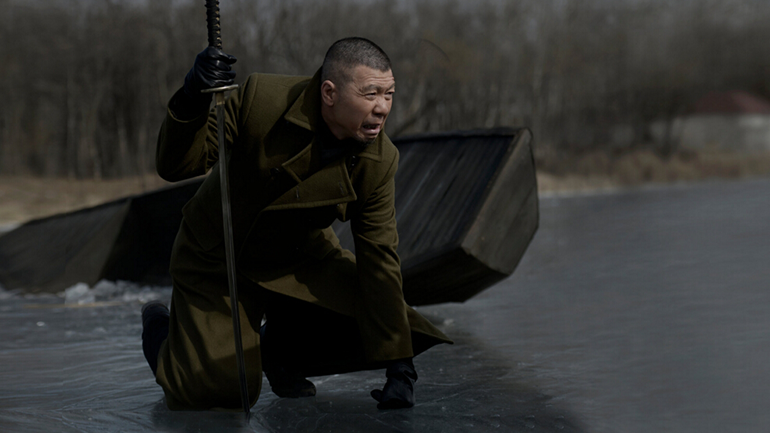 Mr. Six is a grumpy old fixture on his Beijing back street, ready to scold or shoot a withering look. But as we are frequently reminded in the director Guan Hu's character study "Mr. Six," he was one bad dude back in the day. That was before the money-obsessed modern age in China gave rise to spoiled rich kids, fancy modified cars and a general lack of decency. All these problems bedevil Mr. Six, whose estranged son is held captive by a wealthy, speed-racing brat named Kris.
暴脾气的六爷是北京胡同里的一位"老炮儿",随时都会破口大骂,斜眼瞪人。但是导演管虎这部以人物个性为中心的影片《老炮儿》时常提醒观众,六爷当年也是个横行一时的坏家伙。那还是中国走入金钱至上的现代社会之前的事了,如今的时代属于那些娇生惯养的富二代,开着花哨的车子,丝毫不讲规矩。这些问题困扰着六爷,与他疏远的儿子又被一个名叫小飞的追风阔少扣押了。
As the rough-hewed Mr. Six, Feng Xiaogang (who is also a director of some of China's biggest blockbusters) carries himself with impeccable stoicism. He exudes moral conscience whether standing up for a beggar against the police or staring down a ridiculous adversary like Kris (the singer Kris Wu, with Olympian bearing and platinum hair).
冯小刚(他也是一位导演,执导了中国若干最卖座的票房大片)在片中饰演固执的六爷,带有一种无懈可击的斯多葛主义。他身上散发着道德感的气息,帮助一个乞丐和警察对抗,鄙视小飞这样可笑的对手(这个角色由歌手吴亦凡饰演,打扮夸张,染着银白色的头发) 。
But the baggy 137-minute story drowns out Mr. Feng's assorted sharp moments with hoary family drama and clumsy plotting, and Li Yifeng is generic as Mr. Six's son. It's also a shame that the movie doesn't develop our hero's girlfriend, the lamentably named Chatterbox (Xu Qing), or his crew of streetwise friends from way back when.
但是在这个137分钟的松弛故事里,冯小刚的犀利时刻被各种老掉牙的家庭戏和笨拙的情节淹没了,饰演六爷之子的李易峰也显得一般。另一个遗憾是,影片没有好好塑造主角的女朋友,她有个拙劣的名字"话匣子"(许晴饰),也没有好好塑造他那些旧日的街头伙伴们。
The ending makes a bold gesture in upholding Mr. Six as an actual mortal rather than an invincible vigilante. It pulls the camera back from his dissatisfied point of view (and is more intriguing than a bit of symbolism involving an ostrich on the loose), but it's a long time coming.
影片的结尾是一个大胆的姿态,令六爷成了真正有血有肉的人,而不仅仅是一个英勇的斗士。它把镜头从他心怀不满的视角拉回来(其中还有一只鸵鸟逃跑的镜头,与其说是象征主义,倒不如说是有趣),但是时间有些长了。
"Mr. Six" is not rated. In Mandarin with English subtitles. Running time: 2 hours 17 minutes.
《老炮儿》未分级。中文对白,英文字幕。放映时间:2小时17分钟。