An old man was lying motionless under the covers of his bed next to his wife when Jasmin Howard, a New York City Fire Department paramedic, entered the room. Howard and her partner had just walked up several flights of tight, confined stairs to get to the man in his cramped apartment in Manhattan's Chinatown.
His wife was hysterical and speaking in Chinese, but neither Howard nor her partner understood what she was saying. A family member on a phone that was handed to the paramedics struggled to translate. With the heat turned on, the man's body was warm, so his wife was convinced that he had just died.
But Howard and her partner could tell that he had been gone for much longer. Unable to communicate with her, Howard told NBC News they still tried to bring him back to life — checking vital signs, clearing his airway, and performing CPR for over half an hour.
"She needed to see we were going to do everything in our ability to try to resuscitate him," Howard, 38, said about the incident, which happened several years ago. "It was in her best interest."
Every day, language barriers pose a myriad challenges for first responders, especially in cities like New York where some 200 languages are spoken among nearly 8.5 million residents. Sometimes, they make getting critical details about a patient's medical history more difficult. Other times, they prevent firefighters from learning quickly whether anyone is still inside a burning building when they pull up to a fire.
In an effort to bridge the language gap between the FDNY and the city's rapidly expanding Chinese communities, the Phoenix Society — an organization of Asian-American firefighters, emergency medical personnel, and civilian employees — launched a beginner-level Mandarin class in the fall to teach FDNY members, many of whom work on the front lines, the rudiments of a language spoken by nearly 420,000 New Yorkers.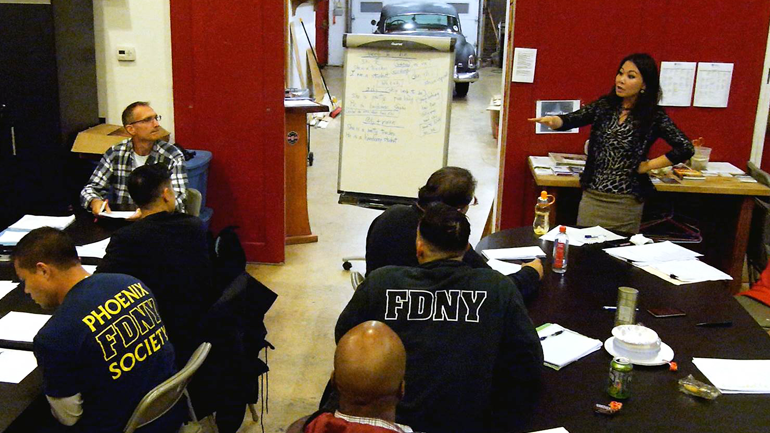 "We believe this program will not only improve the vital emergency medical care and fire prevention services we provide to the Asian-American communities in New York City, it will also help foster a more inclusive department for all of our members," FDNY Fire Commissioner Daniel A. Nigro told NBC News.
Those were the goals Lt. Steven Lee, president of the Phoenix Society, had in mind when he first proposed the Chinese-language course last summer. With the help of Friends of Firefighters, a nonprofit that assists New York City firefighters and their families, Lee drew up a grant proposal for two 16-week courses that would meet weekly for two hours each session. The FDNY Foundation, the department's official nonprofit organization, agreed to fund the program, and Friends of Firefighters executive director Nancy Carbone offered to hold the classes in her organization's space, a former firehouse on Van Brunt Street in Red Hook, Brooklyn.
Mandarin was a logical choice for the course, Lee told NBC News, with New York home to more Chinese than any other city outside of Asia. From 2000 to 2011, the city's foreign-born Chinese population grew by 34 percent, rising from 261,551 to 350,231, according to a 2013 report by the Department of City Planning. Assuming those growth rates hold, Chinese residents are poised to replace Dominicans in the next few years as the city's largest immigrant group, the report predicts.
"While we continue to diversify our first responders, so that we have people who can come in with a secondary language and be able to communicate in these immigrant neighborhoods, we want to be able to offer our current workforce language instruction, so that we can go out there and do the job that we're tasked with right now in real time," Lee said.
The current class ends in March, and the second beginner-level course will start soon after. Lee said that he hopes that the Phoenix Society can someday offer instruction in other Asian languages, as well as in Cantonese, another common Chinese dialect spoken in New York City.
While a lack of proficiency in a language other than English doesn't prevent first responders from helping people in emergencies, there can be roadblocks that my delay help.
Typically, when a non-English speaker calls 911, the police operator usually loops in an interpreter who translates what the caller is saying into English. That dialogue becomes part of the call-taker's history, to which emergency medical workers typically have access.
In certain circumstances, first responders can also use a language line for interpretation once on the scene. And if they're lucky, there might even be a friend or relative of the person in need of emergency assistance who can help interpret.
But technical problems may make the language line unavailable, or, as Howard experienced, the English of a friend or family member may not be so fluent. Quickly getting answers to vital questions — for instance, whether blood is present in a patient's vomit or stool — can thus aid in making better informed medical decisions when seconds count.
"Being able to ask those types of questions can help to make a difference," Howard said.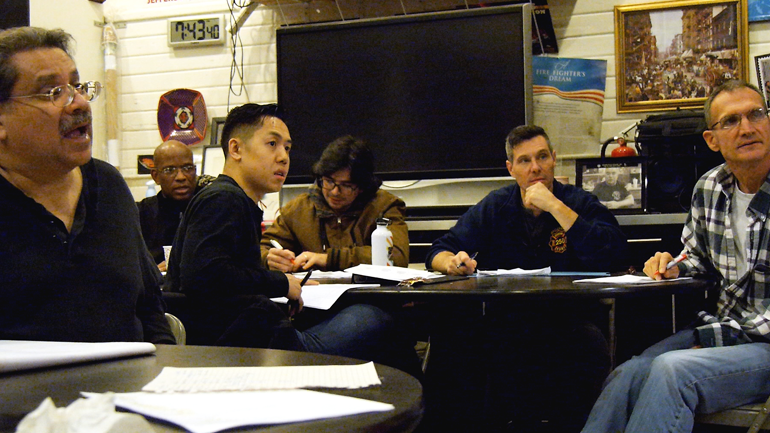 The Phoenix Society's Mandarin-language course is a first step in meeting that objective, Lee said. During one class in November, attended by NBC News, instructor Lily Cheung led her dozen-or-so students in asking each other questions such as whether they like certain foods or beverages. The emphasis at first is not so much on learning job-specific vocabulary as it is on mastering the Chinese-language sentence structure, which can be different from English, she said.
"People can use what they learn in Chinatown and speak with the people there," said Cheung, a senior IT analyst who volunteers for the Asian Language Exchange and Social Network, an organization that offers free instruction in Chinese and other Asian languages. "I want it to be practical."
As the class progresses, students will pick up terms and phrases they can use on calls—some of which could have come in handy back in September for Battalion Chief George Ebert, who has been with the FDNY for 24 years and supervises fire companies in Coney Island, Brooklyn.
Right after he began the class, Ebert was summoned by one of his units on routine building inspection after firefighters had come across a Chinese boy, maybe 5 or 6 years old, who was lost.
Ebert told NBC News that he and his crew tried to find out whether the boy had parents, guardians or siblings nearby, but their efforts were hampered by the child's not being able to speak or understand English. "We ended up finding the family down the street a little ways," Ebert said. "Just trying to communicate with the family, we had to end up talking to one of the teenage daughters who knew English and Mandarin."
Looking back, Ebert said mixing in some body language with asking questions in Mandarin such as, "Where is your father?" or "Where do you live?" could have helped get the boy home sooner.
Aside from fires and emergencies, day-to-day dealings with the public also present opportunities to use Mandarin to strengthen the relationship between the fire department and the people they serve, the students say.
As an example, Lee brought up a recent fire in Brooklyn that he and a fellow classmate, Firefighter Michael Zaczyk, were called to. After the fire was extinguished and the firefighters emerged from the building, Lee noticed a crowd of Chinese-American onlookers gathered in the street. Lee and Zaczyk approached them, and Zaczyk tried out some of his Chinese, Lee said.
"You can see that he's into practicing, he's speaking with them, and he's showing some sort of enthusiasm and pride that he's learning this language," Lee said of Zaczyk.
Even though Zaczyk was far from fluent, the crowd was impressed, Lee said.
Please visit Chinlingo for Chinese learning.