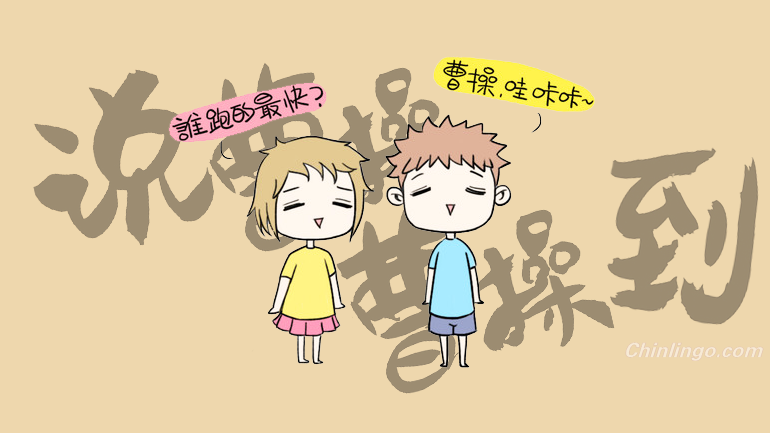 Today, we'll talk about the popular Chinese idiom: 说曹操,曹操到 (Speak of the devil, and he appears).
今天给大家介绍一句非常流行的俗语:说曹操,曹操到。
In HSK examination paper, there is a question like this:
汉语水平考试(HSK)中有这样一道题:
In the sentence "说曹操,曹操到", whom does "曹操" refer to:
"说曹操,曹操到"中的"曹操"指的是谁?
A: me; B: the politician named 曹操; C: the people I am waiting for
A:我;B:曹操;C:我要等的人
The right answer is "the people I am waiting for". Why? The story can be traced back to the Han Dynasty when several warlords tried to chase and kill powerless Emperor Xian of Han (the last emperor of Han dynasty). The emperor was forced into exile and in extreme danger because the killers may appear at any time. So someone recommended the then famous and powerful general Cao Cao to the emperor. However, before the courtier was dispatched, the sudden arrival of Cao Cao's troops defeated the warlords and saved the emperor.
正确答案是三:我要等的人。为什么是这样呢?这要从古代的一件事情说起。汉朝最后几年,最后一位皇帝汉献帝已经没有实力,有几位军阀就要谋杀汉献帝。汉献帝为了逃命必须流亡。当时的情况非常危险,军阀随时可能出现。皇帝身边的人向汉献帝推荐曹操。曹操是当时著名的将军,他还有足够的实力可以保护皇帝。皇帝还没有派出信使,曹操的军队就突然到达,顺利保护了汉献帝,还打败了追杀皇帝的军阀。
Therefore, now, when someone pops up in front of you at the exact moment when you are talking about him or her, then you can say "说曹操,曹操到" to express your astonishment for the coincidence. Here, 曹操 is not the famous politician two thousand years ago.
现在,如果人们正在谈论另一个人的时候,那个人突然出现了,人们就说"说曹操,曹操到"。在这里,"曹操"可不是真正的曹操,他已经是两千年以前的人了。人们这样说,是因为事情很巧而感到惊讶。
Please visit Chinlingo for Chinese learning.