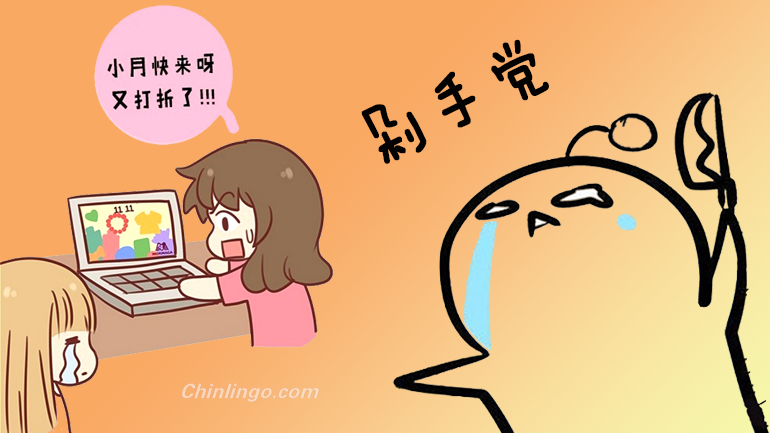 1. 获得感 Sense of gain
"获得感 (huò dé gǎn)" originally means a sense of satisfaction people have with the benefits they've gained. On February 27th, Chinese President Xi Jinping said at the 10th meeting of the Central Leading Group for Comprehensively Continuing Reform that "scientific arrangements should be made for various reform tasks and concrete measures that are endorsed by the public are needed in comprehensively deepening reform, in order to let the public actually feel the progress and the benefits". Thus, the phrase "获得感" caught on and referred in particular to the happiness felt by the public when they share the fruits of reform and development.
"获得感"本表示获取某种利益后所产生的满足感。2015年2月27日,习近平总书记在中央全面深化改革领导小组第十次会议上指出,要科学统筹各项改革任务,推出一批群众认可的硬招实招,让人民群众有更多"获得感"。"获得感"一词由此迅速流行,且使用范围出现固化趋势,多用以指人民群众共享改革成果的幸福感。
2. 互联网+ Internet plus
互联网+ (Internet Plus) is the integration of the Internet with social and economic factors of production. The concept was first unveiled by Chinese Premier Li Keqiang in his government work report on March 5th, 2015. When delivering the report, the premier said, "China will develop comprehensive 'Internet Plus' action plan". From then on, the phrase "互联网+" has been widespread.
"互联网+"就是互联网与社会经济领域各生产要素"相加",这一说法最初是由李克强总理提出的。2015年3月5日,李克强总理在《政府工作报告》中说,要全面制定"互联网+"行动计划,"互联网+"便迅速流行开来。
3. 颜值 Face score
"颜" (yán) means "appearance", while 值 (zhí) is "numerical value". Combination of the two words "颜值 (yán zhí, face score)" is an indicator of people's appearance. Therefore, phrases such as "颜值高 (yán zhí gāo, high appearance score), "颜值爆表 (yán zhí bào biǎo , the numerical value of her face goes off the charts)" "颜值暴跌 (yán zhí bào diē, the numerical value of her face slumps)" are coined.
"颜"义为面容、容貌,"值"义为数值。"颜值"本表示男女颜容英俊或靓丽的程度,是用数字评价人物的容貌。所以有"颜值高"、"颜值爆表"、"颜值暴跌"的说法。
4. 宝宝 Baby
宝宝 comes from the Internet catchphrase "吓死宝宝了" meaning "I am scared to death". Here, 宝宝 means "me" rather than "babies". It is often used coquettishly by the frightened females. Besides, "宝宝" can also be a term of endearment between lovers.
"宝宝"语出网络潮语"吓死宝宝了"。"宝宝"指"我","吓死宝宝了"就是"吓死我了",女生受到惊吓时常用此语来卖萌。现在,"宝宝"还可用以指称对方,以表达对对方(不论男女)的亲昵态度。
5. 创客 Maker/ Creator
"创" means "to create", and "客" refers to a person who works on a particular event. 创客 are those innovative people who spare no efforts to make their ideas a reality. It is translated from the English word "Mak-er"- the name of an experiment project with innovation as its ideal, customer as its center, and individual design and invention as its core. The students participating in the project are "创客". Now, 创客 refers especially to those who have innovative ideas and start their own business.
"创"指创造,"客"指从事某种活动的人,"创客"本指勇于创新,努力将自己的创意变为现实的人。这个词译自英文单词"Mak-er",源于美国麻省理工学院微观装配实验室的实验课题,此课题以创新为理念,以客户为中心,以个人设计、个人制造为核心内容,参与实验课题的学生即"创客"。"创客"特指具有创新理念、自主创业的人。
6. 脑洞大开 Greatly enrich one's mind
"脑洞大开"由"脑补"衍生而来。"脑补"源自日本动漫,本指观剧者在大脑里通过自己的想象来补充或添加原剧中没有的情节或内容。"脑洞"则是大脑中需要用想象力去填充的"洞穴","脑洞大开"义为想象天马行空,联想极其丰富、奇特,甚至到了匪夷所思的地步。
脑洞大开 derives from the phrase "脑补" which has a close relationship with Japanese anime. "脑补" means that the viewers conjures up the plot by imagination, while "脑洞" refers to the "cave" in one's brain that he/she needs to fill by imagination. "脑洞大开" means unrestrained and even ridiculous imagination.
7. 任性 Capricious/Willful
Originally, 任性 is a derogatory term meaning "to be willful and unrestrained", for example, 任性妄为 (to act in an arbitrary and reckless manner). However, with its prevalence, it takes on such positive connotations, as "innocent and casual", "dare to do everything" and "to be courageous enough to undertake the responsibility".
"任性"本是一个传统词语,意思是"由着自己的性子,不加约束",常用作贬义,如"任性妄为"。随着高频率运用,"任性"词汇色彩逐渐变化,也可用来表示"天真率性"、"敢作敢为"、"勇于担当"等义。
8. 剁手党 Hands-chopping people
剁手党, also known as "剁手族", "剁手帮", refers to a group of people (mostly women) who are addicted to online shopping.
"剁手党",指沉溺于网络购物的人群,以女性居多。也称"剁手族"、"剁手帮"等。
9. 网红 Internet celebrity
"网红"即"网络红人",指被网民追捧而走红的人。"网红"是网络时代的产物,其身上投射出的特质,迎合了网络世界的"审美"或"审丑"心理,从而赢得广大网民的理性或非理性关注。
网红, an abbreviation of 网络红人, refers to the internet celebrities, who are products of the network age. Their personalities live up to the common standard of beauty or ugliness judgment in the cyber world, and thus win the support from numerous netizens, rationally or irrationally.
10. 主要看气质 Focus on aura
主要看气质 (zhǔ yào kàn qì zhì, it's all about aura) is a phrases emphasizing that the aura rather than the appearance matters. It goes viral in late 2015.
"主要看气质",意思是不要太看重外表,内在气质才是决定因素。此语在2015年末突然蹿红,成为一个强势流行语。
Please visit Chinlingo for Chinese learning.