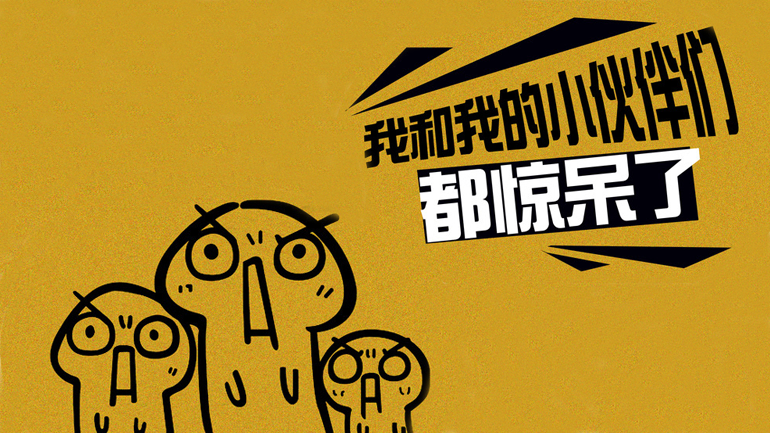 我和我的小伙伴们都惊呆了! (wǒ hé wǒde xiǎo huǒbàn men dōu jīnɡdāi le!), which is similar to the English "Wow!" or "Oh, my God!" is a very popular saying in China. It even ranked in the 2nd place in the Top 10 Most Popular Chinese Words – 2014. What does it mean in Chinese and why is it popular? Let's first introduce the origin of "我和我的小伙伴们都惊呆了! ".
在中国,"我和我的小伙伴们都惊呆了"是一句非常流行的话,在2014年10大流行语中排名第二,和英文中的"wow"或"oh, my god"类似。那么它指的是什么意思呢,为何如此流行?首先,我们来介绍一下"我和我的小伙伴都惊呆了"这句话的起源。
This sentence first appeared in a pupil's essay telling the history of Chinese Dragon Boat Festival. In his essay, the pupil tells the origin of a traditional festival – Dragon Boat Festival in very amazing and imaginative words. The plot of his story includes love on campus, the life of Qu Yuan, a great poet in China, the wars between Communist Party and Kuomintang and "Long lives chairman Mao" etc. The original copy of his essay goes:
这句话出自一篇讲述端午节历史的小学生作文中。在文中,这位小学生用极富有想象力的文字惊心动魄地讲述了端午节的起源,故事情节元素包括校园爱情,伟大诗人屈原,以及共产党和国民党之间的战争,还有"毛主席万岁"等等,以下是该作文的截图: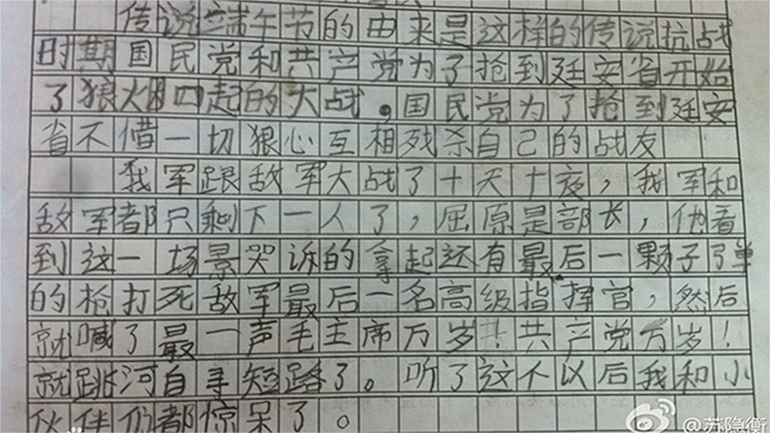 After his essay was posted to a Chinese mini-blog platform Sina, like U.S's Twitter, the lovely and cute sentence came out and soon got its trends. Since its birth, this saying has become extremely popular among young people in China.
由于其语言可爱、充满童趣,他的文章发布到微博中后迅速传播开来,尤其受年轻人欢迎。
In Chinese, "我和我的小伙伴都惊呆了" means "My little companions and I are all shocked!". It is used to show that someone is very shocked at something happened. For example: when hearing of a super stars' breaking up, an officials' corruption or whatever shocks you, you all can use the phrase to express your astonishment. But this sentence can only be used in casual Chinese conversation instead of a formal occasion.
"我和我的小伙伴们都惊呆了"指某人对某件事情感到很震惊。例如,大明星分手,官员腐败,或者其他任何令你感到吃惊的事情,你都可以用这句话来表示你很震惊。但是,该句话只能在日常对话中使用,不能在正式场合使用。
Translated from: ichineselearning